Forging ahead
By Lin Qi | China Daily | Updated: 2021-11-25 08:03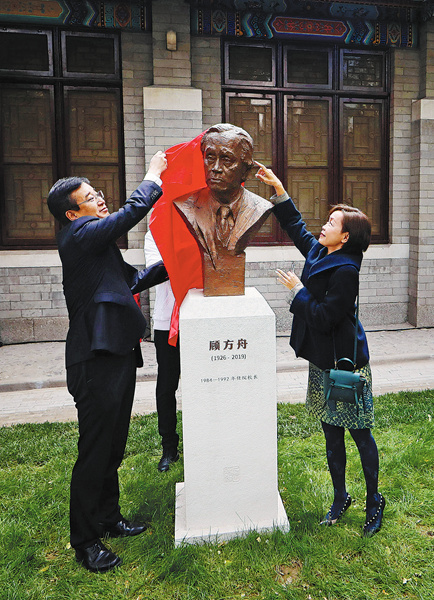 Among those yet to be placed is Lin Qiaozhi (1901-83), who attended the college and revolutionized modern Chinese gynecology and oncology.
Wu Weishan says he hopes the sculptures will unveil to onlookers "the most valuable part of history", which bore witness to exchanges between the East and West and the highly efficient establishment and progress of modern medicine and medical studies in China, via the collective efforts of a group of scientists "who were devoted, dutiful and serious".
The artist says the works intensify a shared quality of gentleness, sincerity and confidence. "I feel that these figures were not only confident of their abilities in medicine and administration, but they also wanted to share that confidence and courage with both the people working with them and their patients.
"They wanted to build a relationship of openness so that they could be trusted by the patients, and together, they could confront the difficulties during treatment. I think this belief is still held dear by Peking Union Medical College today."
Wu Weishan says the current president of Peking Union Medical College, Wang Chen, and his colleagues visited his studio when he was working on the sculptures. "I was impressed by how familiar they are with the work of those former presidents, and respect them as if they were a dear father or grandfather.
"When I sculpted, I kept thinking about an old Chinese saying which states that those who heal people have a heart of benevolence."
Wang said at the unveiling ceremony that one can see in the eyes of the sculptures the former presidents' commitment, responsibilities, worries and hopes, and that in their presence, one would feel the need for constant self-reflection and encouragement.