Unfair UK restrictions risk scaring off investors
By ANGUS MCNEICE in London | China Daily | Updated: 2021-11-27 09:25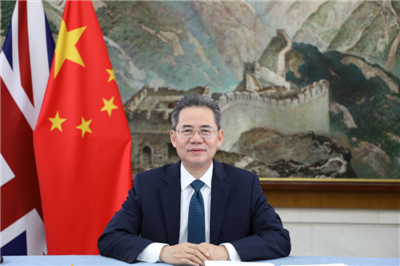 Envoy says Chinese firms have grown concerned over business environment
China's ambassador to the United Kingdom, Zheng Zeguang, has said unfair restrictions placed on Chinese companies by London, born out of "geopolitical and ideological considerations", go against the spirit of free trade and could scare off potential investors in Britain.
Zheng told a forum that Chinese businesses operating in the UK have grown concerned about calls from several politicians and officials for a reduced role for Chinese involvement and investment in certain sectors of the economy.
Some British ministers are seeking to prevent future Chinese investment in nuclear power projects, and the nation has already banned Chinese telecommunications company Huawei Technologies from taking part in upgrades of the infrastructure for 5G mobile networks.
"If restrictions are imposed on businesses based on geopolitical or ideological considerations, that could not be a practice of free trade, and you will go against the rules of the World Trade Organization," Zheng said on Thursday. "Furthermore, they will scare away prospective investors-not something we want to see."
The ambassador was speaking during the 4th China-UK Economic and Trade Forum, which was hosted online by the China Chamber of Commerce in the UK, or CCCUK.
During the event, the chamber launched its 2021 Report on the Development of Chinese Enterprise in the UK, which reveals Chinese companies in Britain continued to show impressive growth and resilience, despite the turbulence brought on by Brexit, the COVID-19 pandemic, and growing trade tensions between major global powers.
In the face of these external adversities, 53 percent of the companies surveyed managed to stabilize or even grow their revenue in 2020 compared with 2019, the report stated, with 63 percent reporting stable or improved profitability.
Discriminatory behavior
The report found that 86 percent of Chinese companies in the UK believed the disruption brought on by COVID-19 would not last in the long term, with respondents forecasting rapid recoveries over the coming years. Some 94 percent of the respondents did not anticipate long-lasting challenges related to Britain's departure from the European Union.
But companies also expressed an increasing level of anxiety about the shifting geopolitical situation. In particular, the report states, the deterioration in general sentiment toward China is translating into "discriminatory behavior in business interactions on a number of occasions".
There was also the perception that the newly enacted UK National Security and Investment Act was intended to curb Chinese investment.
In the report, which surveyed 79 Chinese companies in the UK, 49.4 percent of them said the business environment in the UK had marginally worsened during the past two years. Nearly 7.6 percent said it had significantly worsened, while almost 12.7 percent said it had marginally improved, and 2.5 percent said it had significantly improved.
Zheng said it is important that both governments "join hands to foster a sound political atmosphere" and create a "nondiscriminatory environment" for businesses.
Responding to the concerns, UK Investment Minister Gerry Grimstone said the UK is "maintaining and strengthening its open, fair, and transparent business environment".
Grimstone said there is "huge potential for Chinese investments" to play a role in the UK, particularly in the low-carbon transition.
UK Trade Commissioner for China John Edwards said the UK is eager to attract Chinese companies that can help it build out the charging, battery, and manufacturing capacity for electric and low-carbon vehicles, as well as to support an increase in offshore wind power capacity, from around 10.5 gigawatts to 40 gigawatts by 2030.
CCCUK Chairman Fang Wenjian said China has taken the lead in many green and sustainability sectors, and that Chinese companies can "leverage our capabilities to help the UK to meet its net-zero target" for 2050.
Ma Jun, chairman of the China Green Finance Committee, said he expects significant bilateral activity between the UK and China on green finance, and he estimates that Chinese demand for green finance will reach 487 trillion yuan ($76.3 trillion) during the next 30 years.