UK seeks French help over Channel crossings
By JULIAN SHEA in London | China Daily Global | Updated: 2021-11-29 09:20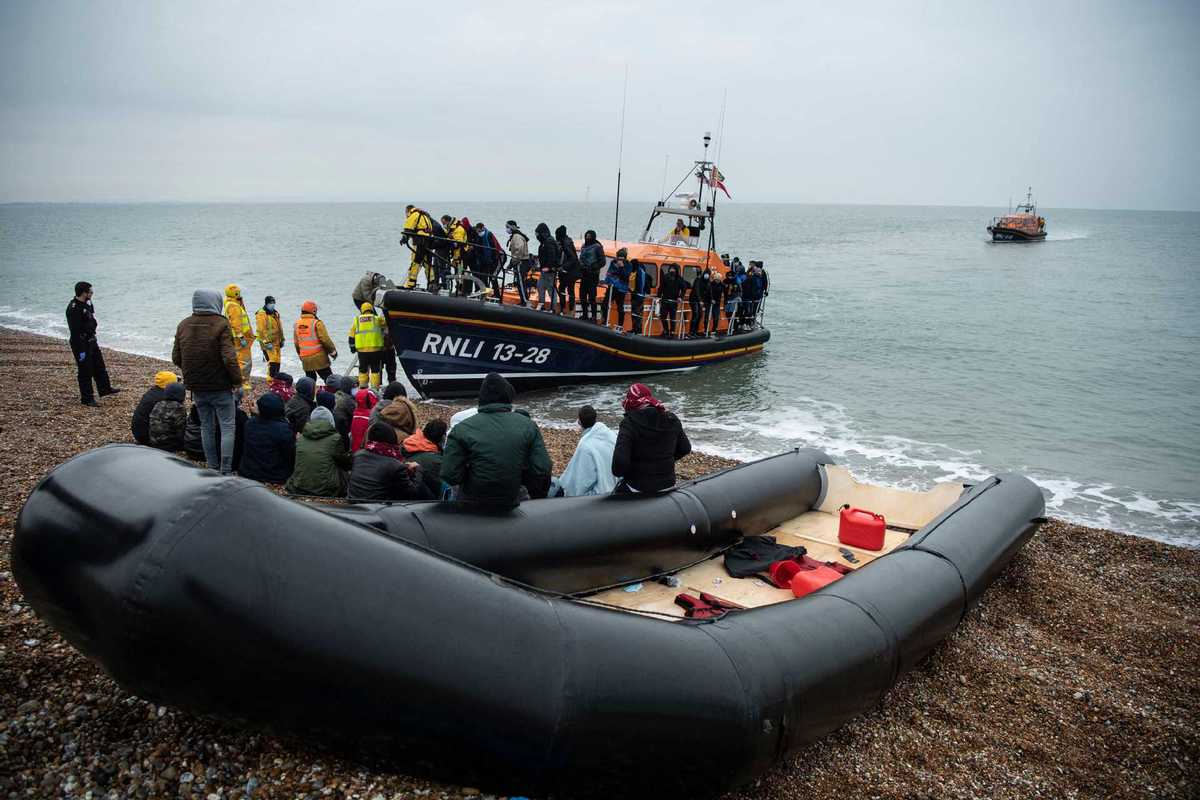 Britain's health secretary, Sajid Javid, has said the country needs help from France to try and solve the humanitarian crisis that saw 27 people drown in one attempted crossing of the English Channel last week.
In the aftermath of the incident, Prime Minister Boris Johnson wrote to France's President Emmanuel Macron, setting out steps he thought the two countries could take together to try and stop people attempting crossings, a letter that Johnson then shared on social media.
As a result, Britain's Home Secretary Priti Patel's invitation to weekend discussions about the issue of migration was withdrawn, with a spokesperson for Macron calling the letter "formally poor and its content inappropriate", with France's interior minister, Gerald Darmanin, adding that the letter was a "disappointment" and the fact that it was made public "worse".
"I spoke two days ago with Prime Minister Johnson in a serious way," Macron said on Friday.
"For my part, I continue to do that, as I do with all countries and all leaders. I am surprised by methods when they are not serious.
"We do not communicate from one leader to another on these issues by tweets and letters that we make public."
With relations between the two countries already strained over Brexit issues such as fishing rights, Javid told Sky News that cooperation was the way forward.
"It must stop. Now of course we can't just do it on our own, we do need the cooperation of the French... I hope the French will ...work with us," he said, adding in another interview on Times Radio that Johnson had been "absolutely right" to set out the areas of possible cooperation.
One of the suggestions was that France should take back people who managed to make it across the Channel. Ironically, this would mean coming up with legislation similar to an existing agreement known as the Dublin Regulation, which says that an asylum seeker should have their application processed in the first European Union country in which they arrive.
Before Brexit, the United Kingdom was part of this agreement and could call upon it, but Brexit, which was sold to voters on a promise of taking back control of the country's borders, would appear to have done the opposite.
"What we are facing right now is an aftermath of Brexit," Pierre-Henri Dumont, the representative for the port city of Calais in France's National Assembly, told the Daily Telegraph.
"The UK left the Dublin agreement. So it's a bit strange that the one who pushed for Brexit is now asking for something that was contained with membership of the EU."
French government spokesperson Gabriel Attal told BFM TV Johnson's letter "does not respect all the work that has been done by our coastguards, police, gendarmes and lifeboat crews … It basically proposes a 'relocation' agreement, which is clearly not what's needed to solve this problem.
"We're sick and tired of this double talk and outsourcing of problems."