Musicians, audience delighted by Chinese concert
By MINLU ZHANG in New York | chinadaily.com.cn | Updated: 2021-11-30 12:02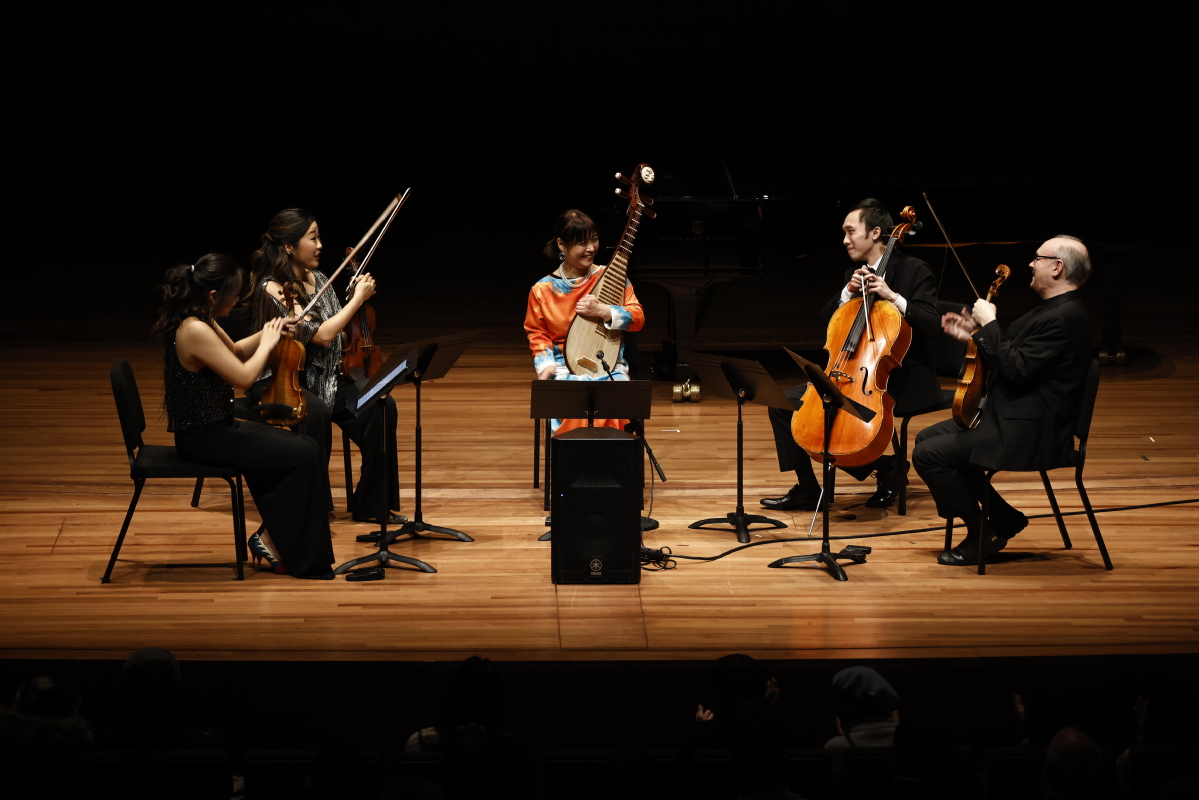 A concert featuring traditional and modern Chinese classical music Sunday helped provide a much-desired celebration of the arts and people-to-people exchange.
The concert at Alice Tully Hall at the Lincoln Center for the Performing Arts attracted nearly 1,000 music aficionados.
David Shifrin, a clarinetist who has been playing with the Chamber Music Society of Lincoln Center for more than 40 years, said he was excited to perform there for the first time since the start of the COVID-19 pandemic.
"Music plays an enormous role across all countries. We don't think about politics; we don't think about disease. We just think about expressing ourselves and working with one another in music," Shifrin told China Daily.
Themed China Inspirations, the concert presented six songs by Chinese composers that were derived from Chinese traditional music, classical literature and other elements.
Eight artists from China and the Chamber Music Society of Lincoln Center played together.
Shifrin noted that there are many similarities in the language and points of reference between Eastern and Western music. "It's really fascinating to hear music of half a dozen different composers from China who have had the influences of both East and West, and to translate that to Western instruments," he said.
"The pieces that I'm playing in are all Western instruments, but the way that the string instruments are tuned sounds so different. I thought it sounded more like the Chinese string instruments, sometimes, than Western violin," Shifrin said, who played clarinet in Tales From the Nine Bells and Mandalas in the Rubble.
Xiaogang Ye, a composer and president of the Chinese Musicians' Association, who wrote Gardenia, one of the songs played in the concert, was impressed by the turnout.
"We have so many audience members tonight. That means music is important in the minds of all mankind," Ye told China Daily.
Ye also noted that the American musicians who performed showed enthusiasm for playing Chinese music.
"I think they love Chinese music very much," Ye said. "This enthusiasm expresses the common pursuit of cultural appreciation and the love of art shared by the people of China and the United States. We share a common interest in investigating the background and history behind culture," said Ye, adding that the concert demonstrated that music is a universal language.
Some American audience members said that it was their first time to see and hear the pipa, a Chinese traditional musical instrument, which is stringed and has a pear-shaped, wooden body.
"It was amazing. Chinese music is so different. I thought that through the whole show. It's very refreshing. I enjoyed it," said Paul Wolfson, a New York City resident.
"Incredible. I never heard music from Chinese composers before. For me, the concert opened a new music world," said Svetlana Lyulina, who is from Russia.
"Although the pandemic has suspended people-to-people exchanges between China and the United States over the past two years, it has not broken connections between the two peoples and their desire for art and a better life," China's Consul General in New York Huang Ping said in a letter to the concert.
"Music brings people together across cultures and enhances mutual understanding. … I hope that, with joint efforts, our two countries may seek common ground while reserving differences and work together to address various challenges faced by mankind," he wrote.
Sunday's concert was the second part of this year's Image China, a cultural exchange initiative that aims to introduce traditional and contemporary Chinese performing arts to audiences around the world. It was presented by the China Arts and Entertainment Group.
Ye said that the group's effort to collaborate with the Chamber Music Society of Lincoln Center contributes to China's new music development.
Since 2012, Image China has presented a series of Chinese dance drama at the David H. Koch Theater, Lincoln Center, including The Peony Pavilion, Silk Road, The Red Dress, The Legend of Mulan, Dragon Boat Racing, Confucius, Soaring Wings, Princess Zhaojun and more.