New York first city in US to run site for illegal drug use
By BELINDA ROBINSON in New York | China Daily Global | Updated: 2021-12-01 10:33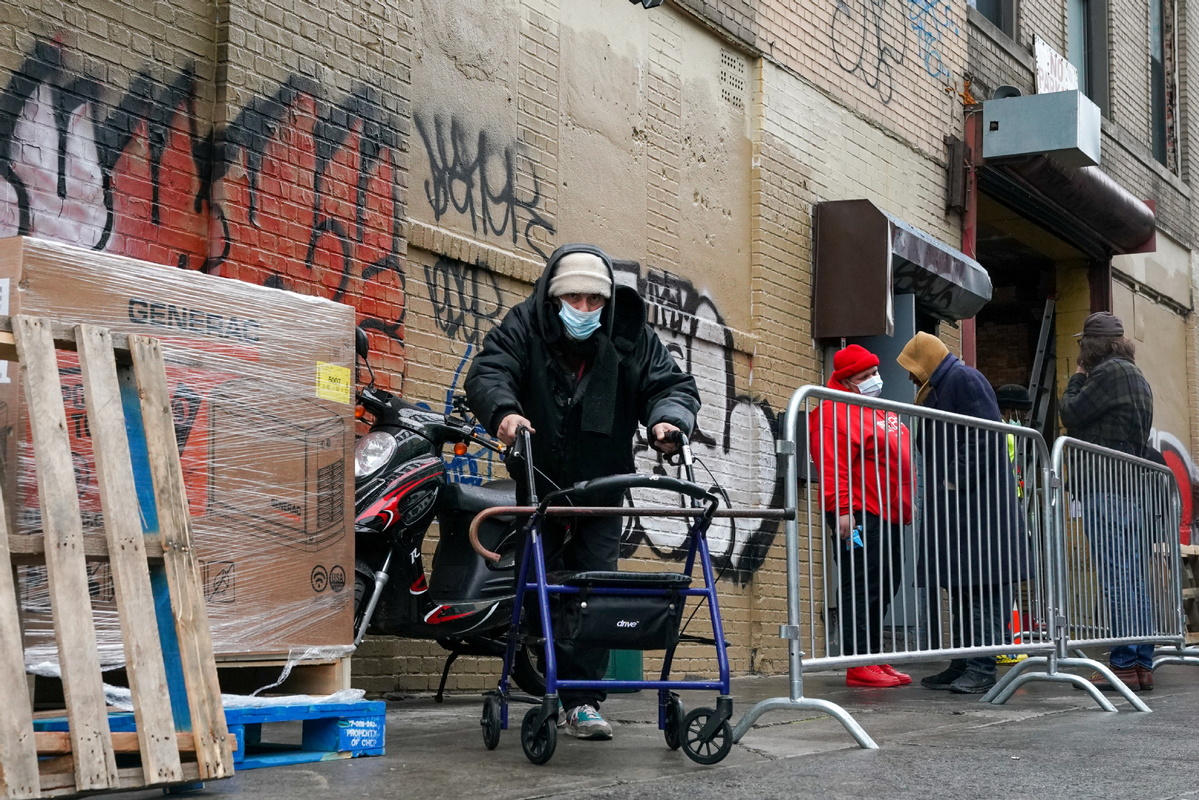 New York City has become the first city in the United States to open a site where people can officially use illegal drugs such as heroin under medical supervision in a bid to curb deadly drug overdoses.
The overdose prevention centers, or "supervised injection sites" opened in East Harlem and Washington Heights in Manhattan on Tuesday.
The centers are widely backed by New York City Mayor Bill de Blasio and city Health Commissioner Dr David Chokshi, but the state government will not run them.
De Blasio praised the facilities as a smart approach to managing drug users and addicts. The mayor believes that other major US cities could soon follow suit.
"I'm proud to show cities in this country that after decades of failure a smart approach is possible," de Blasio said in a statement.
"After exhaustive study, we know the right path forward to protect the most vulnerable people in our city," he added. "Overdose prevention centers are a safe and effective way to address the opioid crisis."
Dr Chokshi added: "Giving people a safe, supportive space will save lives and bring people in from the streets, improving life for everyone involved. Overdose prevention centers are a key part of broader harm reduction."
America has been grappling with a surge in drug use and overdose deaths amid the stress of the coronavirus pandemic, which began in the US in early 2020.
Nationally, overdose deaths rose to 100,000 from April 2020 to April 2021, according to the National Center for Health Statistics.
It was an increase of 30 percent over 2019, when there were 78,000 overdose deaths.
In New York, more than 2,060 people died of drug overdoses in 2020, according to the city's Health Department. It was the most drug-related deaths recorded in 21 years since records were kept.
Between January and March this year, there were 596 drug-related overdose deaths in the city, the Health Department said.
The mayor, whose second term will end Dec 31, has supported supervised injection sites for years.
He first asked the state to approve such sites in 2018, but it required the approval of the state Health Department and the boroughs' district attorneys.
The supervised injection sites in New York will not sell drugs to drug users but will allow them to bring their own drugs.
Staff will hand out clean needles, provide addiction treatment and administer naloxone to reverse overdoses, The New York Times reported.
The site will be run by a new non-profit group called OnPoint NYC. The group was formed from two organizations — Harm Reduction Educators and the Washington Heights Corner Project.
OnPoint NYC tweeted on Tuesday: "Being the 1st OPC site in the US is an honor & incredible step forward in ending the opioid crisis."
Research by the city Health Department found that the program could save "up to 130 lives a year". It could also save $7 million in healthcare.
But Bridget Brennan, a New York City special narcotics prosecutor, has expressed her opposition to the sites because she believes they could spark tensions in the neighborhoods where they are placed.
Similar supervised injection sites already exist in Australia, some European countries and in Canada. They have been successful in reducing drug use in public and reducing the spread of HIV/AIDS, according to a 2014 study published in the journal Science Direct.
In July, Rhode Island officially became the first state in the US to authorize supervised injection sites.
Other sites have been proposed in Denver, Philadelphia, Seattle and San Francisco.
But they have been met with opposition from the federal government. Federal law bans the operation of a site where people can take illegal drugs. President Joe Biden's administration has refused to back the program.
In January, federal judges blocked a proposed supervised injection site in Philadelphia.
Judges with the 3rd US Circuit Court of Appeals said, "The opioid crisis may call for innovative solutions ... but local innovations may not break federal law."
New York Mayor-elect Eric Adams, who takes office Jan 1, fully supports the sites.
A spokesman for New York Governor Kathy Hochul said that she is "committed to combating the opioid epidemic and all options are on the table to save lives".
From 1999 to 2019, the opioid epidemic led to 500,000 deaths nationwide according to the Centers for Disease Control and Prevention. The opioid epidemic was first caused by people being prescribed prescriptions of opioid medications that were highly addictive. Users then turned to heroin and fentanyl.