Austria's new chancellor vows to reunite nation in the face of virus
By JULIAN SHEA in London | China Daily Global | Updated: 2021-12-08 09:25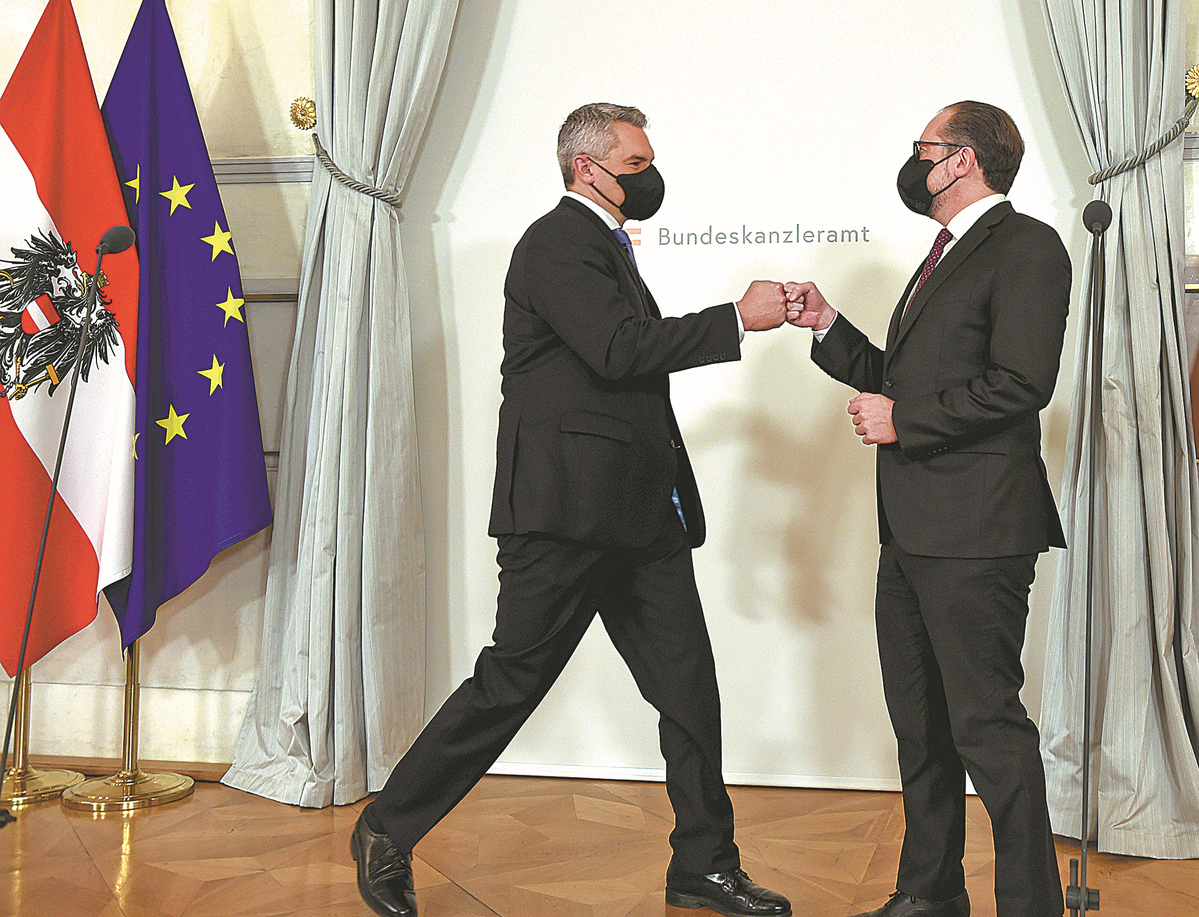 Austria's new Chancellor Karl Nehammer has vowed to reunite the country in the face of pandemic divisions after being sworn in as its third leader this year.
Nehammer, the former interior minister, replaces Alexander Schallenberg, who held the position temporarily following the resignation of Sebastian Kurz in early October over corruption allegations.
Kurz, 35, was elected to the first of two terms as chancellor at the age of 31, making him the country's youngest ever leader.
"There is much to do! The pandemic is not over and it is straining our people," Nehammer tweeted. "It must be our goal to drive back the division in our country and to fight together against the real enemy of our freedom and thus regain the trust of the people."
Austria is subject to a national lockdown, which is currently scheduled to end on Dec 13.
The central European country has lower vaccination rates compared to other countries in the European Union. During his brief time in charge, Schallenberg announced that vaccinations will be compulsory from February.
"Today and tomorrow, I will meet with experts, the health minister and representatives of the opposition in order to prepare well for the decisions on Wednesday, with confidence," Nehammer said.
Over the weekend, more than 40,000 people took part in protests in the capital Vienna against the current lockdown and the compulsory vaccination program, details of which have yet to be announced.
Speaking to journalists after his swearing-in ceremony over a backdrop of noisy protests, Nehammer said addressing the issue would be his main priority.
Fighting the pandemic
"The primary objective must now be to show precisely to those who are afraid and concerned that we are listening to them, that we take them seriously, and at the same time to do everything to fight the actual enemy ... namely the coronavirus," he said.
Last week, Kurz announced that he was quitting politics altogether, which also meant stepping down as leader of the conservative Austrian People's Party, or OVP, of which Nehammer is now the leader.
The OVP has been in a governing coalition with the Green Party since the start of 2020 just before the pandemic, but Nehammer cannot take its stability for granted.
Kurz has been the face of the OVP since 2017, so his successor faces a major challenge. Since Kurz was placed under investigation, opinion polls have shown a significant slump in popular support for the party over its closest rival, the Social Democrats.
In October, the Greens made it clear that they were unhappy with Kurz's leadership, but despite him having left the stage altogether, Greens leader Werner Kogler in recent newspaper interviews did not rule out the calling of a snap election in the new year.