Hainan Airlines core biz transferred to investor
By ZHU WENQIAN | China Daily | Updated: 2021-12-09 09:21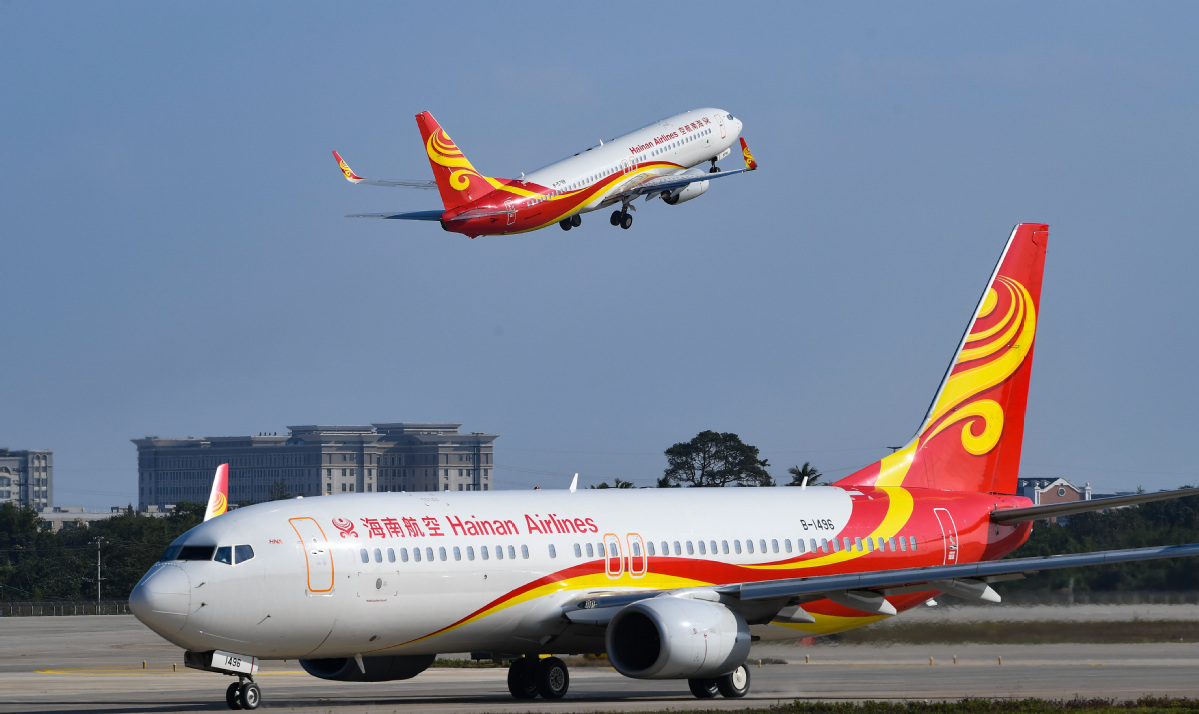 China's fourth-largest carrier Hainan Airlines announced on Wednesday that it has transferred its core aviation business to Liaoning Fangda Group Industrial Co Ltd, its strategic investor, as the carrier's parent company HNA Group is in the process of going through bankruptcy and restructuring proceedings.
The airline said since a court's final ruling on Oct 31, its reorganization process has been going on smoothly, and substantial progress has been made in risk mitigation, according to its statement released on Wednesday.
Gu Gang, an official appointed by the local government to resolve the debt risk of HNA, will no longer serve as the Party secretary of the group. Next, a joint working group will perform the duties of guidance, coordination and supervision, and continue to implement the group's bankruptcy and restructuring plans and other related risk management work, the statement said.
Liaoning Fangda Group has been a Chinese conglomerate involved in business sectors such as carbon, steel and pharmaceuticals. Earlier, Liaoning Fangda won the bid to become a strategic investor of Hainan Airlines over Shanghai Juneyao Group Co Ltd, parent of Juneyao Airlines, and Fosun International, a major Chinese industry player in the tourism sector.
In March, Hainan Airlines announced an annual loss of 64 billion yuan ($10 billion) for 2020, the highest loss ever by a listed Chinese company. In January, HNA said it had received notice from the Hainan High People's Court that creditors had sought bankruptcy as it failed to repay debts.
Since 2010, HNA had been making aggressive inroads into expanding its assets overseas and the total acquisitions at one point exceeded $50 billion. It acquired stakes in around 40 major companies, including Deutsche Bank AG and Hilton Worldwide Holdings Inc.
Later, HNA's acquisition spree drew scrutiny from Chinese and foreign regulators. It started to face mounting debts due to stricter controls and liquidity concerns, and began seeking buyers for its assets.
"Hainan Airlines has been a major carrier in China and it has a fleet of about 600 aircraft. The quality of the airline business itself is good, and there is no significant problem in the airline's operations and its safety management," said Lin Zhijie, an aviation industry analyst and a columnist at Carnoc, a major civil aviation website in China.
"HNA's troubles are mainly caused by the huge debts in the group's other sectors. After restructuring and squeezing out bubbles, it should still be a healthy asset. Yet, the company still faces several challenges, including huge debts and the COVID-19 unprecedented negative impact on the aviation sector," Lin said.
"In addition, HNA's internal governance problems, such as a lack of internal controls and aggressive investment, still need to get further corrected. The group also needs to consider reducing losses as it owns a large number of widebody aircraft," he said.