China-Laos railway thrives despite US' deadly legacy
Share - WeChat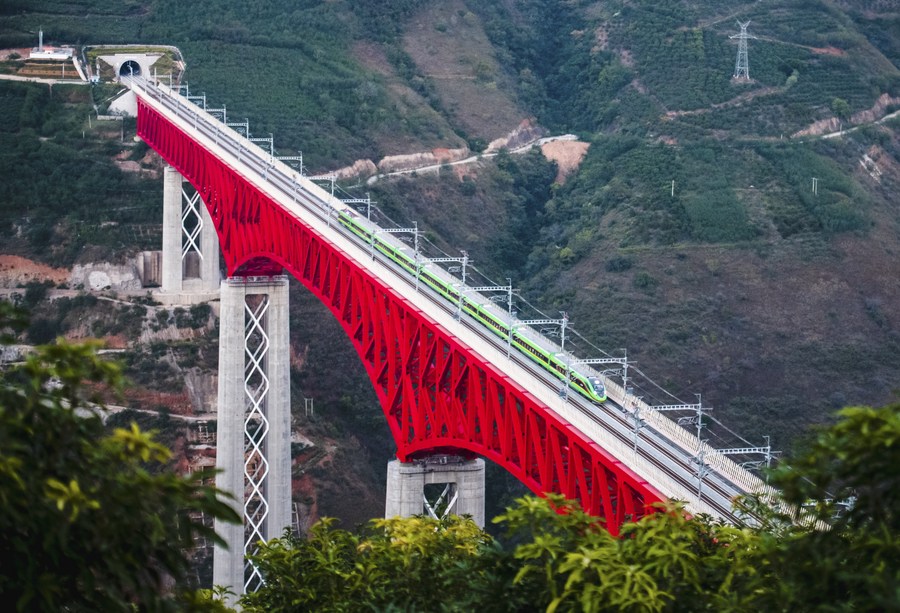 Six soldier units were reportedly assigned by the Laotian Ministry of National Defense to clear unexploded ordnance along the route earmarked for the railway, working from January to May in 2017, before track construction began. China also redesigned its building scheme to suit the clearance work and allocated demining technicians to help with site work, according to the official website of the Belt and Road.
"To dig on a no man's land is nothing compared to the fear of those unexploded bombs in the jungles, under great pressure," Liu Qianli is cited as saying on the official website of PowerChina. Liu is an engineering head for the China-Laos railway from a Sinohydro unit of Beijing-based PowerChina, a State-owned enterprise. He started his work for the railway at Luang Prabang, a mountainous region in northern Laos, in October 2016.
Li Bin had similar experiences. "You can never imagine the scenario the first day I got here. The county chief with militiaman demining led the way, and local people chopped trees," Li said. He and his workers had to inch forward on foot since no machinery could get in, Li added in a feature report by China Central Television.
Li, commander-in-chief of the railway project, has 35 years of engineering experience and he worked with the railway line in Laos for four years. As he sees it, the unexploded bombs in the jungles he worked at in Laos couldn't be cleared even in a hundred years.
The construction work is tough not only because of bomb clearance, but also for its massive network of tunnels and bridges.
The rail extends through China's southwestern Yunnan province, which connects the world's highest plateau with the eastern plain. There are 167 tunnels and 301 bridges along the 1,035-km railway. The length of the tunnels comes in at over 590 km, accounting for 63 percent of the railway's total. The bridge and tunnel ratio is also quite high, in the Chinese section up to 87 percent and the Laotian section up to 63 percent.
"I have found the Chinese engineers are so wonderful. Confronting the complex terrain in the mountain plateaus, they can always use advanced technology to drill through every tunnel," Thonglien Outhayod, a Laotian employee at the China Railway No 2 Engineering Group Vientiane base, told Xinhua in October 2021.