Nation to sustain growth in cross-border e-commerce despite challenges
By LIU ZHIHUA | China Daily | Updated: 2022-01-24 09:47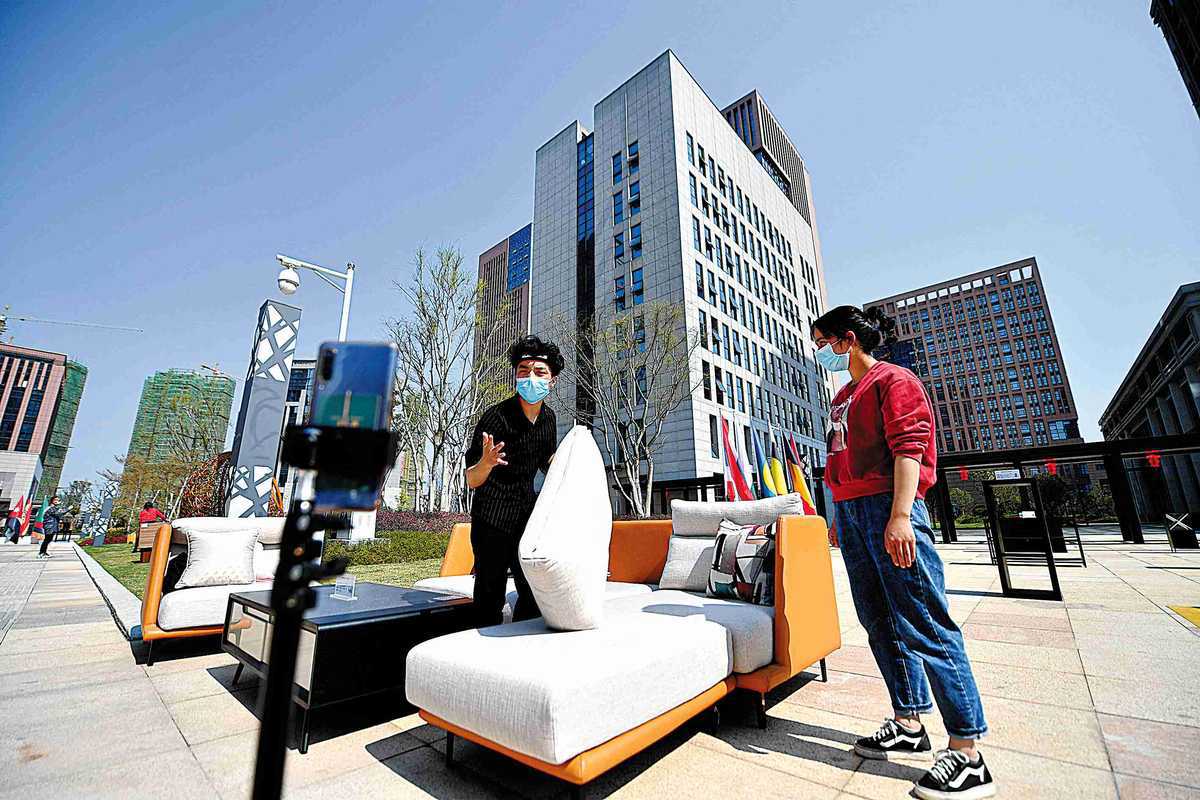 Cross-border e-commerce in China will sustain its growth momentum throughout the year despite various challenges, propelled by new business forms such as overseas warehouses, technological advances and growing demand for stay-at-home products, experts and business leaders said.
They added the nation's strong industrial and supply chain resilience will continue to provide a solid base for the sector to grow.
The latest data from the General Administration of Customs showed China's cross-border e-commerce imports and exports totaled 1.98 trillion yuan ($311.9 billion) in 2021, expanding 15 percent year-on-year. Exports totaled 1.44 trillion yuan, up 24.5 percent on a yearly basis.
DHgate, a leading Chinese B2B cross-border e-commerce market platform, has seen a continuous surge of Chinese products in international markets. The top five countries importing Chinese goods from DHgate are the United States, the United Kingdom, Australia, Canada and France. There is also rising demand from emerging markets such as the Seychelles, Zimbabwe and Senegal, the company said.
Wang Xin, executive president of the Shenzhen Cross-Border E-Commerce Association, said China's increasingly improved infrastructure for cross-border e-commerce, including overseas warehouses, the China-Europe Railway Express and the application of digital tools in trade, has propelled Chinese micro, small and medium enterprises to engage in foreign trade activities.
Compared with other economies, China's complete industrial sectors, stable supply chain and relatively cheap prices have created a solid foundation for Chinese producers to tap the potential of cross-border e-commerce despite uncertainties from the COVID-19 pandemic, Wang said.
She also forecast that rising demand for cross-border e-commerce in emerging markets will inject an impetus for growth by Chinese traders, although cross-border e-commerce markets in developed economies have matured and lack signs of speedy growth.
Diane Wang, founder, chairperson and CEO of DHgate, said there will be stable growth in cross-border e-commerce trade for personal protective equipment, stay-at-home economy products such as home video and audio systems, monitors and small kitchen appliances.
There will also be large demand for China's electric bicycles, scooters and related accessories such as tires since overseas consumers are switching from public transportation to private transportation in countries like Italy, France and the UK, she said.
"More and more companies will leverage overseas warehouses to boost their growth amid their go-local efforts. E-commerce software tools such as Shopify and MyyShop will enable more micro firms and even individuals to set up their own online stores, find their suppliers and handle payment and logistics easily," Diane Wang said. "I also expect more people in the sector to try various marketing methods such as short videos and livestreaming."
JD Global Sales, Chinese internet giant JD's cross-border e-commerce platform, has also seen a strong presence in global markets given China's swift growth in the sector.
JD has now been operating roughly 80 bonded and overseas warehouses globally. It can provide an integrated full-chain solution to meet sellers' diverse demands, such as transportation by air, rail, sea and truck between China and the US, as well as the European, Middle East and Asia-Pacific regions.
JD's worldwide supply chain network has reached more than 220 countries and regions. It is building a robust and efficient cross-border infrastructure for global sellers and shoppers which feature two-way, 48-hour delivery pathways.
However, logistics will continue to be the largest obstacle for cross-border e-commerce, as the global supply chain has suffered from the unprecedented pressure exerted by COVID-19, resulting in product shortages, lack of efficiency, disruption and so on, according to Diane Wang.
Micro, small and medium enterprises, which form the majority of sellers on DHgate, also need to update their digital mindset and capacity to remain resilient and seek better growth. There is still not enough training available for suppliers, nor enough funding to support their digitalization efforts, she said.
Wang Xin with the industry association suggested that Chinese enterprises need to become more familiar with foreign regulations, especially in the field of intellectual property protection.