Families of US diplomats to leave Kiev
China Daily | Updated: 2022-01-25 09:26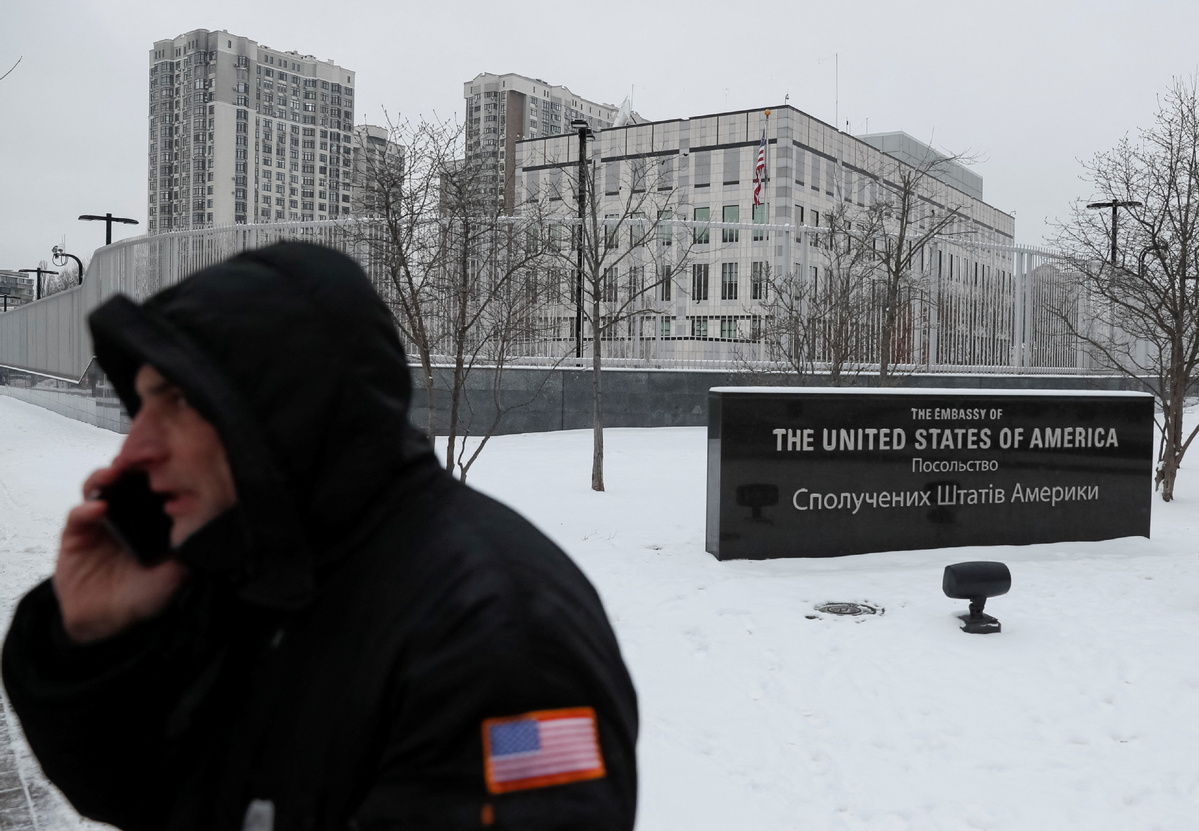 WASHINGTON/KIEV-The United States has ordered the families of its diplomats to leave Ukraine, in yet another sign of escalating tensions with Russia as Ukraine's defense minister said on Sunday that his country had received more weapons from the US as part of a $200 million defense package.
"The second bird in Kiev! More than 80 tons of weapons to strengthen Ukraine's defense capabilities from our friends in the USA! And this is not the end," Oleksii Reznikov wrote on Twitter, referring to a second consignment of the weapons.
About 90 tons of "lethal security assistance", including ammunition, from the package approved by the US in December arrived in the Ukrainian capital on Saturday.
US President Joe Biden has begun considering options for boosting the US' military assets in the region.
The New York Times said Biden was mulling plans to send 1,000 to 5,000 troops to Eastern European countries, with the possibility of increasing the number.
Tensions in Ukraine have been increasing for months after Moscow massed 100,000 troops near Ukraine's borders, a buildup that the West says is preparation for a war to prevent Ukraine from joining the NATO Western security alliance.
The Kremlin has repeatedly denied that it plans to attack Ukraine.
The US State Department's announcement, which also allowed its diplomats stationed at the embassy in the Ukrainian capital Kiev to leave voluntarily, was one of the clearest signs yet that US officials are bracing for a military conflict.
'Disinformation' slammed
It came a day after British authorities said they had information that the Russian government was considering a former Ukrainian lawmaker as a potential candidate to head a pro-Russian leadership in Kiev.
Moscow dismissed the British allegation as "disinformation".
London said on Monday that it was withdrawing some staff and their relatives from its embassy in Kiev.
But the European Union is not following the US in withdrawing its diplomats' families from Ukraine, top European diplomat Josep Borrell said on Monday, adding that there was no need to "dramatize" the situation while talks with Russia continue.
Washington's top diplomat Antony Blinken was scheduled to join a meeting with his EU counterparts by videolink. He would brief them on his talks on Friday with Russian Foreign Minister Sergey Lavrov in Geneva, where the two sides failed to secure a breakthrough.
Blinken has said he will provide a written response this week to Moscow after it laid down a series of security demands that would stop Ukraine joining NATO.
In Germany, the new government faced pressure on Sunday to take a firmer stance against Russia, after a German navy chief's remarks angered Kiev.
The spat was triggered by German navy chief Kay-Achim Schoenbach's musings that it was "nonsense" to think Russia was about to march on Ukraine and that Russian President Vladimir Putin deserves respect. Schoenbach resigned late on Saturday.
Agencies via Xinhua