Please stay happy if you stay put during holiday
By Wang Bin,Fu Haojie and Zhong Xiao | CHINA DAILY | Updated: 2022-01-27 07:20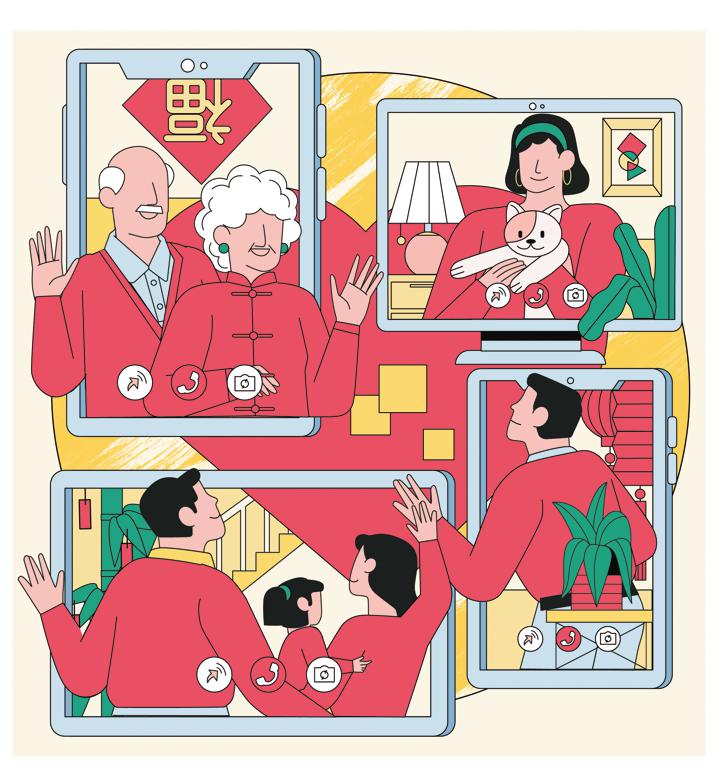 The Lunar New Year, China's biggest festival which is traditionally a peak travel season, is just a few days away. However, many people may not be able to go hometown to enjoy a family reunion during the Golden Week holiday.
Given the sporadic COVID-19 outbreaks in different places, many cities have encouraged residents to stay put during the holiday, in order to prevent any more outbreaks. Similar travel restrictions were introduced during Spring Festival in 2021.
What will be the impact of the travel restrictions? And what sort of psychological support will people who cannot travel need to cheer them up during Spring Festival?
According to an online survey conducted by the Psychosocial Services and Mental Crisis Intervention Research Center during the 2021 Spring Festival, people had a greater sense of well-being during the most important holiday in China. But the level of well-being was different among different groups. For example, the sense of happiness among students and civil servants was significantly lower than that among workers, teachers, migrant workers, and health workers.
The survey, which covered 3,978 people, also showed that compared with students and civil servants, health workers were less likely to suffer from depression or anxiety because they were widely respected and awarded in the society for their contribution.
As for the question, "will you cancel your travel plans for the Chinese New Year?", about 59 percent of the respondents to the 2021 survey said "yes". And in terms of mental health, people who chose to stay in their place of work or study during Spring Festival had much lower anxiety levels than those who insisted on traveling home, while there was no significant difference in their happiness levels. That means celebrating Spring Festival in the place of work will not reduce people's happiness; instead, it can help relieve their anxiety.
Jia Jianmin, a professor at the Chinese University of Hong Kong, Shenzhen, has reached a similar conclusion. According to his study, people's happiness during the Spring Festival in 2021 is significantly higher than that in 2020. Those who travelled home in 2020 were less happy compared with those who stayed put in 2021, but there was not much difference for those who stayed put for two consecutive years.
Jia's study also showed that loneliness, a feeling of uprootedness, and the fear of contracting the novel coronavirus were the main causes of people's unhappiness during Spring Festival. Therefore, apart from implementing strict pandemic-prevention and control measures, the authorities should also create favorable conditions for outdoor activities and people-to-people interactions, so residents can get some spiritual support and overcome the anguish of not being able to travel back home for family reunion, a tradition that is thousands of years old.
However, people can celebrate the Lunar New Year in their city of work "with their family" thanks to advanced technology. For instance, people can make video calls or hold "video dinner" to get the feeling of being among their loved ones, and maintain the tradition of family reunion using some innovative means, and with a little tweak.
Yet the authorities need to boost social support to people who need counseling or psychological help, by expediting the construction of a national psychological service system. And building such a system will require coordination and collaboration among the different governmental departments, society and the public.
This is especially important because the authorities have to take steps to ease the anxiety and sense of frustration among people who cannot travel back home for the all important family reunion on the eve of the Lunar New Year including providing counseling for them and establishing a hotline for those seeking psychological help. And the authorities should pay close attention to vulnerable groups such as students and civil servants.
"Acceptance and Commitment Therapy", which is part of postmodern therapy, encourages people with psychological problems to embrace their feelings and thoughts rather than fight against them and, on this very basis, resolve to change or make changes for good.
Since residents have been urged to stay put in the place where they work or study to prevent a surge in cases during what usually is the peak traveling season of the year and in the run-up to the Beijing Winter Games, they should try to keep the mood genial so as not to be overwhelmed by feelings of anxiety and sadness for not being able to travel back home.
In fact, if they try, people can celebrate Spring Festival in the city where they work with as much verve and enthusiasm as they did in their hometowns.
Wang Bin is the executive director of the Psychosocial Services and Mental Crisis Intervention Research Center, jointly established by the Institute of Psychology at the Chinese Academy of Sciences and the Southwest University of Science and Technology. And Fu Haojie and Zhong Xiao are research associates at the same research center.
The views don't necessarily represent those of China Daily.
If you have a specific expertise, or would like to share your thought about our stories, then send us your writings at opinion@chinadaily.com.cn, and comment@chinadaily.com.cn.