Equity investors urged not to be 'shortsighted'
By SHI JING in Shanghai | China Daily | Updated: 2022-01-28 09:09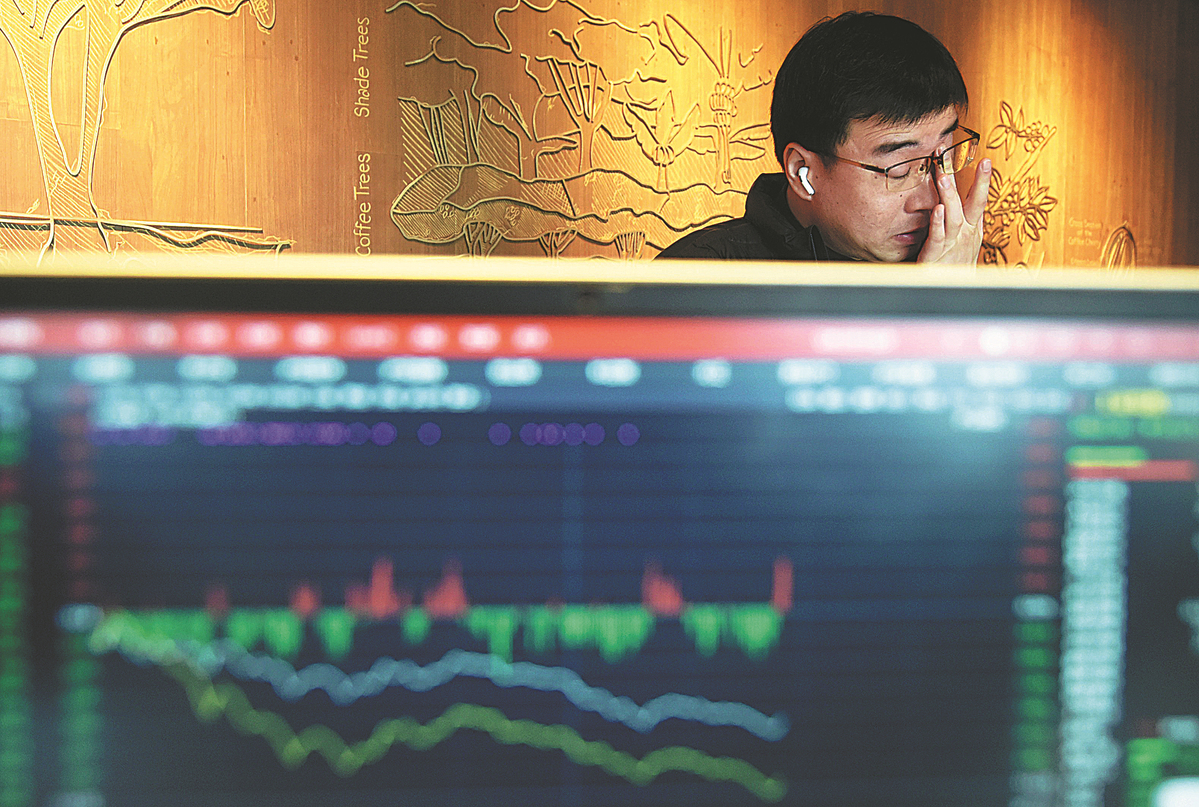 Financial media highlight value-based decisions amid external shock factors
A-share market jitters seen since the beginning of the year are only temporary reactions to external factors and will stabilize amid improving qualities among A-share companies, experts and media commentators said.
In a front-page column on Wednesday, Securities Daily-affiliated with the State-owned Economic Daily-said Chinese institutional investors, who play an unprecedentedly important role in the A-share market, are shortsighted in terms of judging valuations based purely on market forces. Institutions should instead lead value investment and hold up the A-share market.
Similar statements advocating value-based investing could be found in the Wednesday edition of Shanghai Securities News, China Securities Journal and Securities Times.
Such rarely seen business media unanimity, which soon went viral on the internet, is interpreted by industry insiders as an attempt to buoy the falling A-share market.
The benchmark Shanghai Composite Index dropped 1.78 percent to close at 3394.25 points on Thursday while the Shenzhen Component Index fell 2.77 percent to close at 13398.84 points. The tech-heavy ChiNext in Shenzhen closed 3.25 percent lower.
The SCI has contracted by more than 5 percent so far this year, while the ChiNext has plummeted by more than 11 percent.
But Xun Yugen, chief economist at Haitong Securities, said the recent A-share slump can be largely attributed to external factors such as the geopolitical tensions between Russia and Ukraine. Capital being locked up in shares is often compromised as the Lunar New Year approaches due to gift-givers' desires for cash, he said.
International institutions hold a positive outlook on the A-share market this year. Catherine Yeung, investment director for equities at Fidelity Worldwide Investment, said China's relatively relaxed monetary policy, employed when other markets are tightening their monetary policies, will have a positive influence on the A-share market.
Northbound capital-overseas capital buying into the A-share market via the stock connect programs linking Shanghai and Shenzhen with Hong Kong-will hit a record 480 billion yuan ($76 billion) this year, Goldman Sachs estimates.
International investors have not allocated enough to the A-share market given its large scale, high liquidity and growth momentum. They are thus advised to increase their A-share positions this year, said Goldman Sachs analysts.
Experts from China Asset Management said any upward momentum of the stock market will be more reliant on public companies' quality and business performance as well as investor confidence.
During a meeting held at the beginning of the year, the China Securities Regulatory Commission said that listed companies should focus on their core operations and enhance their competitiveness in key business sectors. Listed companies entailing risks should be eliminated from the market so that the capital market can truly serve as a "barometer" of the country's economy.
The US and European bourses have undergone constant adjustments in anticipation of rising interest rates by Washington. This has impaired A-share investor sentiment, said Xia Fengguang, fund manager at Shenzhen Rongzhi Investment Consultant Co.
Unsurprisingly, the US Federal Reserve on Wednesday provided the clearest hint that it could start raising interest rates as soon as March, which would be the first rise since December 2018.