China's role in climate change battle 'crucial'
By ANGUS McNEICE in London | China Daily Global | Updated: 2022-01-31 18:00
Experts say nation can help others adopt much-needed renewable energy solutions
Experts have encouraged China in a new report first seen by China Daily to ramp up international collaboration on climate change and proliferate renewable energy infrastructure and green financing abroad.
The report, released on Monday by the Grantham Research Institute on Climate Change and the Environment at the London School of Economics,argues that China's leaders are key to addressing the global climate crisis.
"We have the dual challenge of generating an economic recovery from the COVID-19 crisis, and having a very different kind of economy," said Danae Kyriakopoulou, a senior policy fellow at the London School of Economics and coauthor of the report. "No country can do this alone,and that's why collaboration is really critical, and China is a very important player in this agenda."
The report, titled Internationalism in Climate Action and China's Role,reviews China's domestic and international progress on green development to date, and offers recommendations for a more expansive role on global climate matters.
"We are now seeing the effects of climate change on a very large scale,"Kyriakopoulou said. "With climate not really being high on the policy agenda, for example, in the United States before this administration, we cannot afford another period where this is again not a priority, where countries do not work together."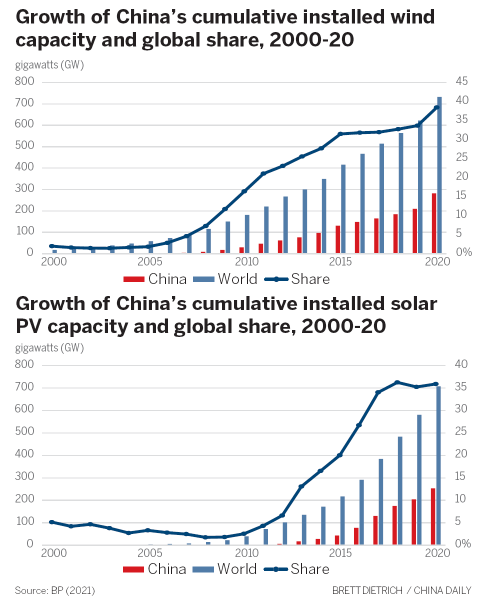 China made several notable moves on the international stage in the lead-up to and during the COP26 climate change conference in Glasgow last year, including the signing of a joint declaration with the US and a commitment to halt financing of coal projects abroad.
Even so, the authors of the report said China's engagement on climate change is usually viewed through a domestic lens, and China's role in international collaboration and coordination in climate action is, at times, overlooked.
"This is becoming increasingly important, reflecting growing and intensifying economic ties between China and the rest of the world, particularly emerging markets and developing economies," the report said.
China has made huge gains in the proliferation of domestic non-fossil fuel energy infrastructure since the nation's Renewable Energy Law was introduced in 2005. That year, China had less than 2 gigawatts of solar and wind power combined. Today, there are more than 260 gigawatts of solar and in excess of 300 gigawatts of wind power in the nation, following an unprecedented period of green energy development.
"China became the world's largest producer of wind and solar energy in an astonishingly short period of time," the report noted.
This had a knock-on effect on global markets, significantly driving down the cost of renewables and making them competitive with fossil fuels for the first time.
China now has a "golden opportunity" to work with other countries on their renewable energy grid integration efforts, the authors said.
"China's role in promoting global investment in low-carbon industries is vital, considering the scale of the transformation needed," said the report.
Part of this support might come in the role of financing, the researchers suggested. The International Renewable Energy Agency estimates that $131 trillion will be needed between now and 2050 to finance the energy transition and build an energy system compatible with the Paris Agreement's aim of limiting warming to less than 2 C and closer to 1.5 C.
China has a strong incentive to work toward enhancing debt sustainability in the countries in which it invests, said the report, and to work bilaterally to support sustainable economic development through investments that promote climate-change mitigation and adaptation.
Kyriakopoulou said this applies in particular to the Belt and Road Initiative, or BRI, the China-proposed cross-border development plan.
"It is in China's interests to ensure the money that it gives and the investment that it makes in the Belt and Road are promoting sustainable development," she said. "If China is making loans to countries, it has an interest for them to do well in terms of their economic development. It's not possible to do this if you don't focus on the climate angle, because it is becoming a really big economic and financial risk."
Bodies such as the BRI International Green Development Coalition, which was established in 2019 and is supervised by China's Ministry of Ecology and Environment, will play an important role in ensuring sustainability lies at the core of development in the area covered by the BRI, the report said, as will the Green Investment Principles established by the UK-China Green Finance Center in 2021.
The report also noted the important role China will continue to play as a "pioneer in research and innovation for green technologies and solutions" and said China should aim to "influence world standards, supply chains and drive innovation in technologies that will help combat climate change".