Future of internet virtually in sight
By HE WEI in Shanghai | China Daily | Updated: 2022-02-11 10:27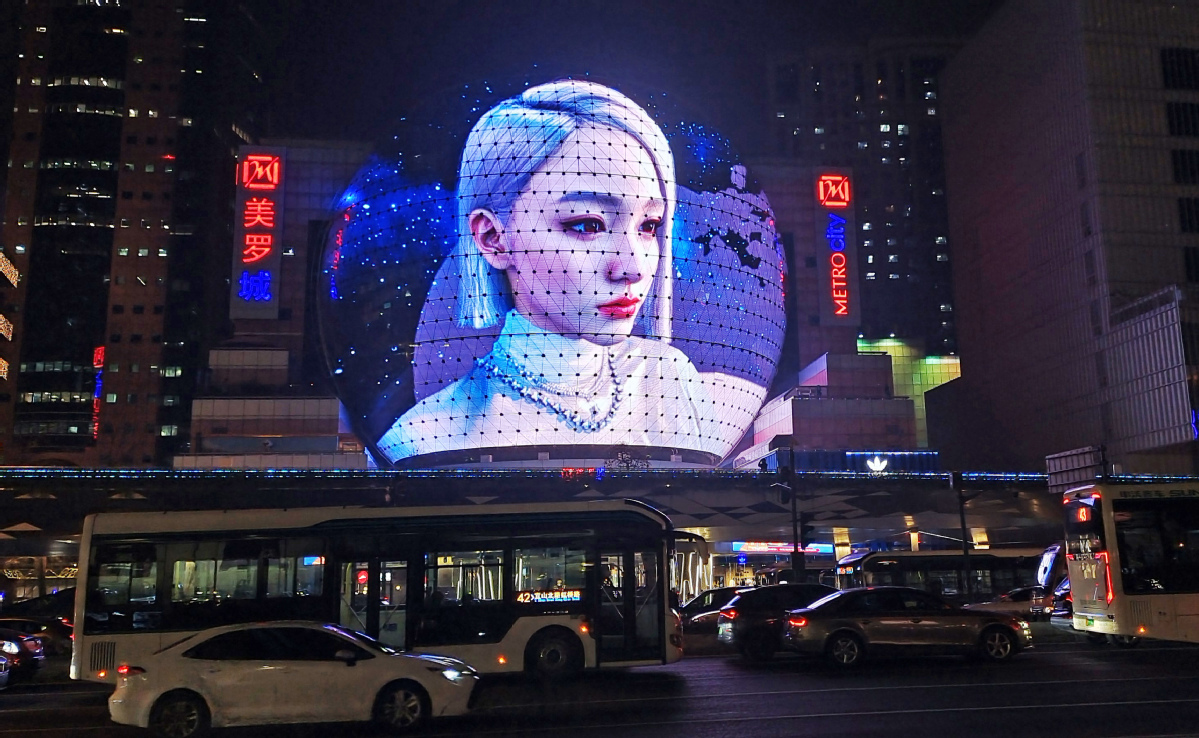 Shanghai incorporates novel ideas like metaverse in its five-year plan to further advance electronic information sector
The metaverse has become a buzzword in just a few months' time as businesses, investors and developers depict it as heralding the future of the internet.
The nebulous concept gained further public traction after Facebook rebranded itself as Meta in October, extending such discussions beyond gaming and entertainment.
The metaverse has been described as a world of endless, interconnected virtual communities where people can meet, work and play, using such technology as virtual reality headsets and augmented reality glasses.
Today, China's coastal city Shanghai has incorporated the concept into its development plan, hoping to gain an early advantage in the race for the next generation of technology.
On Dec 30, the Shanghai Municipal Commission of Economy and Informatization, which charts the course for the city's technology footprint, mentioned "metaverse" in its five-year plan guiding the development of the electronic information sector to 2025.
Positioning the metaverse as one of the four frontiers for exploration, the commission is aiming to integrate it with public services, entertainment and industrial manufacturing.
The commission said it plans to incentivize further use and study of the research and development of underlying technologies, including sensors, real-time human-computer interaction and blockchain. Blockchain is a database shared in a computer network that stores information in a secure way in digital blocks.
In its 14th Five-Year Plan (2021-25), China has identified seven "frontier" technologies that it should focus on to achieve self-reliance in science and technology. Shanghai's recent statement represented the first mention in a guideline of metaverse, which more local governments are likely to use, according to experts.
While the document did not provide a specific timeline or elaborate on the goals it is looking to achieve regarding the metaverse, Shanghai is clearly a pioneer, said Ding Daoshi, a senior internet expert and former chief of internet consultancy Sootoo.
"Since last year, Shanghai has been at the forefront in the industrial layout of the metaverse, from policy guidance to private capital, from core technology breakthroughs to innovative service applications," he said.
Policy directives are necessary, Ding said, since a metaverse requires a whole suite of technologies. They include the internet of things-a network of devices that enables them to communicate-blockchain, big data, artificial intelligence and virtual reality/augmented reality technologies. As a result, no company can afford to construct a metaverse on its own, Ding said.
Shanghai's strength
The inclusion of the metaverse in Shanghai's development strategy follows the city's long-term vision to build itself into a "globally influential digital hub" by 2035, with major information technology upgrades for a range of industries.
What's more, a list of incentives has been introduced as part of the city's near-term five-year digitalization plan. By 2025, the intention is to establish a digitally advanced ecosystem featuring artificial intelligence, telecom network infrastructure, data usage and transaction policies, professional exchange and improved business environment.
The digital targets include building faster 5G and broadband networks, constructing intelligent factories and digitized hospitals, developing AI and data-driven services and boosting applications for the aged and people with disabilities.
"The digital city upgrade is a national strategy to strengthen China's abilities in manufacturing and broadband. It also offers tools to us to better serve people and their daily lives," said Wu Jincheng, director of the Shanghai commission.
It includes digital transformation covering at least 80 percent of large local manufacturers, over 100 benchmark digital tools to improve people's lives, the ability to file online over 80 percent of all governance-related applications and construction of 100 million IoT sensors and devices, according to the latest government blueprint.
"It's no surprise that Shanghai is quickly embracing the metaverse idea, since the city has always been a bellwether for all types of reforms in China, and the Pudong New Area has been designated as a pioneer in China's new reform drive," said Lin Le, founder and CEO of Shanghai Lingshu Technology Co Ltd, a blockchain company.
Shanghai also boasts advantages like a comprehensive industrial layout and robust synergies between consumption, industries and technologies across the Yangtze River Delta region, Lin said.
Shanghai's strong financial market also fuels innovation and digital development, which is a boost for the city in achieving its global digital hub goal.
In 2021, Shanghai firms raised 150.7 billion yuan ($23.7 billion) through IPOs via the STAR Market, 30 percent of all money raised through the Shanghai bourse. That percentage makes Shanghai the top destination of firms in terms of money raised.