Vital business starts at subatomic level
By MA SI | China Daily | Updated: 2022-03-30 10:04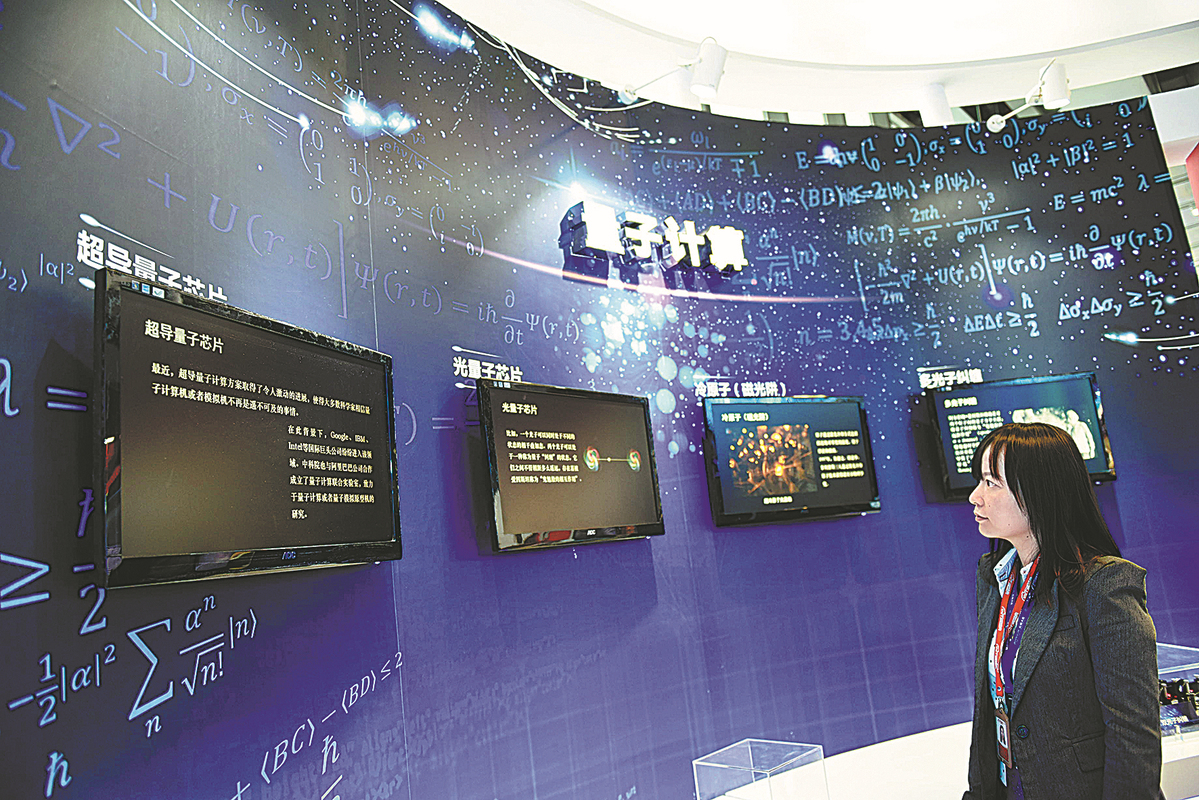 QuantumCTek Co Ltd, a Chinese pioneer in providing quantum communication-based encrypted services and devices, is stepping up its efforts to commercialize cutting-edge quantum technologies, which rely on the physics of subatomic particles, the building blocks of nature.
This emerging field of physics and engineering has the potential to revolutionize industries such as communications and computing.
The company, founded in 2009 in a laboratory at Hefei-based University of Science and Technology of China, one of the country's top universities, was selected as a "little giant" company in 2020. Little giants are innovative small and medium-sized enterprises that play a crucial role in helping bolster the nation's supply and industrial chains.
QuantumCTek is now making concrete progress in expanding the application of quantum technologies to real life.
"Our primary task is to transform quantum communication from academic papers to real products and services, especially quantum key distribution, which is an important technology for information security," said Zhao Yong, deputy chairman of QuantumCTek.
Quantum key distribution is a method of secure communication using a cryptographic protocol. It takes advantage of the quantum states of particles, such as photons, to produce a shared random and secret key known only to the communicating parties, which can later be used to encrypt and decrypt messages.
The main advantage of a quantum communication network over a conventional one is the level of security. It's also essentially impossible to eavesdrop on a quantum conversation. Using quantum mechanics, if one reads the quantum state of an object, it changes that state, which means the act of intercepting any message encoded in quantum states will immediately change the content of the message.
Most of the quantum-secured communication networks currently built in China use equipment and technical services from QuantumCTek, according to the company. Its quantum cryptography products and services have also been used by banks and other users in China.
In July 2020, QuantumCTek was listed on the Shanghai Stock Exchange Science and Technology Innovation Board at 36.18 yuan ($5.68) per share. Now, its shares are worth about 107 yuan.
QuantumCTek officials say they are dedicated to making quantum communication more accessible. The company has developed a miniaturized quantum satellite ground station that is a meter high and weighs less than 100 kilograms.
"Such a ground station is light and portable and can be installed within 12 hours, allowing users in remote areas to use quantum communication conveniently," said Zhou Lei, project director of quantum at QuantumCTek.
The company has also displayed quantum key distribution equipment about the size of a laptop, which can greatly reduce the cost of building and maintaining a quantum network.
In 2020, QuantumCTek established a joint venture with China Telecom, a major telecom operator in China. The venture, called China Telecom Quantum Technology Co Ltd, has tested quantum encryption calls in 15 provinces since June and has accumulated some 10,000 users in three months, said Wang Jian, manager of the research and development department of the company.
"The users access secure calls and messages encrypted with quantum keys after inserting a SIM card and installing a related app, which ensures information security," said Wang in an interview with Xinhua News Agency.
During Beijing 2022 Paralympic Games, QuantumCTek also worked in partnership with China Telecom to offer quantum encryption-powered intercom technologies to help ensure communication security. Through the integration of quantum encryption, private network communication, public network intercoms and other technologies, China Telecom built a quantum encryption platform to support communication and ensure video, alarm and emergency responses worked at the Paralympics.
Zhao said that his company will assist the Chinese Academy of Sciences' Center for Excellence in Quantum Information and Quantum Physics to upgrade the latter's quantum computing cloud platform this year to connect quantum computers.
"Our dream is to build quantum information networks, such as a quantum internet, which will connect quantum computers, quantum sensors and other quantum terminals via quantum communication technologies," he said.
"That will enable information and communications technology systems with quantum ability to become more secure and intelligent," Zhao added.
In September, Pan Jianwei, a renowned quantum physicist from the University of Science and Technology of China, said, "With the active participation of leading enterprises and guidance from the government, an industrial chain that covers the equipment, network, safety and standards of quantum communication has been basically formed in China."
QuantumCTek's being selected by the Ministry of Industry and Information Technology as a little giant has enhanced its brand image and helped more people understand the cutting-edge technology of quantum information. It has also created a favorable environment for the integration of quantum information technology with modern information and communications technology, and information security industries, said Tang Shibiao, vice-president of QuantumCTek.
Tang said it also recognizes QuantumCTek's scientific research level and development potential and encourages it to continue to devote itself to research, development and innovation. Quantum technology requires large, continuous scientific and research investments.
Tang said that on the cutting edge of science and technology fields such as quantum information, competition among countries is comprehensive, involving basic research, latest technology, engineering research and development, and industrialization.
Small and medium-sized enterprises are the most dynamic and resilient participants in the technological innovation chain that links cutting-edge technologies to industrial applications, Tang said, adding that China's efforts to cultivate little giants are expected to encourage the transformation of scientific and technological progress into commercial products and services and better serve the development of the real economy.