Qingming Festival in ancient Chinese poems
By Li Ping | chinadaily.com.cn | Updated: 2022-04-05 09:27
Editor's note:
The Qingming Festival, or Tomb-Sweeping Day, is an important festival in China when people offer sacrifices to their ancestors. It falls on April 5 this year.
In ancient times, the festival prompted poets to compose about their grief regarding the lingering cold in spring and emotional moments while mourning the deceased.
Here are some famous lines from poems in the Tang and Song Dynasties (618-1279) remembering the day. The English translations used in this article are from noted Chinese translator Xu Yuanchong.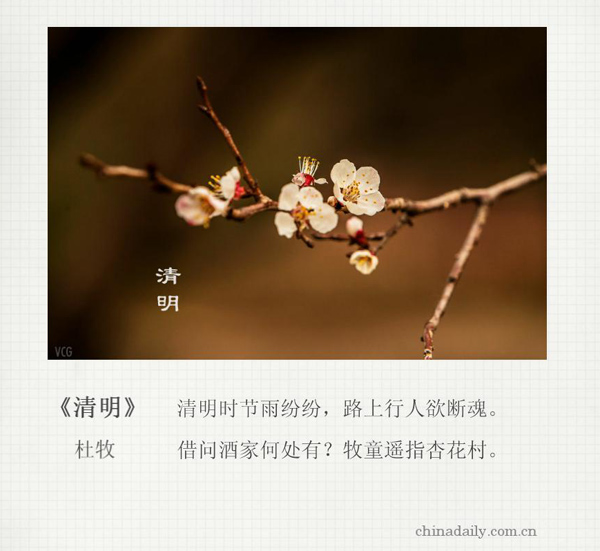 1. The Mourning Day
The Mourning Day, written by famed Tang Dynasty poet Du Mu (803-852), is one of the most well-known poems relating to the Qingming Festival. It reads:
A drizzling rain falls like tears on the Mourning Day;
The mourner's heart is going to break on his way.
Where can a wine shop be found to drown his sad hours?
A cowherd points to a cot 'mid apricot flowers.