South Korea gripped with fear over US bioweapons labs
Xinhua | Updated: 2022-04-13 17:37
OVERSEAS HUB OF US BIOWEAPONS EXPERIMENTS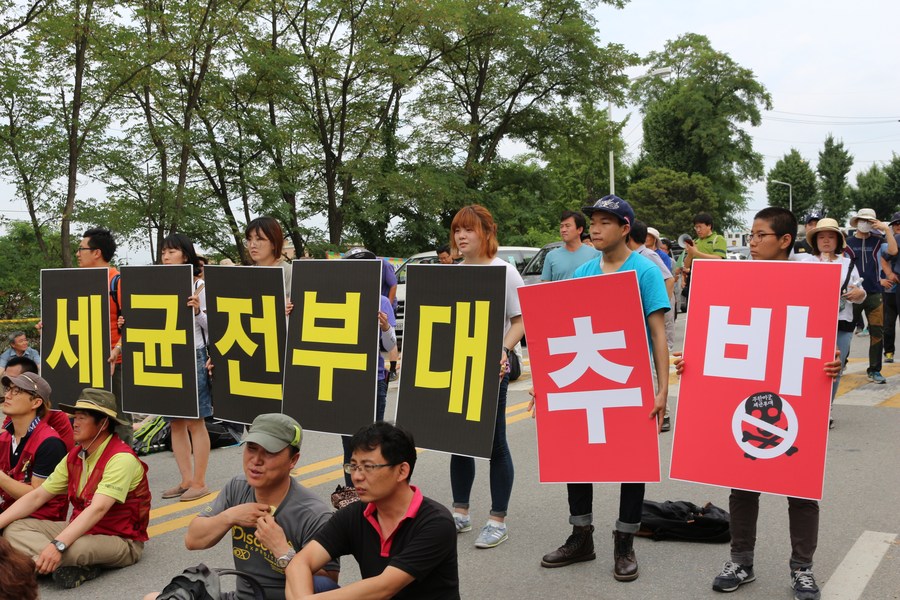 The US biological weapons program in South Korea has evolved over the past decade under the Joint USFK Portal and Integrated Threat Recognition (Jupitr) and the Capabilities to Enable NBC (nuclear, biological, chemical) Threat Awareness, Understanding and Response (Centaur) projects.
"Figuratively speaking, Jupitr installed in the central headquarters serves as the brain. The Centaur, which operates in each regional military unit, constitutes the hands and feet of Jupitr to detect and send biochemical samples to it," Woo Hee-jong, professor at the College of Veterinary Medicine at Seoul National University, told Xinhua.
The Jupitr program was established between 2013 and 2018 after former US President Barack Obama issued an executive order in July 2010 that read "a robust and productive scientific enterprise that utilizes biological select agents and toxins is essential to national security," according to the professor.
According to the US Army website, the US military touted Jupitr as its flagship program, saying in 2014 that Jupitr's presence on the Korean Peninsula aligns with its "strategy to rebalance military efforts toward the Asia-Pacific region."
The Centaur's basic framework was completed between 2019 and 2020. The US military planned to run relevant experiments here by 2026 to advance Centaur and create an integrated system with Jupitr, Woo said, citing the US Department of Defense budget estimates.
"The projects represent an overseas hub of information on the US biological weapons experiments" as information on biochemical pathogens and samples, collected in South Korea for analysis from US biological labs worldwide, is shared with the US mainland and overseas military units, Woo said.
It was disclosed that the USFK had continuously conducted military biological activities here between 2017 and 2019 by bringing hundreds of vials of deadly biological samples, including botulinum, ricin and staphylococcal enterotoxin, into Camp Humphreys in Pyeongtaek, Kunsan Air Base, Osan Air Base and Busan Port's Pier 8.
The USFK claimed that the samples were rendered inactive and not dangerous as they were toxoids, or toxins whose toxicity is inactivated, according to the USFK report submitted to the Korea Disease Control and Prevention Agency, obtained by Rep. Lee Jae-jung of the ruling Democratic Party.
Each vial contained 2 nanograms of the biological agents. The division of the samples into 2 nanograms, equivalent to 2 billionths of a gram, indicated that the samples were lethal because there was no need to divide them into an infinitesimal amount if they were not toxic, Woo said.
Furthermore, the USFK delivery list included botulinum, widely seen as the deadliest toxin on the planet.
The professor said the UN Security Council should launch an investigation into biological labs here, considering the evidence that South Korea has been used as a test site to develop US biological weapons.