Western media blind to pandemic reality
By Ou Ping | China Daily | Updated: 2022-04-15 07:26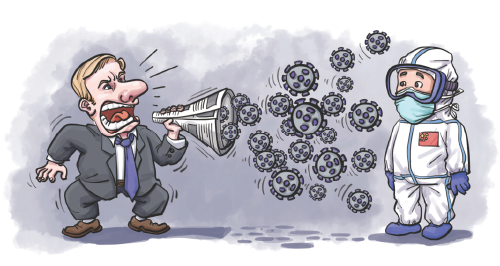 "It is true, isn't it, that sheep eat little bushes?"
"Yes, that is true."
"Ah! I am glad!"
I did not understand why it was so important that sheep should eat little bushes. But the little prince added: "Then it follows that they also eat baobabs?"
I pointed out to the little prince that baobabs were not little bushes, but, on the contrary, trees as big as castles; and that even if he took a whole herd of elephants away with him, the herd would not eat up one single baobab.
The idea of the herd of elephants made the little prince laugh. "We would have to put them one on top of the other," he said.
But he made a wise comment: "Before they grow so big, the baobabs start out by being little."
"That is strictly correct," I said. "But why do you want the sheep to eat the little baobabs?"
He answered me at once, "Oh, come, come!", as if he were speaking of something that was self-evident… Indeed, as I learned, there were on the planet where the little prince lived-as on all planets-good plants and bad plants. In consequence, there were good seeds from good plants, and bad seeds from bad plants. But seeds are invisible… Then this little seed will stretch itself and begin-timidly at first-to push a charming little sprig inoffensively upward toward the sun.
If it is only a sprout of radish or the sprig of a rose-bush, one would let it grow wherever it might wish. But when it is a bad plant, one must destroy it as soon as possible… Now there were some terrible seeds on the planet that was the home of the little prince; and these were the seeds of the baobab… A baobab is something you will never, never be able to get rid of if you attend to it too late.
The above extract from The Little Prince describes good seeds and bad seeds but in essence tells the history of the novel coronavirus, the Omicron variant in particular, and how to destroy it, which is exactly what China's dynamic clearing policy is all about.
Yet some Western politicians and media outlets have been taking a dig at China's policy to contain the COVID-19 pandemic. The Wall Street Journal is the latest addition to the list of China baiters. The New York-based newspaper, in an article published on April 7, compared China's anti-pandemic policy to "authoritarian madness", citing as examples the lockdowns in Shenzhen and Shanghai to claim that China has turned "COVID victory into defeat".
That the WSJ and the anti-China clique in the West conveniently forget to mention that the same dynamic clearing policy helped China to nip the Omicron outbreak in Shenzhen, a global shipping and electronics hub, in the bud is another-rather the usual Western-story. For the same reason they don't talk about the success of China's policy in other cities such as Wuhan.
Instead, their favorite pastime, for the past two years and more, has been distorting China's pandemic prevention and control efforts. Objectivity and neutrality, for the Western media, can go to… when it comes to reporting on China's measures to contain the pandemic. Scientific analysis, demographic dissection, socioeconomic evaluation are alien to these self-proclaimed upholders of democracy, human rights and rationality when talking about China and its arduous efforts to safeguard the lives and livelihoods of its people.
And the fact that they turn a blind eye to the sorry state of affairs in their own countries, due mainly to their government's failure to take appropriate and timely action to contain the virus, is understandable because doing so has become part of their DNA. For they are more interested in playing their dirty political games than safeguarding people's health and lives.
This farce, in all likelihood, will continue. It's possible to restore the sight of the visually impaired. But how can you make those with perfect eyesight see when they refuse to open their eyes, or pretend not to see even with eyes wide open.
They are what Antoine de Saint-Exupery, in the The Little Prince, described as "grown-ups" who "never understand anything themselves and it is rather tedious for children to have to explain things to them time and again".
As Saint-Exupery said, "This is to me the… saddest landscape…"
The author is a writer with China Daily.
If you have a specific expertise, or would like to share your thought about our stories, then send us your writings at opinion@chinadaily.com.cn, and comment@chinadaily.com.cn.