Ukraine crisis a risk to nuclear security
By Li Zhe | China Daily | Updated: 2022-04-15 07:29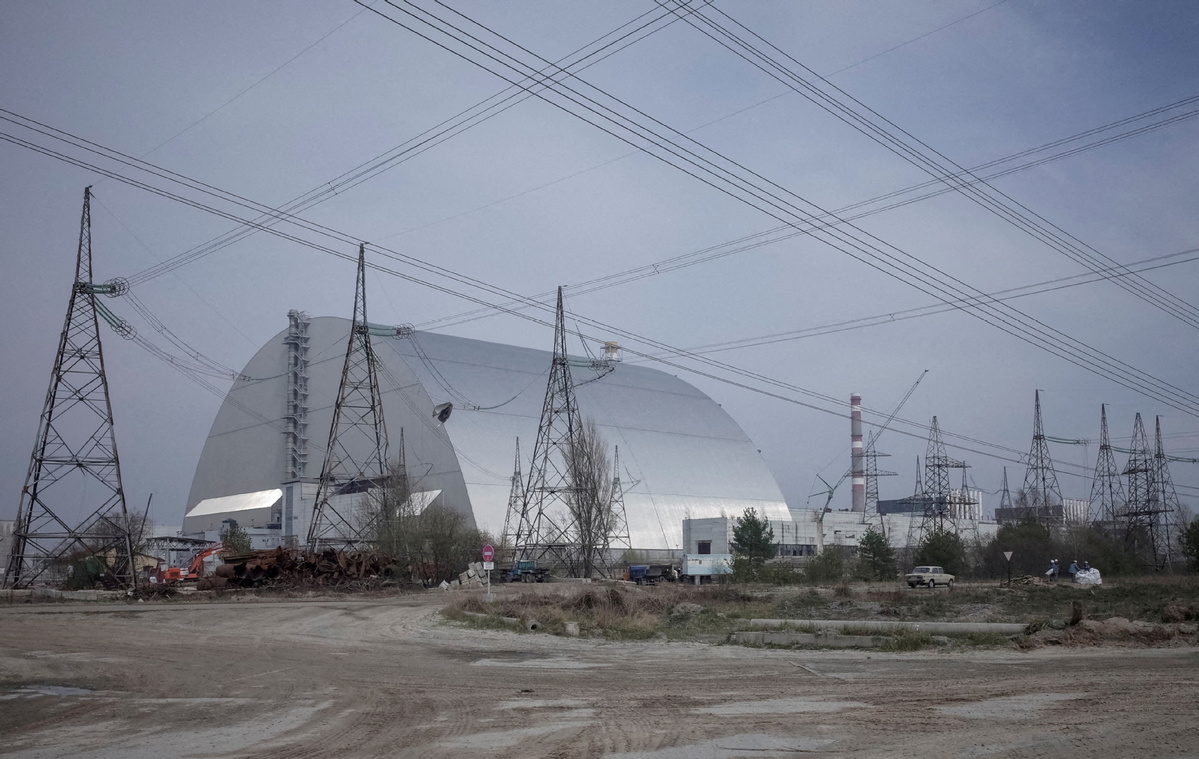 The risks to nuclear security have increased with the continuation of the Russia-Ukraine conflict. The geopolitical game involving Russia and Ukraine but also the United States and some European countries poses a big threat to nuclear nonproliferation and nuclear deterrence.
Perhaps a bigger threat is that the nuclear risks will carry with them the hidden dangers to nuclear security in the post-conflict era.
Strategic stability is possible only if the arms race among major powers ends, and the nuclear powers pledge to non-first use of nuclear weapons. That's why the US and the Soviet Union signed treaties to limit, rather reduce, their nuclear arsenals.
Nuclear deterrence in volatile situations can prompt rival powers to launch a nuclear attack based on misleading intelligence. And disturbingly, the US and Russia have accelerated their nuclear development over the past few years.
On Feb 27, Russia raised its nuclear alert level to "special combat readiness" and in late March, US President Joe Biden proposed the use of nuclear weapons in extreme circumstances. That in effect has raised the risks of a nuclear conflict.
Also, on Feb 21, Ukraine announced it was withdrawing from the 1994 Budapest Memorandum on Security Guarantees, saying it was a mistake to give up nuclear weapons and now the country wants to regain them. And on Feb 27, Belarus held a referendum on a proposal renouncing the country's non-nuclear status and considering redeploying Russian nuclear weapons on its soil, thereby consolidating its "nuclear bond" with Russia.
Ukraine and Belarus respectively are allied with the US and Russia, and both want to repossess nuclear weapons. This shows the political wrestling between the US-led West and Russia has shaken countries caught in the middle and could prompt many of them to develop or get nuclear weapons.
Besides, Polish Deputy Prime Minister Jaroslaw Kaczynski said in a recent interview with German newspaper Die Welt that Poland was open to stationing US nuclear warheads on its soil.
Ukraine and Belarus do not possess nuclear weapons. Under the 1994 Budapest Memorandum on Security Guarantees, they transferred the nuclear weapons inherited from the Soviet Union to Russia for decommissioning in exchange for security assurances from the US and the United Kingdom and Russia. Also, despite not being in a position to acquire or develop nuclear weapons, they are caught in the vortex of large-scale political, economic and military confrontations and conflicts between the West and Russia.
With the Korean Peninsula and Iran nuclear issues yet to be resolved, the attempts of Ukraine and Belarus to acquire nuclear weapons could fuel a new round of nuclear proliferation.
Since Biden took office, the US administration's stance on nuclear nonproliferation has been wavering and ambiguous. Early in his tenure, Biden talked about the necessity of nuclear arms control, including reducing the nuclear weapons arsenal, saving the cost of competition, preventing nuclear proliferation, and maintaining nuclear stability. But of late, he has been talking about great power competition, providing nuclear deterrence to US allies, and has not ruled out the use of nuclear weapons as deterrence.
The nuclear posture review of the Biden administration, too, is unclear, and it is likely to use the Russia-Ukraine conflict to accord higher priority to nuclear weapons in national security, and accordingly increase the defense budget to finance Washington's geopolitical games. In fact, the administration has already proposed a huge budget including higher spending, of $813 billion, on defense.
After the Anti-Ballistic Missile Treaty expired and the US let the Intermediate-Range Nuclear Forces Treaty become defunct, the New Strategic Arms Reduction Treaty remains the sole nuclear arms control treaty between the US and Russia. But due to the ongoing Russia-Ukraine conflict, Washington has adopted a tougher stance at the negotiations, casting a shadow over the prospects of US-Russia talks on nuclear nonproliferation.
Fifteen nuclear reactors generated roughly half of the electricity for Ukraine. Perhaps that is the reason why Russia has targeted those nuclear power plants during its special military operation. On March 4, a fight for the control of the Zaporizhzhia Nuclear Power Station in southern Ukraine caused a fire. But, fortunately, it was extinguished without any radiation leak.
Russia has reportedly withdrawn from the Chernobyl nuclear power plant, and Russia-Ukraine peace talks have progressed on expected lines. But military and media attacks have not stopped. So the risks over Ukraine's nuclear facilities are far from over.
Global nuclear security has deteriorated over the past few years and the Ukraine crisis has made the future gloomier. So it is imperative that all parties make concerted efforts and restrain their respective military actions, and exhibit courage to hold talks on arms control and nuclear nonproliferation.
The author is an expert on military security.
The views don't necessarily represent those of China Daily.
If you have a specific expertise, or would like to share your thought about our stories, then send us your writings at opinion@chinadaily.com.cn, and comment@chinadaily.com.cn.