Well-designed coupons can help increase consumption
By Shen Qiaowei | China Daily | Updated: 2022-04-20 08:07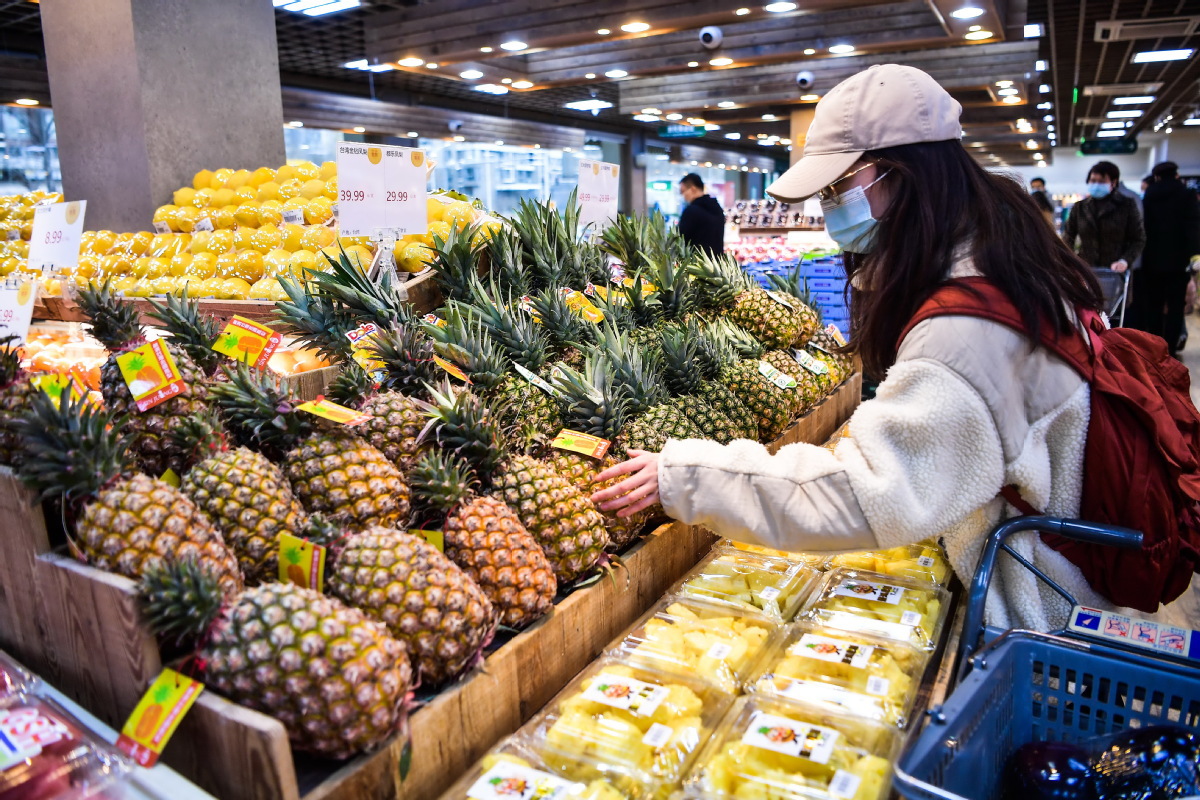 China's GDP grew 4.8 percent in the first quarter of this year despite the pressures of a complicated and grimmer international environment and rising COVID-19 infections in some places, the National Bureau of Statistics said on Monday.
China's economic recovery has been slowing down since the last quarter of 2021 due to various factors, including the emergence of new novel coronavirus variants, which have disrupted normal economic activities. As a result, there has been a decline in overall consumer spending, with the catering sector being the worst hit.
So stimulating consumer spending has become a crucial issue again, similar to what it was in late spring in 2020. To boost consumption, therefore, many local governments have been using innovative programs including issuing digital consumption coupons.
A typical consumption coupon has a small face value. It features consumer saving with certain amount of spending such as "spend 40 yuan ($6.27), get 10 yuan off", with the 10 yuan being government subsidy. Such coupons are disbursed through digital platforms in limited quantities in each round.
But, as many observers ask, can such small value digital coupons really stimulate spending?
The coupon program may not effectively increase overall consumption. Imagine you get a "spend 40 yuan and get 10 yuan off" coupon, and use that offer in your weekly shopping when you typically spend 100 yuan. The coupon will not change your total transaction value but the subsidy you get can be turned into your savings.
Our (Guanghua School of Management of Peking University) research of five rounds of digital coupon released in Hangzhou, Zhejiang province, from late March to May in 2020, shows that a 1 yuan government subsidy can in fact generate 3.4 yuan to 5.8 yuan of excess spending during the coupon redemption week. More importantly, it does not affect consumption in the subsequent weeks.
Furthermore, the effectiveness of the digital coupon in spurring consumption persists across multiple rounds of coupon issuance. These results are based on a careful analysis of the individual transaction records of about 1 million residents. Consumers who got the consumption coupons spent significantly more compared with individuals who applied but failed to acquire the coupons. The excess spending was mostly in catering services and food and drinks purchases.
In a parallel study of the coupon program launched in the Guangxi Zhuang autonomous region, a less-developed region in southern China, we found that the coupon subsidy was highly effective in promoting additional spending, and the percentage increase in consumption volume was even larger in less-developed cities.
The study also gave insights into the coupon design. We found that the general coupon, relative to industry coupon which limits coupon use to specific sectors such as dining and transportation, is more effective in stimulating redemption and spending. Also, simple consumption coupons work better than those with complicated features. In short, easy access and convenient redemption are crucial coupon elements that can boost consumption.
A well-designed coupon program can be a cost-effective tool to stimulate consumption. Research in government stimulus programs such as cash payments and tax cuts in other countries shows that a consumer or household typically spends 20-40 cents for a dollar of tax rebate or government cash payments. Yet the digital coupon boosts consumption to a larger extent.
In implementing coupon programs, we also need to consider the needs of special groups. For lower-income households, cash equivalent coupons, that is, coupons without minimum spending requirement, are more suitable. The advantage with digital coupons is that they can have flexible designs and can be implemented in combination with other policy tools. The challenge is how to precisely identify the group in need and design a program that would preserve fairness across individuals and groups.
There might be no perfect answer, but careful experimentation and rigorous analysis can improve coupon program design.
The author is a professor at the Guanghua School of Management, Peking University.
The views don't necessarily reflect those of China Daily.