Express delivery firms ready to return to work
By WANG YING in Shanghai | China Daily | Updated: 2022-04-28 09:47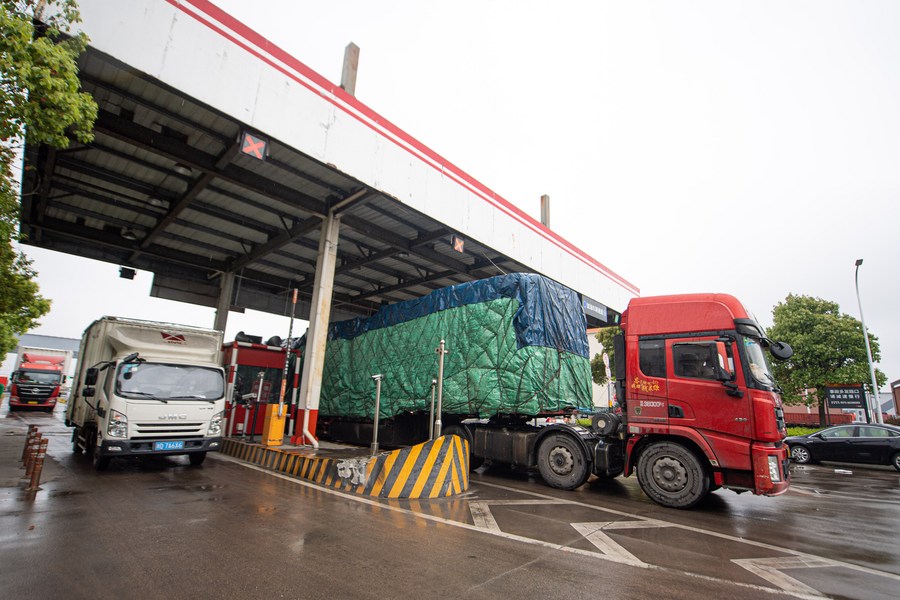 Major logistics enterprises in Shanghai are getting ready for the restart of their express delivery services in the city after weeks of suspension due to the current outbreak of COVID-19.
On Sunday, Shanghai Postal Administration issued the city's first pass to Shanghai-based STO Express, allowing the company to relaunch its services for delivering key epidemic-control supplies.
According to the information printed on the pass, its holder can only deliver such goods between Shanghai and Hunan province via the vehicle specified in the pass.
The issuance of such passes for delivery services comes after Chinese Vice-Premier Liu He's remarks at a national teleconference on April 18, which underlined efforts to keep supply and industrial chains stable.
The meeting underscored a people-centered approach in related work and vowed to improve the working and living conditions of logistics employees and offer them financial support, Xinhua News Agency reported.
According to the meeting, the country decided to issue sufficient travel permits that can be recognized across the nation and make sure that nucleic acid test results from within 48 hours can be used in different regions.
The pass is a step forward in the city's restoration of its express delivery services, and the measures taken throughout the trip will provide experience for future dispatches, said Huang Kuo, head of operations at STO Express Shanghai.
It is hoped that more such passes will be issued, he said.
According to Huang, the company has adopted a slew of measures to get ready for business resumption, including detailed planning for contagion prevention, thorough whole-process disinfection and efficient collaboration among delivery networks.
A special work team has been set up to ensure the smooth delivery of goods at Yunda Express once its regular operations resume in Shanghai. While sticking to stringent epidemic control protocols to keep the staff, vehicles and packages free from the novel coronavirus, Yunda is sparing no efforts to ensure the reasonable allocation of resources and optimized transportation routes.
ZTO Express and YTO Express are also ramping up their preparations to get back to business.
"STO is on the 'white list' published by Shanghai's Qingpu district to resume operations on Wednesday. This means we are not far from restarting ordinary courier express delivery services for the general public," according to a source close to the company who spoke on condition of anonymity.
He Qi contributed to this story.