Chinese youth, the rising sun of China
By Hanna Kalashnikova | chinadaily.com.cn | Updated: 2022-04-29 13:29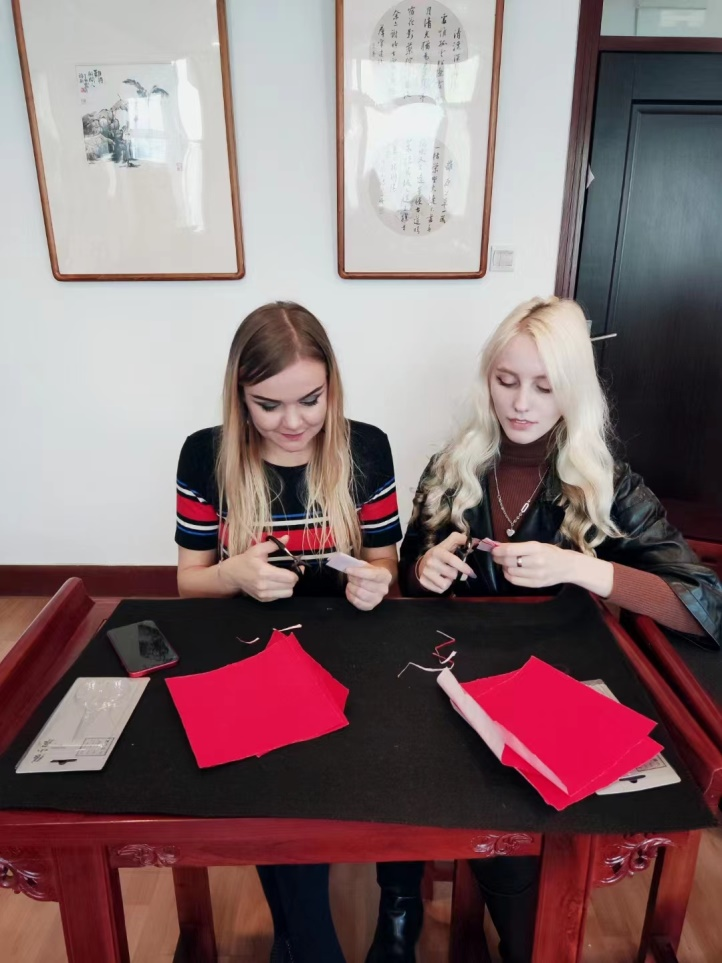 Hello, my name is Hanna Kalashnikova. I am from Ukraine. I have been studying at Dalian Minzu University for 4 years. I love the pleasant living environment of Dalian and feel lucky that I made a lot of young Chinese friends here. I also have a Chinese name, Anya, which means "quiet and graceful." It was given to me by my Chinese friend and I love the name very much. During my four years of study at the university, I gradually learned more about China and Chinese culture. Among the things I learned, what impressed me the most are the virtues of the young Chinese, their diligence, kindness to others and great respect to their culture are valuable things that I want to learn and live by.
Seeing is believing. Before I came to China, I learned that Chinese people are diligent and hard-working, which was proved by my best friend Wang Lulu, a 25-year-old Chinese girl. She often works overtime on weekends. Although she is very busy, she insists on improving her language skills in her spare time. Whether taking the bus, walking or doing housework, she uses every minute to listen to foreign news in order to improve her listening skills and takes every opportunity to talk with foreigners to practice her oral English and Japanese. Now she is fluent in both English and Japanese and works for an international trade company.
She always has a full and detailed schedule every day and strictly follows it. Doing physical exercises and reading books became part of her routine. She told me that when she was at middle school, she was taught that "hard work beats talent". So she believes that dreams could only be fulfilled through hard work and diligence, not talent alone.
Like Lulu, most students I met in Dalian Minzu University study very hard and have a very clear goal in life, they seldom shrink away from the burdens of work or study, and are ready to embrace them without complaints, for they also believe that hard work is the only way to happy life and career success. Every early morning when I walk through campus to my class, I can see students doing physical exercises, reading quietly on a corridor-chair, or discussing in groups, not wasting any minute to improve themselves. I think their hard-working ethic and goal-oriented spirit is inherited from the older generation and was instilled at an early age.
Taking pleasure for helping others is another obvious virtue that I have seen in the battle against the pandemic over the past two years. Their self-sacrificial spirit for a better society is unforgettable. The sudden outbreak of COVID-19 has interrupted our normal life since 2020 and caused many inconveniences. I saw many young Chinese people in my community volunteer to send food to people who were put in quarantine at home, help organize residents to take the nucleic acid test and scan the health code, and hold out a helping hand to the elderly whose children are not with them. Most often, they had to work in the community service center for over 12 hours. They always strived to do their best, especially when the going got tough. It seems that nothing can deter them – they just come up with alternatives to the difficulties with passion and enthusiasm!
The last thing that I am eager to mention is the great respect that young Chinese people have attached to their traditional culture. A happy memory for me was attending the traditional Chinese handcraft class in an elegant classroom with a strong sense of Chinese tradition. I could see that all my Chinese classmates showed a great passion, seriousness and curiosity to their traditional art form and their teacher, a famous local inheritor of traditional Chinese art. In addition, it is very common to see college students wear traditional Chinese clothes that were popular in the dynasties such as Han, Tang and Qing in their daily life. Also, there are various scales of traditional Chinese calligraphy and painting exhibitions which were organized by the student clubs of calligraphy and traditional Chinese painting of the university themselves.
I am lucky to have witnessed many great moments in China, such as the 2022 Beijing Winter Olympics, the return of Shenzhou XIII manned spacecraft and more. So, I would like to say that China's success is not because of chance. They finish projects in the shortest possible time so they can then take on a new one. I learned from the news report that many of these great projects are undertaken by young Chinese scientists, and the average age of young engineers is under 30.
In the time of global economic hardship, it is unimaginable that China continues to show staggering growth. Therefore, some people say that the young Chinese people are productive, and I quite agree with that. But in my view, the virtues such as a hard-working spirit, selflessness and confidence in their culture is the true secret behind it.
As the Chinese saying goes: "Where there is a will, there is a way." The saying has inspired me and has already become my motto. It also reflects well the younger Chinese generation. Their dedication and commitment to their country and to their job will surely guarantee the future prosperity of China.
Hanna Kalashnikova is a student from Ukraine at Dalian Minzu University.
The opinions expressed here are those of the writer and do not necessarily represent the views of China Daily and China Daily website.
If you have a specific expertise, or would like to share your thought about our stories, then send us your writings at opinion@chinadaily.com.cn, and comment@chinadaily.com.cn.