Parents scrambling for baby formula in US
By HENG WEILI in New York | China Daily | Updated: 2022-05-11 09:29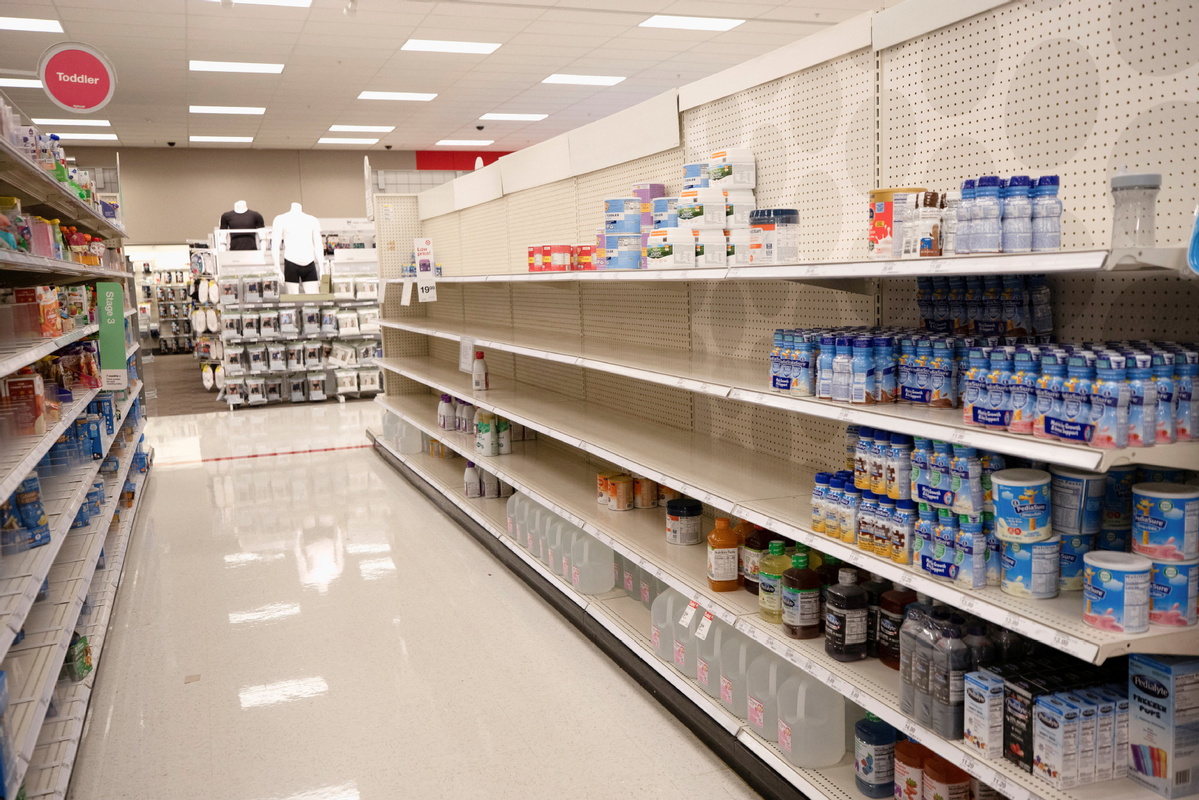 With many US states experiencing a shortage in baby formula, parents are resorting to interstate travel or going online to find supplies as their woes draw national attention.
The shortage began earlier in the COVID-19 pandemic when companies started to face supply chain issues, including locating the necessary ingredients, and labor shortages compounded the problems.
It was worsened by a recall in February at an Abbott Nutrition facility in Sturgis, Michigan, a major producer of baby formula. Three brands made there were recalled because of potential bacterial infections.
The amount of baby formula out of stock across the United States hit 40 percent on April 24, according to Datasembly, which provides access to billions of grocery and retail pricing records.
Tennessee, Texas, Missouri, Iowa, South Dakota and North Dakota have seen shortages higher than 50 percent, The New York Times reported. A total of 26 states have out-of-stock formula rates of 40-50 percent.
Retailers such as CVS, Target and Walgreens have limited purchases in stores and online to three per buyer, while parents have raised concerns that others are hoarding the formula.
A four-pack of formula was selling for $139.99 on the eBay platform on Monday.
The White House said on Monday that it is working with manufacturers and the Food and Drug Administration to get shelves restocked.
White House press secretary Jen Psaki said that "ensuring the availability of these products" is a "priority" for the FDA and that "they're working around the clock to address any possible shortage".
Many mothers have taken to social media to express their outrage.
"This has GOT to be addressed!!!! Raise the gas prices, inflate the food, but give our babies the food they NEED!!!! How the hell did this just become optional?" Kayla Zurenko wrote on Facebook. "I shouldn't have to search a tri-STATE area for baby formula-and STILL not find any!"
Wynter Balthrop of Gallatin, Tennessee, told Fox News that she broke down inside her car after driving to six stores and calling others as far as three hours away to find out that the only formula that her baby can tolerate was out of stock.
Abbott Labs recalled certain formulas after five infants contracted an infection that can cause severe blood infections and meningitis. Two babies reportedly died as a result. The company, however, denied that its plant was the cause of the fatal infections.