2 new Omicron variants detected in US
By MINLU ZHANG in New York | China Daily Global | Updated: 2022-05-11 10:22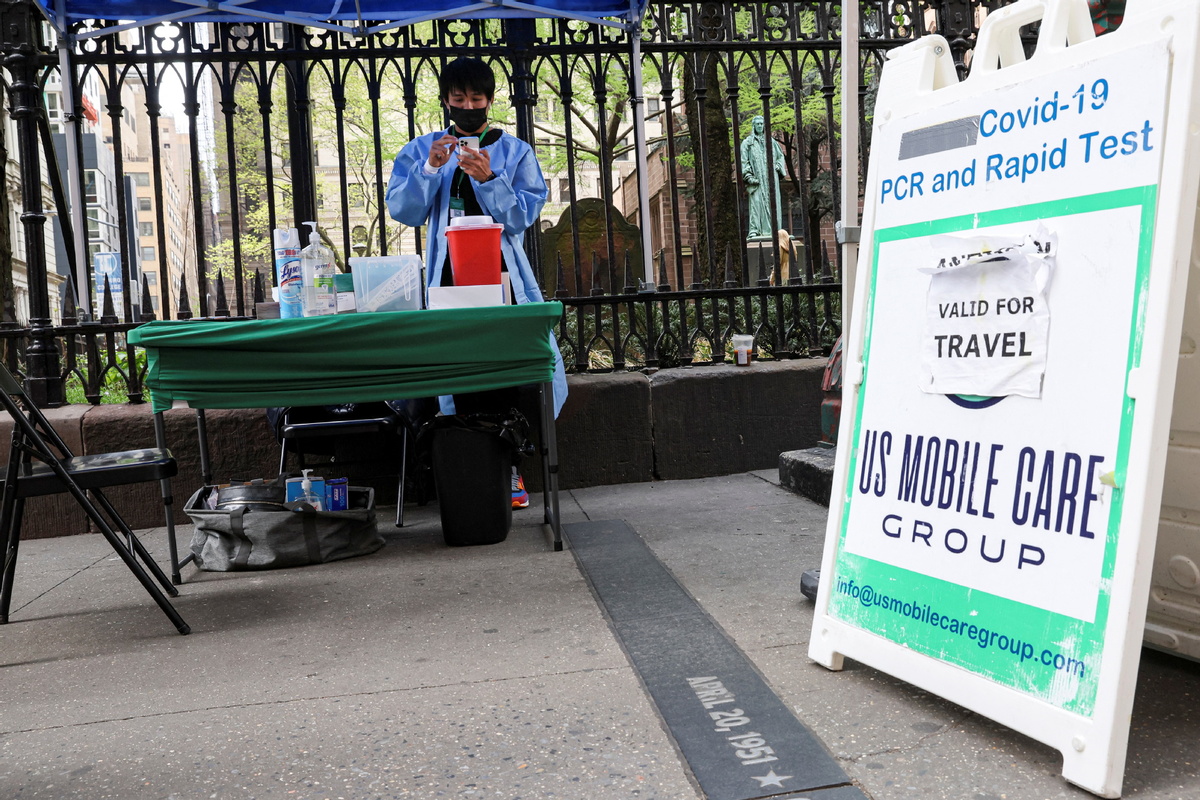 Two new coronavirus variants sweeping South Africa, known as BA.4 and BA.5, are likely to evade vaccines and natural immunity from previous infections and have been identified in the US, according to health officials.
In South Africa, the two new variants replaced the BA.2 strain in less than a month. They are now responsible for a new spike in South Africa's COVID-19 cases.
The subvariant known as BA.2.12.1 still remains dominant in the US, which makes up nearly half of COVID cases, the Centers for Disease Control and Prevention (CDC) said. But the new Omicron subvariants BA.4 and BA.5 have spread to more than 20 countries across North America, Asia and Europe, including a handful of cases of each strain in the US.
Less than 1 percent of US cases from April 17-23 are related with BA.4 and BA.5, but the two are labeled as variants of concern, according to the CDC.
Experts in South Africa now expect a fifth COVID wave within weeks even though an estimated 90 percent of the country's population has immunity to the earlier Omicron variants either due to surviving a natural infection or through vaccination.
Meanwhile, COVID positivity rates in parts of New York City are over 20 percent again. The transmission rate has risen to levels last seen in late January, up almost 20 percent in a week and almost 90 percent in a month. The city raised its alert level to "medium" last week.
President Joe Biden is planning to convene world leaders for a COVID-19 summit on Thursday to ramp up their coronavirus relief efforts for poorer countries.
A group of former heads of state and Nobel laureates are calling on the US to immediately commit $5 billion to combat the global coronavirus pandemic.
"I want America to recognize that the disease is not over anywhere until it's over everywhere," Gordon Brown, a former British prime minister who is leading the push for funding, said in an interview Monday, The New York Times reported. "We must not sleepwalk into the next variant," he added.
The meeting comes as the Biden administration is struggling to secure additional funding from Congress to support its own coronavirus relief efforts at home and abroad.
Ahead of the summit, Biden called on upper-middle and high-income countries to donate $2 billion in coronavirus treatments, like the Paxlovid pill, and $1 billion in oxygen supplies to poorer countries, CNN reported.
US health authorities and researchers are investigating why some COVID-19 patients relapse after taking Paxlovid, Pfizer's antiviral pill.
Paxlovid is supposed to treat newly infected COVID-19 patients, but within two weeks of appearing to get better, some of those who took the pill developed cold-like symptoms soon after, according to physicians and published case reports, The Wall Street Journal reported.
Since its authorization in last December, the pill has become a go-to COVID-19 treatment. Some 80,000 people in the US have taken it, according to Pfizer.
National Institute of Allergy and Infectious Diseases researchers are planning to examine how often the rebound cases occur, why, and whether extending treatment is a remedy, a spokeswoman said, the Journal reported.
The FDA has reiterated Paxlovid's effectiveness, and health authorities and doctors still encourage Paxlovid's use among people at high risk of developing severe COVID-19.