Ambassador Qin visits manufacturer in Georgia
By MAY ZHOU in Peachtree City, Georgia | Updated: 2022-05-13 09:10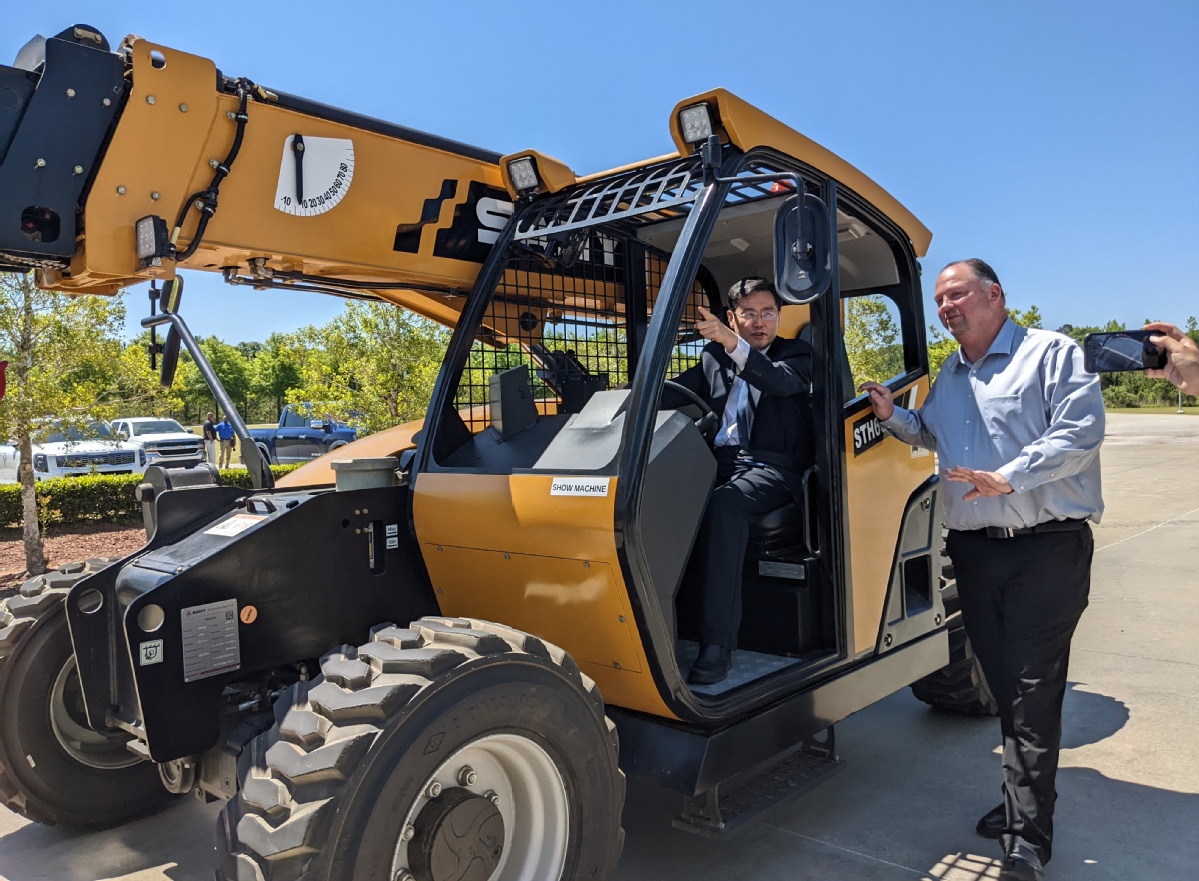 Chinese Ambassador to the US Qin Gang was having a field day on Thursday touring the factory of Sany America, a Chinese excavator and construction-equipment manufacturer.
He saw where the last two Marvel superhero Avengers movies were partially filmed and talked to workers. He even provided the finishing touches on an excavator — and drove one, too.
Factory worker Carlos Ocaranza, who showed Qin how an excavator is made, told him that he liked working at Sany because of the good pay and the diversity of the workforce. He's also proud that the company logo on his uniform gets recognized when he is going around the city of 38,200, located 30 miles south of Atlanta.
Qin, impressed by the huge size of the factory, was pleased to see a Chinese brand being made in the United States.
"This is a good example of how the interests of the two countries are interconnected. Besides investments, we have a huge trade with each other; we need to work hard for a good life for both countries," Qin told a large crowd of factory workers.
"Are you happy here?" he asked.
"Two thumbs up!" a worker replied, grinning.
Doug Friesen, CEO of Sany America, told Qin that business has been good despite the COVID-19 pandemic.
"We sit on 20 acres of land, and we have grown significantly in the last five years. We started as a $60 million business, and this year we will become a $660 million business, and we are heading toward $1.5 billion," Friesen said.
Friesen said he witnessed Sany's unprecedented growth in his five years leading the subsidiary. At first, Sany, based in Changsha, Hunan province, had only 0.7 percent of the market share and was competing with about 20 rivals for a total of 4 percent market share.
"Now we are about 7 percent above all that group, and we are going after the big guys, which are John Deere and Komatsu," he said.
Sany's workforce has grown from 50-60 people when he joined the company to about 240 people, and it will continue to grow, he said.
According to Friesen, Sany is bringing in more products and is planning to add its own distribution center and design center onsite.
The ambassador pointed out that trade and economic cooperation have been politicized in the US.
However, he said, "don't be too sensitive, don't panic. The US and China are natural trade partners, we are mutually complementary, and a good business relationship will benefit both of us."
Qin said that Sany's success directly shows how win-win cooperation is made.
"Talking to the workers, I find them very happy and very satisfied. They said the salaries are good, opportunities are good, and the families also benefit from their jobs here," he said.
Qin said that as ambassador, he "would like to explore more business opportunities through my onsite visits to Sany and other places, and through meetings with government officials." He concluded, "I am very optimistic."
Mike King, mayor pro tem of Peachtree, said Sany has had a significant impact on the local economy.
"They have 240 employees who are all local, a good number of them live in town. Sany was one of the best blessings we had back in 2006 when the headquarters started to come here, and it kept growing," King told China Daily.