Anti-Asian hate crimes historically follow world events
By LIU YINMENG in Los Angeles | China Daily Global | Updated: 2022-05-13 09:52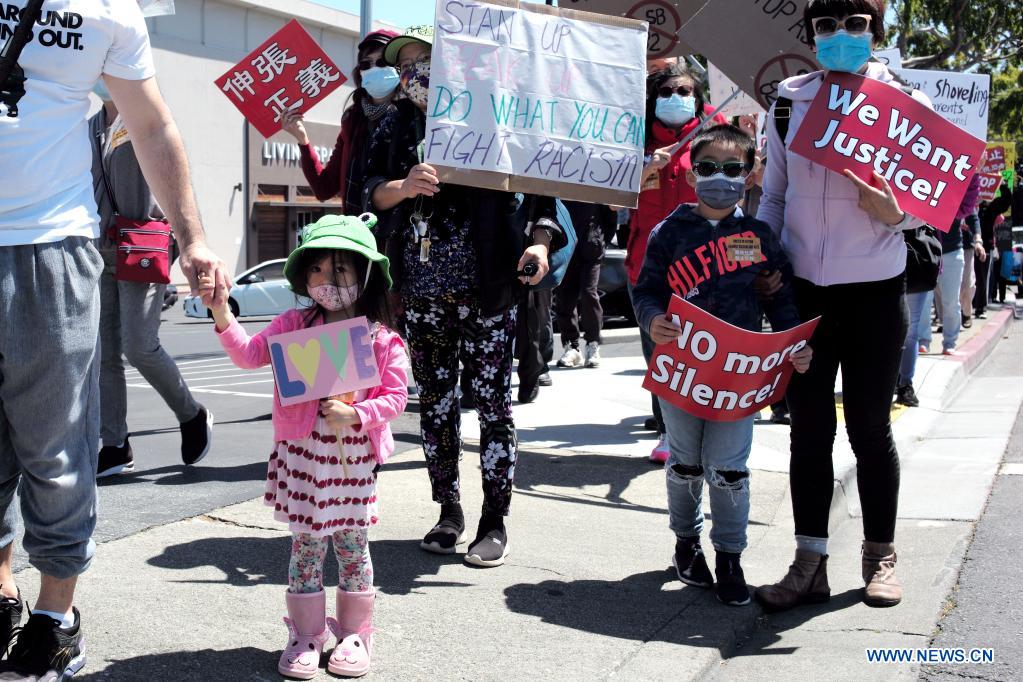 The increase in hate crimes against Asians coincided with a rise in geopolitical tensions, which historically manifested in deteriorating US-Japan relations and is repeating itself amid current US-China tensions, said participants in a panel discussion on Wednesday.
During the virtual conference organized by the Brookings Institution, historians, scholars and civil organization leaders weighed in on the everyday struggles of Asian Americans and the ramifications from the anti-Asian violence that has spiked during the COVID-19 pandemic.
Cynthia Choi, co-executive director of Chinese for Affirmative Action, a San Francisco-based civil rights organization, recalled the 1982 tragic death of Vincent Chin, a Chinese American beaten to death by two white men who mistakenly thought Chin was Japanese, during a period of heightened US-Japan trade tensions.
"Today, we have elective officials, largely Republicans, as we documented in our 2020 report, that have created the same dangerous environment for Asian Americans," said Choi.
"But let's also be honest that Democrats have also engaged in an 'us vs them', as a winning political strategy as well, so this is a bipartisan issue," she added.
Choi, who also co-founded STOP AAPI Hate, a nonprofit that tracks incidents of hate against Asians in the US, confirmed a direct link between the anti-Chinese rhetoric and the rise in anti-Asian hate crimes.
The organization reported nearly 11,000 incidents against Asian Americans and Pacific Islanders from March 19, 2020, to Dec 31, 2021. The perpetrators of the assaults were driven by the beliefs that China was the source of the coronavirus, Choi said.
She noted that anti-Asian rhetoric is often matched with a policy agenda "built upon otherizing immigrants and people of color, punishing immigrants and protecting white supremacy". The anti-immigrant policies included restrictions on asylum seekers, Chinese students, academics and many others, Choi said.
According to Choi, Asian Americans and Pacific Islanders have also experienced institutional violence by law enforcement officers and a criminal justice system that "has demonstrated to be racially based".
"We have multiple instances where we have community members who have called 911 during a mental health crisis and ended up being killed instead of helped," she said. In addition, language barriers and lack of access to resources prevented Asians from getting the help that they needed.
Jane Hong, an associate professor of history at Occidental College, noted that the "model minority" myth, a perception that Asian Americans are naturally successful, has created racial tensions among different ethnic groups.
"The thing that is most important to understand about this model minority narrative is that it is inherently anti-black," Hong said.
She explained that the idea gained traction in the mid to late 1960s at the height of the Black Power movement, when American media and scholars used the concept to criticize the African American communities by presenting Asian-Americans as law-abiding, hard-working citizens. That was in contrast to how African Americans were being critiqued at the time, Hong added.
Jeffrey Bader, a senior fellow in the John L. Thornton China Center at the Brookings Institution, suggested that the outbreak of anti-Asian violence in the US has the potential to erode the country's national security.
The US has fallen short of living up to the ideals of being a country welcoming different ethnicities and nationalities.
Bader said that when the US criticized China's treatment of Uyghur Muslims at the UN's Human Rights Council, it didn't get much support outside of Europe.
"A lot of people put it down to Chinese economic power. I don't think that was right. I think that is a factor, but I think equally important was the sense of American hypocrisy, that we weren't demonstrating through our own behavior," he said.