US casts its shadow in Okinawa 50 years on
By WANG XU | CHINA DAILY | Updated: 2022-05-16 09:29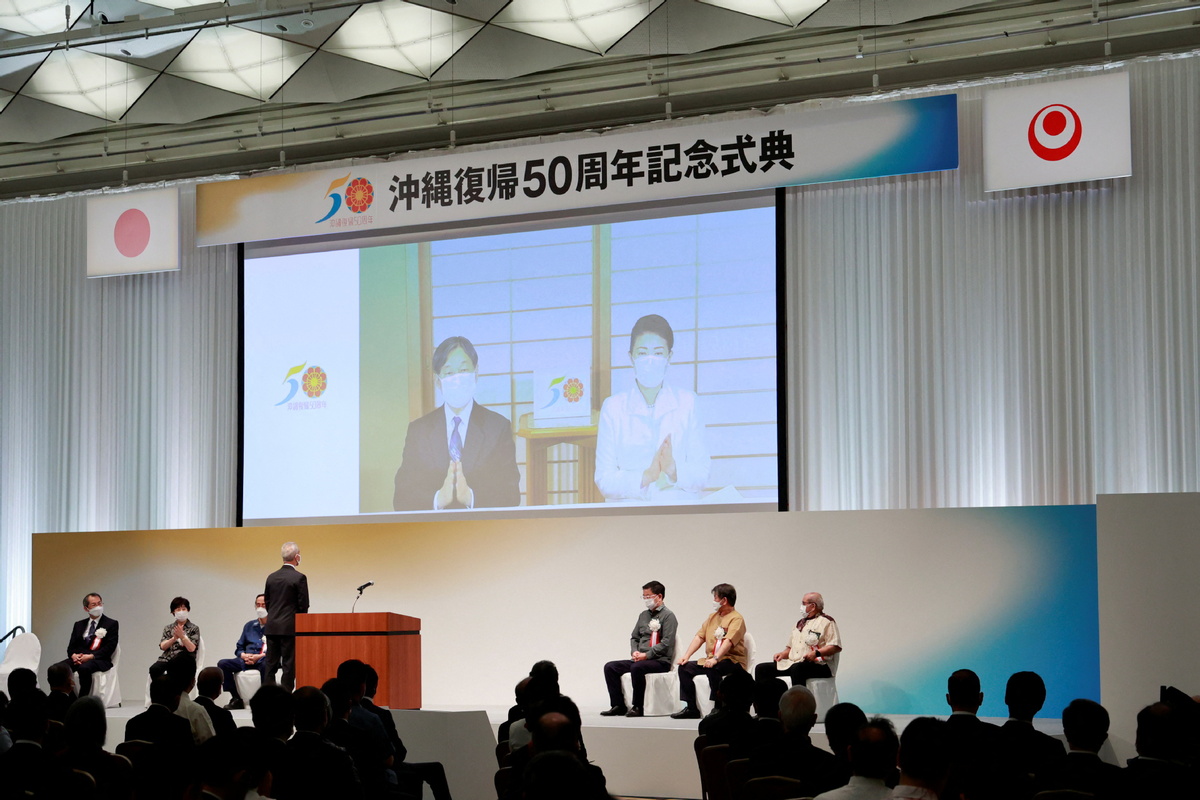 Japan celebrated on Sunday the 50th anniversary of the end of US rule in the southern island of Okinawa, with the majority of the islands' 1.4 million people showing discontent with the still-heavy presence of United States troops.
In Tokyo and Ginowan, the city in Okinawa that hosts a big US base, two ceremonies were simultaneously held to commemorate the anniversary. The post-World War II US occupation of Japan lasted until 1952, but it took another 20 years for Okinawa to regain its sovereignty.
"As I extend my thoughts to the history of the people of Okinawa who went on to tread paths fraught with hardships, I am filled with deep emotion as I attend this ceremony," said Japanese Emperor Naruhito in his speech in Tokyo.
Although the emperor did not explicitly mention what hardships the Okinawans are facing, the prefecture's Governor Denny Tamaki was more straightforward.
"Even after 50 years… the people of Okinawa continue to be forced to shoulder excessive base-hosting burdens," said Tamaki in Ginowan, citing accidents and crimes involving US soldiers. He urged the central government to undertake "sincere efforts" to make Okinawa "an island of peace".
Hosting about 70 percent of the US' military bases in Japan and more than half of its 47,000 troops, Okinawa has faced a continual conflict between the US troops and its residents.
In a poll by the public broadcaster NHK this month, respondents said about 85 percent of Japanese consider the current disproportionate distribution of US forces "wrong" or "somewhat wrong", and more than 71 percent of Okinawans think the US bases in the prefecture are "not useful" or "somewhat not useful" in their jobs and personal lives.
Growing dissatisfaction
In another survey by Kyodo News, 55 percent of responding residents said they have been dissatisfied with the course of history over the past 50 years.
Having continually ranked the lowest among the country's 47 prefectures in average income per capita, Okinawa also has an economic reason to be discontent.
Addressing the issue, Japanese Prime Minister Fumio Kishida pledged at the ceremony in Ginowan to "steadily make visible progress on the alleviation of the large base-hosting burden" and realize "a strong Okinawan economy" by unlocking its potential.
Hiromori Maedomari, a professor at Okinawa International University, said in a study that the US bases are one of the things that hindered Okinawa's economic development.
"We learned that economic activity could significantly increase if that land (occupied by US bases) was used by the private sector instead," Maedomari was quoted by local media as saying. "According to one estimate, the bases prevent $7.7 billion of economic development of Okinawa each year."