Britain's PM renews Northern Ireland threats
By JULIAN SHEA in London | China Daily Global | Updated: 2022-05-17 09:58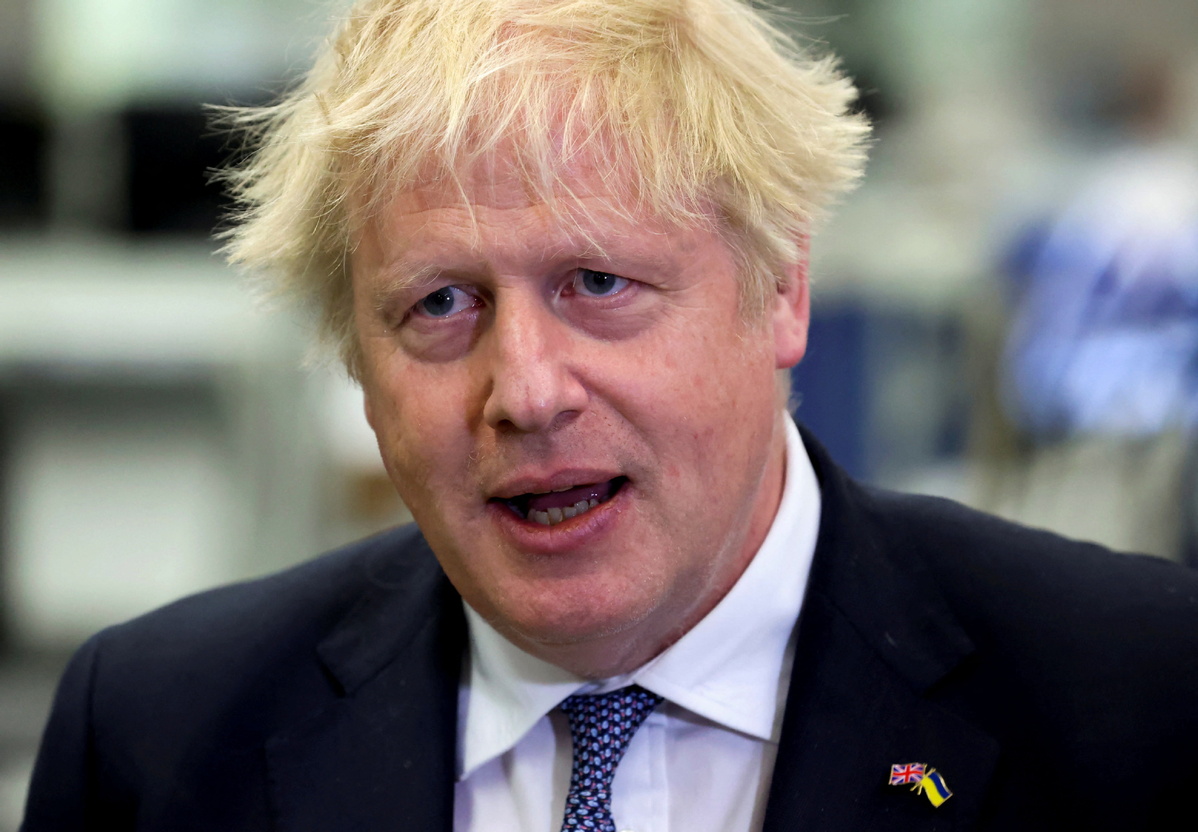 Brussels stands firm in row as Johnson aims to rewrite post-Brexit agreement
Britain's Prime Minister Boris Johnson has flown to Northern Ireland to try and encourage the province's political parties to come together for a powersharing devolved government following the recent Northern Ireland assembly elections, which further enflamed the already delicate Brexit situation.
The election results made Sinn Fein, which supports a united Ireland, the largest party, but politics in the province, which is severely politically divided, are conducted on a powersharing basis.
The Democratic Unionist Party, the largest party representing the Unionist community, who want Northern Ireland to remain part of the United Kingdom, is refusing to enter the assembly because of the stand-off over the part of the Brexit Agreement known as the Northern Ireland protocol.
This has left Northern Ireland subject to some European Union trade regulations, to avoid the reintroduction of a hard border between the North, which is part of the UK, and the Republic of Ireland, which is part of the EU - but it has instead put an invisible border down the sea between the British mainland and Northern Ireland, with customs checks.
In the run-up to the 2019 general election, Johnson was filmed telling business leaders in Northern Ireland: "If somebody asks you to (fill in customs forms), tell them to ring up the prime minister and I will direct them to throw that form in the bin… you'll be all right.
"There will be no forms, no checks, no barriers of any kind. You will have unfettered access," he added.
Following the election, a statement published on the Conservative Party website said: "We must move on. No more renegotiations … Boris Johnson's new deal takes the whole country out of the EU as one United Kingdom."
The Brexit terms, known as the EU-UK Trade and Cooperation Agreement, were signed on Dec 30,2020, but less than 18 months later, Johnson says the protocol is outdated and has threatened to tear it up.
European Commission vice-president Maros Sefcovic, who has been having talks over the issue with British Foreign Secretary Liz Truss, insists the matter is not up for renegotiation.
"The EU has been open to joint work with the UK on implementing the protocol to bring long-term legal certainty and predictability to the people and businesses in Northern Ireland," he said.
"The EU remains open to such discussions. Only joint solutions will work. Unilateral action by the UK would only make our work on possible solutions more difficult.
"The protocol, as a cornerstone of the withdrawal agreement, is an international agreement. Its renegotiation is not an option. The European Union is united in this position."
Ireland's Minister for Foreign Affairs Simon Coveney told the Irish Times newspaper that progress could be made "if there was an attitude to do so on both sides".
"But we need a partner in London to do that, not a partner that is making threats of unilateral action," he said.