Nordic states lay down their NATO guidelines
By JULIAN SHEA in London | China Daily Global | Updated: 2022-05-20 09:21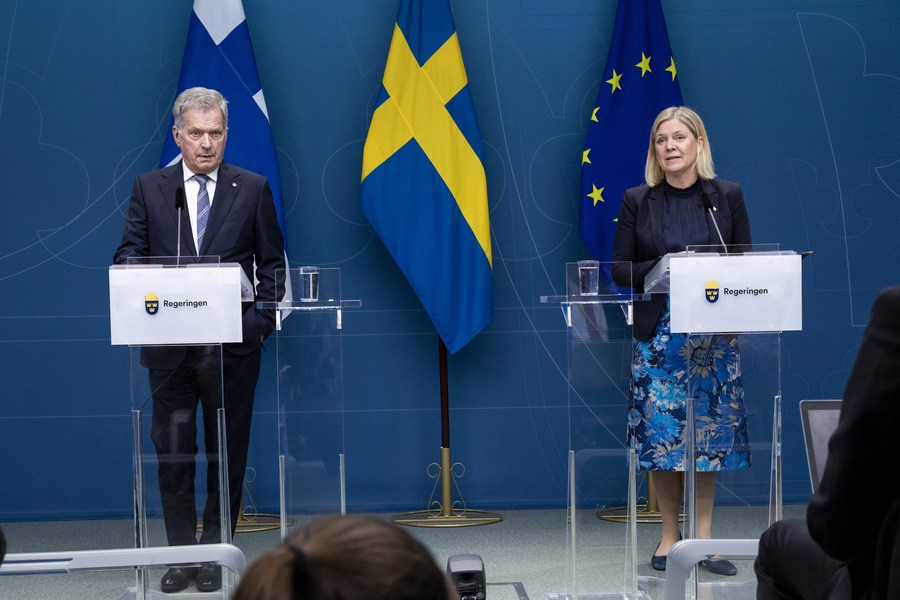 Finland's Prime Minister Sanna Marin has said that if her country's application to join the NATO military alliance is successful, she does not want nuclear weapons deployed or military bases established on its territory.
This week, Finland and Sweden both formally applied to join the alliance, in response to security fears over the conflict in Ukraine, and although their joining was expected to be straightforward, Turkey has now raised objections.
Croatia's President Zoran Milanovic has also expressed opposition, although this is believed to be an attempt to put pressure on the United States to become involved in an issue relating to election legislation in Bosnia, and the country's Foreign Minister Gordan Grlic Radman said that he has told NATO foreign ministers "on behalf of the Croatian government… we give our unequivocal and unreserved support to (Sweden and Finland)".
Turkey's opposition relates to its belief that both countries are harboring individuals with links to organizations that Turkey considers to be terrorist groups, and also because both countries imposed arms export embargoes on Turkey over its incursion into Syria in 2019.
In an interview in an Italian newspaper conducted during a visit to have talks with Italy's Prime Minister Mario Draghi, Marin said dialogue, not threats, was the way to make progress on the issue.
"I think at this stage it is important to stay calm, to have discussions with Turkey and all other member countries, answering questions that may exist and correcting any misunderstandings," she said.
Sweden's Prime Minister Magdalena Andersson has also made it clear she does not want any permanent NATO bases or nuclear weapons in her country.
US President Joe Biden said that he "strongly supports" their applications. "I look forward to welcoming (Finland's) President Sauli Niinisto and Prime Minister Magdalena Andersson to Washington tomorrow so that we can further discuss their applications and European security," he said.
NATO Secretary General Jens Stoltenberg called the applications "a historic moment, which we must seize", but Russia's Foreign Minister Sergei Lavrov said it would probably make "not much difference".
"Finland and Sweden, as well as other neutral countries, have been participating in NATO military exercises for many years," he said. "NATO takes their territory into account when planning military advances to the east. So, in this sense, there is probably not much difference."
In addition, President Vladimir Putin said at a meeting of Russia's military allies in Moscow that the nation "has no problems with these states … expansion on account of these countries does not pose a direct threat to Russia".
The comments were in contrast to earlier ones from Russia's Deputy Foreign Minister Sergei Ryabkov, who called NATO expansion a "grave mistake" that would have "far-reaching consequences".