BRICS foreign ministers call for closer ties
By ZHAO JIA | CHINA DAILY | Updated: 2022-05-21 07:23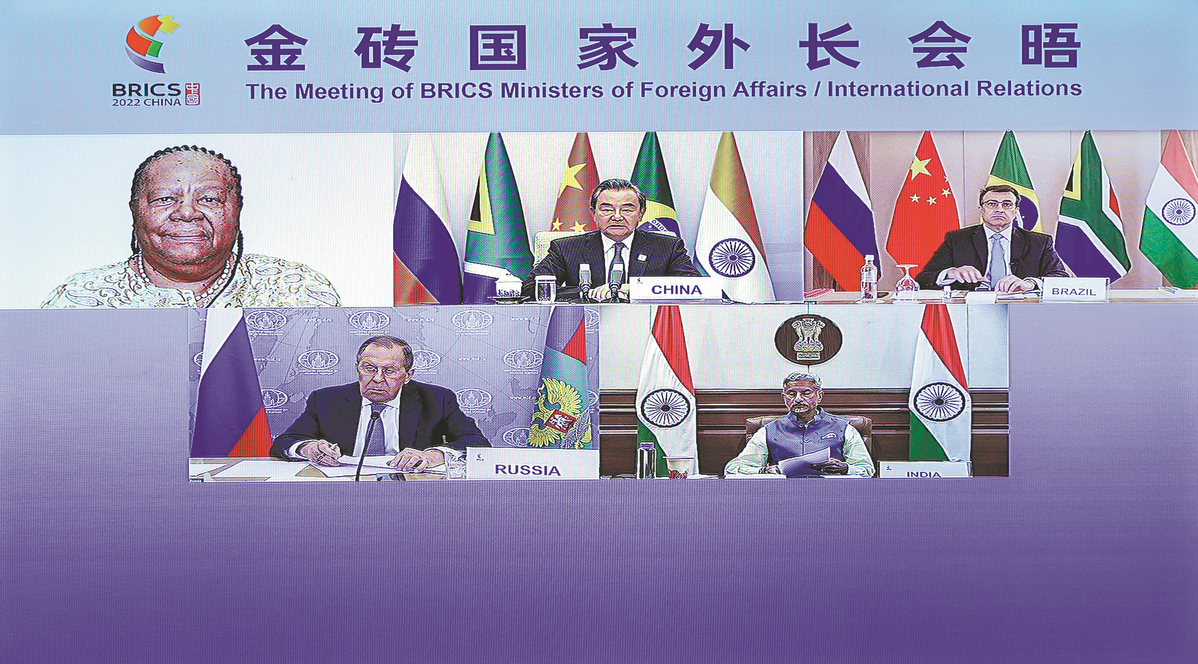 Foreign ministers of BRICS countries have agreed to deepen their nations' strategic partnership, enhance the influence of BRICS countries in international affairs and safeguard the common interests of emerging markets and developing countries.
They made the pledge on Thursday during the Meeting of the BRICS Ministers of Foreign Affairs via video link, which was chaired by Chinese State Councilor and Foreign Minister Wang Yi and attended by foreign ministers from Brazil, Russia, India and South Africa.
They supported advancing the process of BRICS expansion and indicated that further discussions would be held on this issue.
They also appreciated China's active role in fighting the COVID-19 pandemic and coping with global climate change, and are willing to strengthen cooperation in various fields.
During the meeting, Wang stressed the need for BRICS countries to find the greatest common ground on common security, build consensus for common development, provide a shield for the health of humanity and inject positive energy into global governance.
The meeting also produced a joint statement on strengthening BRICS solidarity and cooperation and responding to new challenges in the evolving international situation.
The statement reiterated BRICS countries' commitment to multilateralism and said that the central role of the United Nations in the international system should be upheld.
Foreign Ministry spokesman Wang Wenbin said during a news briefing on Friday that important consensus and positive results on many issues concerning global security and development were reached at the meeting, which has prepared related parties for the upcoming 14th BRICS Summit.
During the meeting, BRICS foreign ministers also held a dialogue with their counterparts in emerging markets and developing countries in the "BRICS+" format, the first of its kind at the foreign ministerial level.
The spokesman said the "BRICS+" format, proposed by President Xi Jinping in 2017, had received active support and response from various parties, enriching and enhancing the value of the BRICS.
"Facing the current risks and challenges, it is more important than ever to strengthen solidarity and cooperation among emerging markets and developing countries,"Wang said.
The foreign ministers of countries including Kazakhstan, Saudi Arabia, Argentina and Egypt took part in the dialogue.
The spokesman said that the "BRICS+" cooperation format is a platform for emerging markets and developing countries, which is designed for cooperation and strives for development.
"We welcome more countries to participate in the platform to jointly promote democracy in international relations, an inclusive world economy and equitable global governance so as to create a brighter future," said the spokesman.