UK urges monkeypox caution
By EARLE GALE in London | China Daily Global | Updated: 2022-05-24 09:06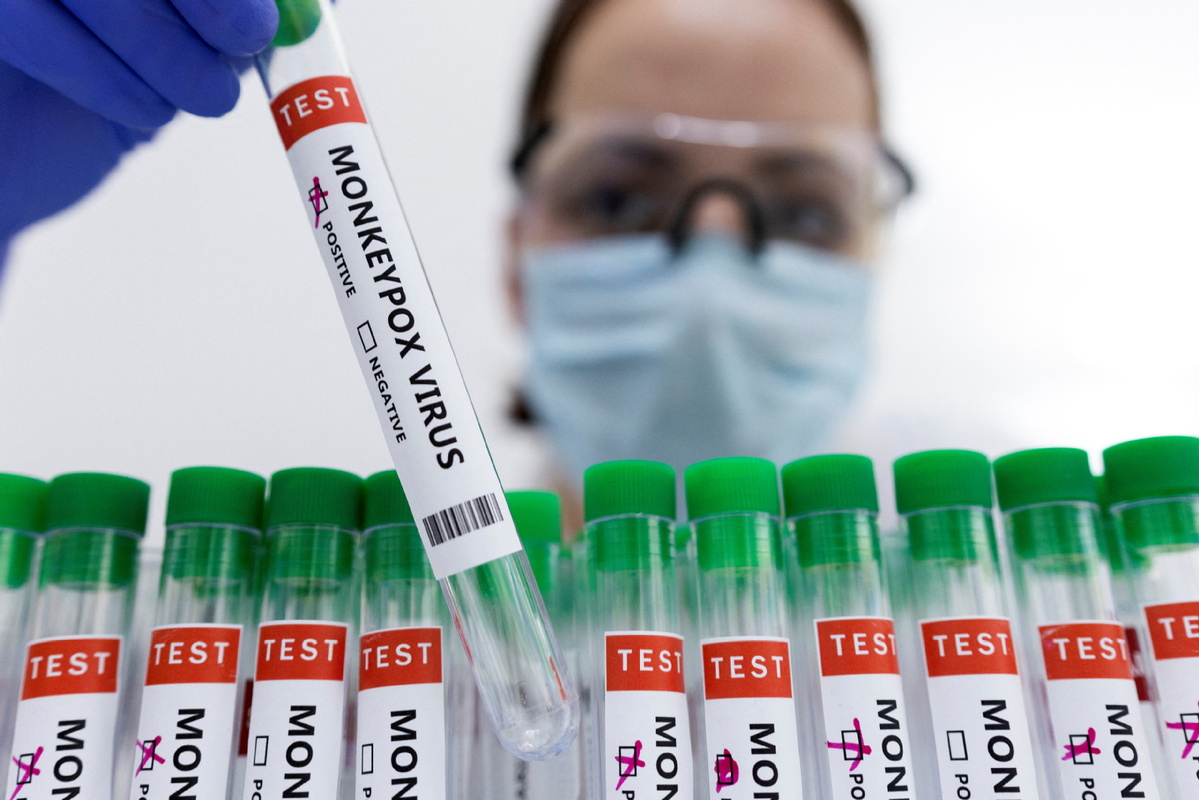 'Close contacts' asked to self-isolate, avoid travel as cases of infection rise
The United Kingdom Health Security Agency, or UKHSA, has urged "close contacts" of people with monkeypox to self-isolate for 21 days as the outbreak gathers momentum.
The UKHSA, which is responsible for protecting the public from infectious diseases, said people who have "household contact" should also self-isolate.
The government agency is also asking people who may have the disease to avoid travel and minimize interaction with pregnant women, children, and people with damaged immune systems, and to give their contact information to the authorities.
So far, the UK government has not ordered such moves; they are merely recommended.
Susan Hopkins, the UKHSA's chief medical adviser, told the BBC the disease, which is usually contained within western and central Africa, is relatively difficult to spread and is circulating in the UK largely through sexual liaisons among gay and bisexual men.
"We would recommend to anyone who is having changes in sex partners regularly, or having close contact with individuals that they don't know, to come forward if they develop a rash," she said.
Symptoms are usually mild and include a temperature and aches in addition to skin lesions that can become infected. Most people recover fully in two to four weeks.
As of Monday morning, the UK had 20 confirmed cases but was expecting many more to be identified this week.
The World Health Organization, or WHO, had identified more than 80 cases globally as of Monday morning but was also monitoring many more suspected cases in at least 12 nations that usually have none.
The WHO said: "The situation is evolving and WHO expects there will be more cases of monkeypox identified as surveillance expands in non-endemic countries."
Hopkins said the UK already has community transmission of the disease.
"We are finding cases that have no identified contact with an individual from West Africa," she said.
The UKHSA has begun giving the smallpox vaccine to close contacts of people with monkeypox, to protect them from developing the illness.
"We're not using it in the general population," Hopkins said. "We're using it in individuals who we believe are at high risk of developing symptoms, and using it early."
The WHO, meanwhile, has begun "working with the affected countries and others to expand disease surveillance, to find and support people who may be affected".
Tedros Adhanom Ghebreyesus, the WHO's director-general, said the outbreak is one of several challenges stretching medical resources.
The European Union's infectious-disease agency has said it too is considering vaccinating close contacts of people with the disease. The European Centre for Disease Prevention and Control said recommending a vaccination drive is "not an easy decision" and needs more thought.
Michael Head, a senior research fellow in global health at the University of Southampton, told Sky News the outbreak, while concerning, is not the early stages of the next global pandemic.
"It is a particularly nasty virus," he said. "But I think I would stress at this point, it's not COVID."
He said the monkeypox virus needs "very close contact to transmit" so "threats to the wider general public are very low".