Putin fast-tracks Russian citizenship in Ukraine
By REN QI in Moscow | China Daily | Updated: 2022-05-27 08:03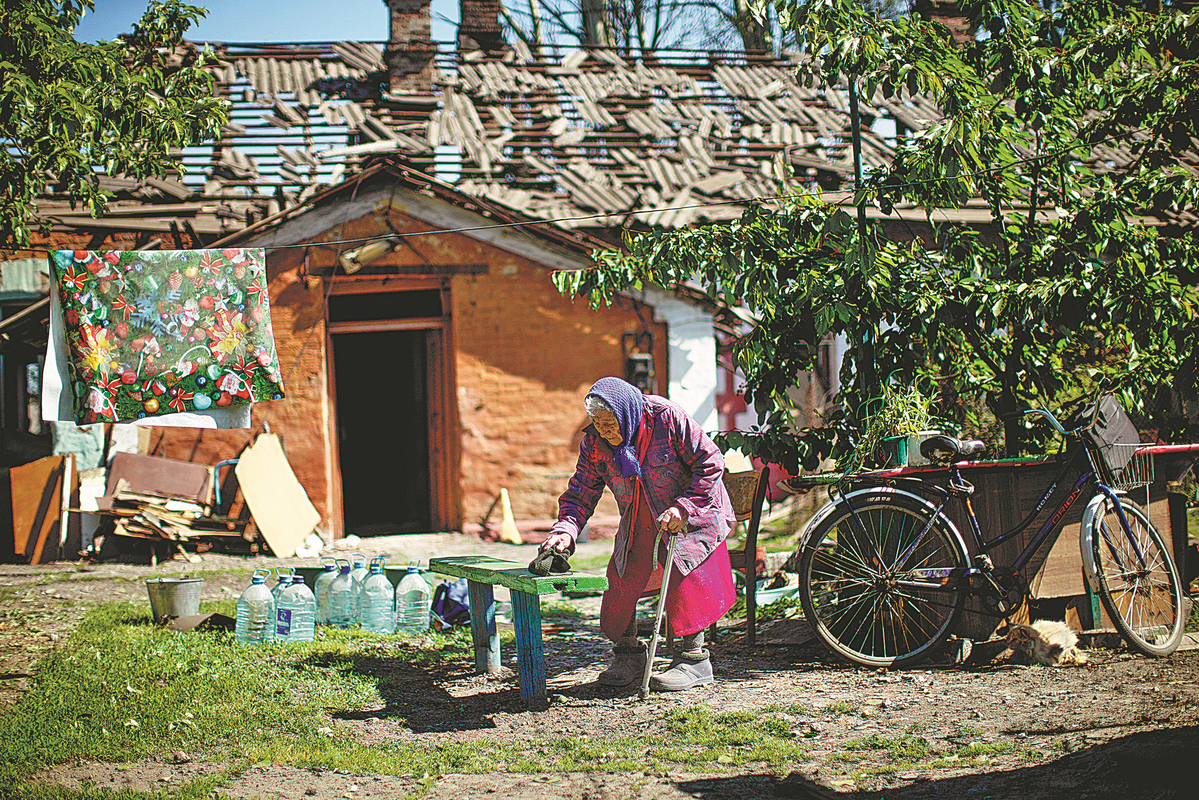 Russian President Vladimir Putin has issued an order to fast-track Russian citizenship for residents in the southern and eastern parts of Ukraine largely held by Russian forces.
The fast-track citizenship option on Wednesday came amid speculation that Moscow could establish permanent control over areas it has captured in its three-month "special military operation" in Ukraine. Russia has not officially responded to the speculation.
Russia first introduced a simplified passport scheme for residents of eastern Ukraine's militia-controlled Lugansk and Donetsk regions in 2019. Over 200,000 people are estimated to have since obtained Russian citizenship.
Putin's new decree extends the scheme to people living in Ukraine's Zaporizhzhia and Kherson regions and enters into effect immediately.
The southern region of Kherson is now under the full control of Russian troops, while the southeastern region of Zaporizhzhia is partially controlled by Moscow.
The Russian army is engaged in an intense battle for Ukraine's eastern industrial heartland of Donbas. In a sign that the Kremlin is trying to bolster its stretched military machine, Russian lawmakers agreed to scrap the age limit of 40 for those signing their first voluntary military contracts.
Russian officials explained only volunteer contract soldiers are sent to fight in Ukraine, though they acknowledged that some conscripts were put into the fighting by mistake in the early stages of the conflict.
Ukrainian President Volodymyr Zelensky reiterated on Wednesday that he would be willing to negotiate with Putin directly, but said Moscow needs to retreat to the positions it held before the conflict.
At the World Economic Forum in Davos by video link, Zelensky also issued a bitter rebuke to the West for not doing enough to help Kyiv.
Calling for help "without limits", specifically shipments of heavy weaponry, Zelensky also blasted recent suggestions that negotiated peace could include territorial concessions.
The conflict has caused global shockwaves, with the latest being fears of food shortages, particularly in Africa. Moscow blamed the sanctions imposed after the conflict, while the West said the shortage is mainly down to Russia's blockade of Ukrainian ports.
Comprehensive approach
"Solving the food problem requires a comprehensive approach, including the removal of sanctions that have been imposed on Russian exports and financial transactions," Russian Deputy Foreign Minister Andrey Rudenko said.
Meanwhile, Turkish presidential spokesman Ibrahim Kalin said Turkey has set out conditions for the Swedish and Finnish delegations to earn its support over the two Nordic countries' bids to join NATO.
Officials from Sweden and Finland met with Turkish counterparts in Turkey's capital Ankara on Wednesday, in an attempt to resolve disputes with Turkey, which opposes their NATO membership bids.
Sweden and Finland's procedure to join the military alliance will not move forward if concrete steps are not taken to address Turkey's concerns, Kalin stressed.
Agencies contributed to this story.