Chinese maker delivers 1st of 400 subway cars for Chicago
By ZHONG NAN in Beijing and XIE CHUANJIAO in Qingdao, Shandong | CHINA DAILY | Updated: 2022-06-09 07:13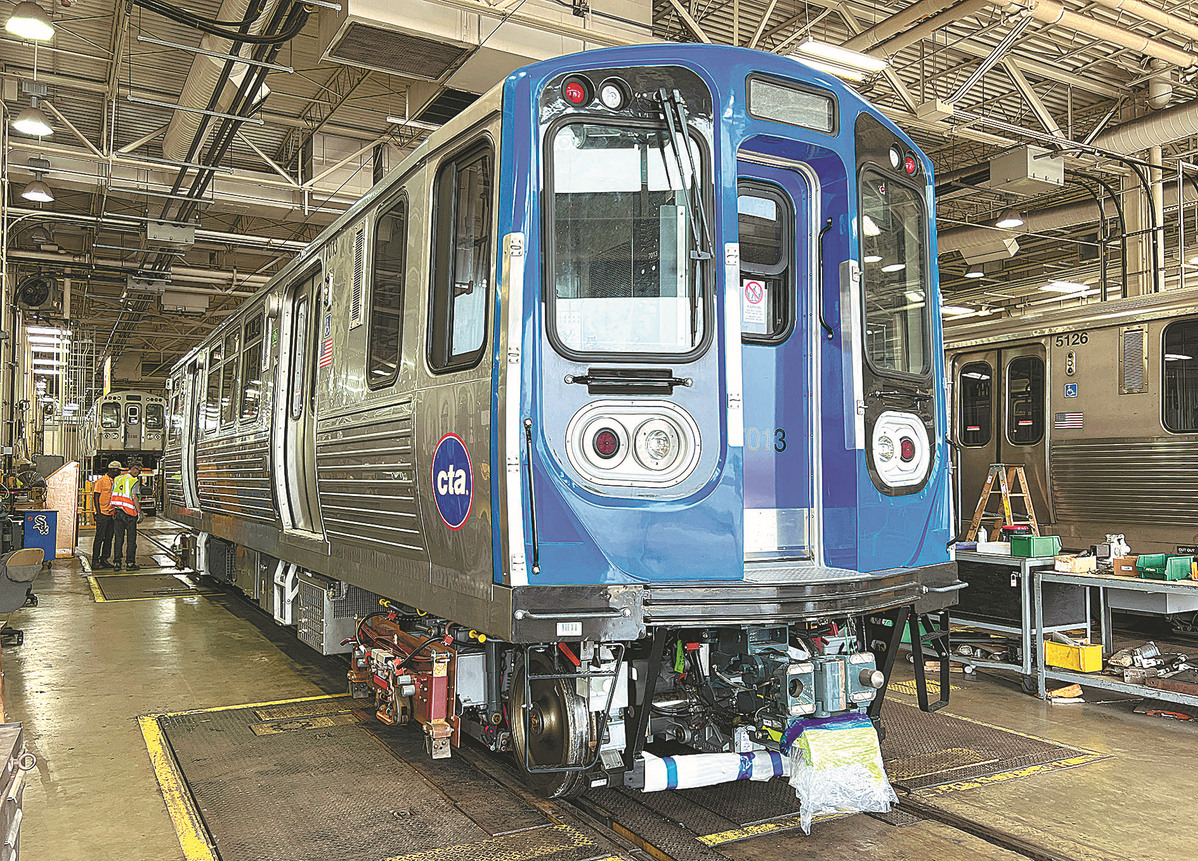 CRRC Sifang America Inc, an Illinois-based subsidiary of China Railway Rolling Stock Corp, announced it has started delivery of subway cars to Chicago, marking a breakthrough for the country's high-end rail transit products operating in the United States.
The company sent the first of its 400 subway cars to its client-the Chicago Transit Authority-earlier this week, after the CTA completed operational tests on the 10 passenger rail car prototypes.
The 7000-series prototypes were delivered in 2020 and tested in April 2021.
Backed by its complete industrial support and ecological systems, strong financing ability, mature workforce and growing investment in scientific innovation, China has provided stability to the global supply chain amid economic disruptions, said Li Xingqian, director-general of the Department of Foreign Trade at the Ministry of Commerce.
By the end of this month, CRRC Sifang America will have delivered eight of the 7000-series subway trains to the CTA.
These trains are part of an order for 400 of the company's rail cars, said Xu Tao, chief engineer of the technology center at CRRC Qingdao Sifang, the parent company of CRRC Sifang America and a Shandong-province based CRRC unit.
In 2016, CRRC Sifang won the contract to supply 400 rail cars, with an option for another 446, to replace about half of the CTA's fleet in the largest metro car order in CTA history. The Chinese company built a factory in Chicago in 2017 and began production in 2019.
Xu said CRRC Sifang America will produce and deliver trains based on the demand from its client. The new 7000-series vehicles will be used to replace older cars on eight subway lines in Chicago and provide better transportation service to the city's residents.
The company said the railway vehicles are equipped with LED lighting and modern passenger information systems, unlike the rest of the CTA's older fleet.
"Through the implementation of localized manufacturing and procurement, the project has not only brought commercial opportunities for upstream and downstream companies across the US, but also created 200 jobs for local communities," he added.
CRRC, China's largest rolling stock manufacturer by sales revenue, has built a large number of rail cars over the past decade for transit systems in big cities, including Boston, Chicago, Philadelphia and Los Angeles.
Ma Yu, a researcher at the Chinese Academy of International Trade and Economic Cooperation in Beijing, said as the global economy faces multiple uncertainties, China and the US should reinforce cooperation to meet each other halfway. Improving their bilateral economic and trade ties would not only benefit the two nations, but also the world.
He suggested the US should lift the hurdles for China to invest in the market because the more Chinese companies invest, the more both sides will benefit from each other, especially in the areas of manufacturing and services.