Pacific tour shows China's equality-based diplomacy
By Harald Brüning | China Daily Global | Updated: 2022-06-16 09:11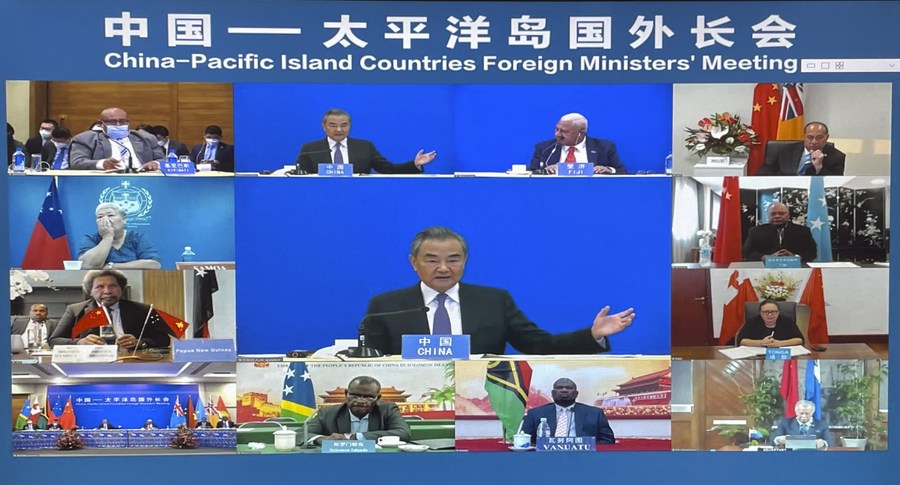 State Councilor and Foreign Minister Wang Yi's recent 10-day tour of seven Pacific Island nations, which included Timor-Leste, demonstrated once again China's long-standing practice of equality-based diplomacy.
While some Western governments and media tried hard to play up the marathon tour's allegedly ulterior security designs, its outcome shows that it turned out to be remarkably consensus-based and pacific.
All of the Pacific Island nations were colonized by Western powers (Britain, France, Germany, Spain and the United States) in the 19th century, often by resorting to the euphemism of "protectorate" to disguise their politico-economic designs.
The US annexed Hawaii in 1898, and Tonga became a British "protected state" in 1900. After World War I, Japan, Australia and New Zealand seized Germany's Pacific colonies, which they then continued to rule as so-called "mandates "under the League of Nations.
While some Pacific islands succeeded in their independence bids in the mid-20th century, others are still ruled by foreign countries, such as-the name says it all-American Samoa. In addition, France seems determined to keep a foothold in the Pacific at all costs for geopolitical reasons.
Wang's tour ended with a visit to the Democratic Republic of Timor-Leste (East Timor's official Portuguese name).
That sparked my personal interest, in particular because I covered the country's ceremony marking the restoration of its independence in Dili in May 2002. (East Timor unilaterally declared its independence from Portugal in November 1975.)
My first article about Timor-Leste, which was then occupied by Indonesia, was published in 1980, and I met some of its leaders, such as Jose Ramos-Horta and Xanana Gusmao, in Macao in the 1990s.
During my visit to Timor-Leste two decades ago, East Timorese told me that they would "very much" welcome Chinese investment and assistance, pointing out that their country had a thriving Chinese community, said to have numbered about 30,000, before the Indonesian invasion in December 1977. They also underlined that Chinese seafarers traded with them for hundreds of years without, unlike other foreigners, trying to occupy their island.
During Wang's visit, President Xi Jinping and East Timorese President Ramos-Horta exchanged congratulations on the 20th anniversary of diplomatic relations. Xi underlined the two nations' long history of friendship.
Ramos-Horta, Timor-Leste's third president, told Xinhua News Agency in an interview on the eve of Wang's visit that "China's role is indispensable for the peace and stability, development and prosperity of the region".
Ramos-Horta, without whose decadeslong efforts Timor-Leste would most probably not have been able to restore its independence, pointed out that China "has been very generous in supporting the nation in the fields of education, health, agriculture and infrastructure". He acknowledged that "what China is providing to us, as it has done in the last 20 years, is extremely important for Timor-Leste to keep progressing economically".
Ramos-Horta also thanked China for its help in the fight against COVID-19.
During his two-day stay in Timor-Leste, Wang's meetings with Prime Minister Taur Matan Ruak, Foreign Minister Adaljiza Magno and many other senior politicians reaffirmed the strong bonds of friendship between Beijing and Dili, and both sides agreed to strengthen win-win cooperation and safeguard multilateralism.
No doubt, Timor-Leste, which has a population of 1.3 million, is a vivid example of China's equality-based diplomacy.
At the start of Wang's tour, Xi sent written remarks to the second China-Pacific Island Countries Foreign Ministers' Meeting in Fiji on May 30, in which Xi emphasized that China remains committed to the equality of all countries, regardless of size.
No matter how the international landscape may evolve, Xi said, China will always be Pacific Island countries' good friend, cherishing the same ideals and following the same path, their good brother sharing weal and woe, and a good partner forging ahead shoulder to shoulder
Xi added that China is ready to "join hands to build an even closer China-Pacific Island countries community with a share future".
Speaking to reporters right after his tour, which took in Kiribati, Samoa, Fiji, Tonga, Vanuatu, Papua New Guinea and Timor-Leste, Wang reaffirmed China's view that all countries, big or small, are equal. Noting that China and Pacific island nations are developing countries, Wang said that the two sides have broad consensus, similar concerns and common missions.
Significantly, Wang also reaffirmed that China's cooperation with Pacific Island countries "is not targeted at and will not be interfered with by any country".
According to Xinhua, Wang emphasized that China has no intention of competing with anyone for influence or engaging in geographical competition, adding that with an open mind and in accordance with the willingness of Pacific Island countries, China is ready to carry out more three-party or even four-party cooperation with Australia and New Zealand in the South Pacific region, in order to give full play to the respective advantages of all sides and form greater synergy.
For the benefit of our planet, Canberra, Washington and other Western capitals must discard their Monroe Doctrine-like stance visa-vis the Pacific and instead cooperate with Beijing in assisting the developing Pacific Island nations in addressing climate change, promoting their diversified development and joining hands for the sustainable development of the ocean.
What our planet urgently needs is global cooperation among nations with different political systems and social values to solve the most pressing challenges, such as poverty alleviation, education, healthcare and, last but not least, enough food and a decent home for all.
The author is director of the Macau Post Daily.