Nowadays, most US mass shooters younger than 18
By AI HEPING in New York | China Daily Global | Updated: 2022-06-20 09:33
Analysis looks at strains that prompt some teens to reach for firearms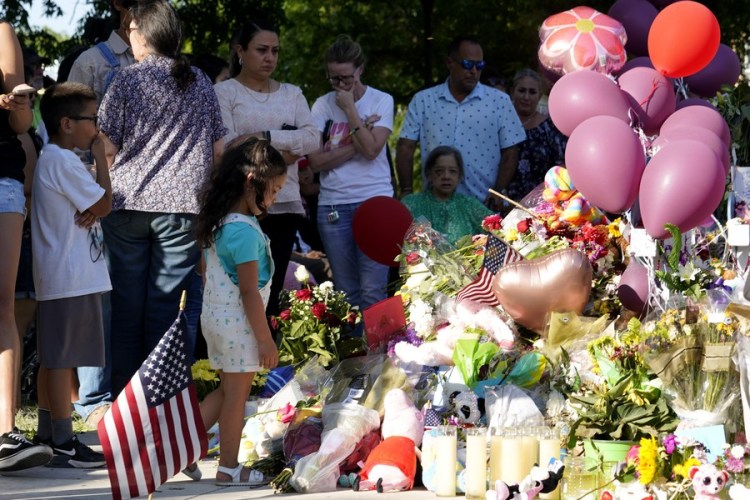 An analysis of 196 mass public shootings in the United States since 1996 shows that nearly 98 percent, or all but five, of the perpetrators were men, and more than two-thirds of the shooters were under the age of 18. The median age of school shooters was 16.
The analysis by The Washington Post shows a shift in the age of the shooters, who before 2000 were mostly men in their mid-20s, 30s and 40s.
Why are more young men and boys involved in US mass shootings, especially school shootings? There is no single answer, but researchers say there are common threads among them.
"Age is the untold story of all this stuff," psychiatrist Jonathan Metzl, who is also a sociologist at Vanderbilt University in Nashville, Tennessee, told the Post. "There's a lot of research about how their brains are not fully developed in terms of regulation. Studies show, the prefrontal cortex, which is critical to understanding the consequences of one's actions and controlling impulses, doesn't fully develop until about age 25."
In that context, Metzl said, a shooting "feels like another kind of performance of young masculinity".
Kami Chavis, director of the criminal justice program at Wake Forest University School of Law in Winston-Salem, North Carolina, agreed with Metzl, telling the Post: "We need to pay attention to the scientific evidence that suggests these young minds may not be capable of having the serious responsibility of owning an assault rifle."
Frank McAndrew, a psychology professor at Knox College in Galesburg, Illinois, told China Daily that there are different kinds of mass shooters, and the ones that are driven by ideology generally do not choose schools.
"Those who go to schools tend to be people who are in the same town that they're from. And they go back to the place where they felt alienated, where they felt ostracized, where they felt disrespected," he said.
"For young men in particular, they're at a time of life where status and respect from other people are very important. And if they feel like they're losers, that they are not getting the attention and respect that they think they deserve, they have a response to this," McAndrew said.
"It's an actual biological response. They're full testosterone and this results in all kinds of negative emotions like envy and rage. ...A male of that particular age is really susceptible to these kinds of negative experiences. And then when you combine that with how easy it is to get a very powerful weapon, that's what sets the stage for trouble."
In the Uvalde, Texas, elementary school shooting, gunman Salvador Ramos, 18, killed 19 children and two teachers. He was a student at the local high school and began his rampage by shooting his grandmother because he was enraged over his failure to graduate that week, according to a neighbor.
Friends and relatives said he had been bullied throughout middle school for a speech impediment-a stutter and lisp, according to the Post.
A cousin said she saw students mocking his impediment during middle school, and he tried at first to ignore the bullying but then told his grandmother that he didn't want to go back to school.
Jillian Peterson is a professor of criminal justice at Hamline University and James Densley is an associate professor at Metropolitan State University, both in St. Paul, Minnesota. They created a database of US mass shootings since 1966.
Each one in their database was carried out by men or boys; the average age was 18. Twelve of the 14 school shooters were either current or former students at the school.
They say their research shows that workplace attacks have been carried out mostly by middle-aged men. School shootings involve perpetrators mostly in their late teens or early 20s. Of the mass school shootings in their database, the average age of the shooters was 18.
Ramos was 18, and the person charged in the Buffalo, New York, supermarket shooting that left 10 black people dead, Peyton Gendron, is 18.
"I think it is this kind of coming out of adolescence: not knowing your place in the world and being depressed and isolated and more vulnerable to what you are reading online," said Peterson, a criminologist who studies the life histories of mass shooters.
She said that when she has gone back decades later to interview shooters who committed their attack in their teens or early 20s, "they don't even recognize the person that did that".
Peterson and Densley found that most school shooters, like Ramos, have experienced early childhood trauma and/or exposure to violence.
"Some perpetrators are seeking fame and notoriety. However, most school shooters are motivated by a generalized anger. Their path to violence involves self-hate and despair turned outward at the world, and our research finds they often communicate their intent to do harm in advance as a final, desperate cry for help," the researchers wrote in an article for The Conversation, a nonprofit news site dedicated to sharing ideas from academic experts.
School shooters tend to preempt their attacks by leaving posts, messages or videos warning of their intent, they said.
On the morning of the Texas mass shooting, Ramos reportedly messaged a teenager in Germany who he had met on Yubo, a social media app used by young people worldwide, that he planned to do something. Minutes later, Ramos messaged: "I just shot my grandma in her head. I'm going to shoot up an elementary school."
"Our research and dozens of interviews with incarcerated perpetrators of mass shootings suggests that for most perpetrators, the mass shooting event is intended to be a final act," Peterson and Densley said.
The majority of school mass shooters in their database died at the scene, nearly all by suicide-the lone exception being the Robb Elementary shooter, who was shot dead by police.
This year, there have already been more than 246 mass shootings in the US, according to Gun Violence archive.
Most experts define mass shootings as involving the deaths of more than four people. About 99 percent of all shootings in the US involve fewer victims, according to statistics compiled by the federal government and academics.
Beyond mass shootings, boys and young men account for half the US homicides involving guns, or any other weapon. Fifty percent of all killings in 2020, the most recent year for which comprehensive data is available, were committed by assailants under 30, according to the FBI's uniform crime data tracking system.
What differentiates mass killers from other young men who may suffer a mental disorder but don't commit such acts is hard to define, the experts say. The vast majority of young men with even serious mental health disorders rarely commit acts of violence. They are more likely to be victims, or impulsively hurt themselves, than to plot violence against others, the experts say.
Eric Madfis, an associate professor of criminal justice at the University of Washington at Tacoma, suggested that the perpetrators are trying to regain control through a "masculine" solution after a long period of frustration.
"We teach boys and men that the only socially acceptable emotion to have is not to be vulnerable and sensitive, but to be tough and macho and aggressive," he told the Post.
aiheping@chinadailyusa.com