Macron's alliance hunts for way to salvage ruling majority
By CHEN WEIHUA in Brussels | China Daily Global | Updated: 2022-06-21 09:35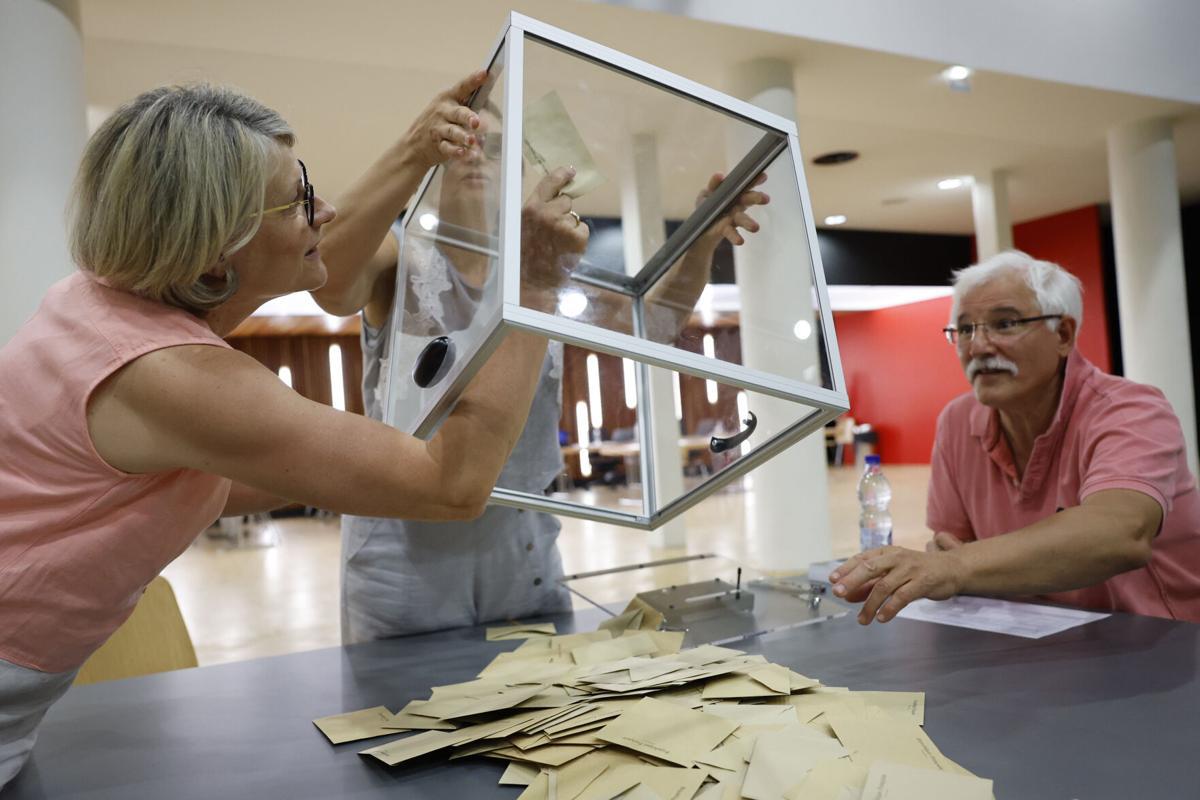 French President Emmanuel Macron's centrist alliance lost its absolute majority in the second round of parliamentary elections on Sunday, triggering concerns over the effectiveness of his government in the next five years.
Macron's Ensemble alliance won 245 seats, 44 seats short of the 289 absolute majority in the 577-seat parliament, according to preliminary results from the French Interior Ministry. It was the first time a French president is faced such a situation since the 1980s.
The left-wing NUPES coalition, led by Jean-Luc Melenchon, obtained 131 seats to become the largest opposition group in parliament. The far-right National Rally party, led by Marine Le Pen, made history by winning 89 seats, compared to its current eight seats. The center-right Les Republicains secured 61 seats, making them a potential kingmaker.
The results will likely complicate Macron's domestic agenda such as pension reforms, after he beat Le Pen in April to become the first president to win reelection since Jacques Chirac in 2001.
Prime Minister Elisabeth Borne said her government had begun reaching out to potential partners in order to rally a majority behind it.
Economy and Finance Minister Bruno Le Maire said "we will have to show a lot of imagination" to govern.
Les Republicains are widely seen as a potential partner for Macron's coalition. But voices from the party are divided. Party president Christian Jacob said it "would stay in the opposition", while former budget minister Jean-Francois Cope called for a "government pact" between Les Republicains and Macron's alliance to "beat the rise of the extremes".
Melenchon, who led a coalition of the Socialists, the hard left, communists and Greens, applauded the results as "above all, an electoral failure" for Macron.
"I hope you are into it. All of a sudden, you felt that your fingertips were tingling? It's that history is passing you by," the 70-year-old leader of the La France Insoumise party told supporters on Sunday.
Le Pen celebrated her party's biggest gains in decades on Sunday in an event held in a bowling alley 200 kilometers from Paris.
Solidarity and Health Minister Brigitte Bourguignon, Maritime Minister Justine Benin and Environment Minister Amelie de Montchalin all lost their seats in the Sunday election and will have to leave the cabinet.
Tomasz Michalski, an associate professor in the Economics and Decision Sciences Department at HEC Paris, attributed the quality of public services such as healthcare and education, coupled with inflation, as a major cause for Macron's upset.
"There is wide dissatisfaction among the French with these matters," he told China Daily on Monday.
Michalski expects Macron's party to seek an alliance with Les Republicains in order to govern. He noted that although Macron's majority will be reduced, the opposition is also fragmented on many issues.
"In the French system, as long as the presidential party, or its coalition, has the majority, opposition has very little influence. There will be fiery tirades in parliament, but the opposition is toothless. So in terms of substance, not much may change in comparison to previous five years," he said.
Michalski also pointed out that Macron will want to recognize that there is a shift in public opinion on the core issues ailing the country, from inflation and energy transition in the short term to the hard fight on pension reform and health and education policy in the long term.
Carl Bildt, former Swedish prime minister and now co-chair of the European Council on Foreign Relations, said it will not be easy for Macron to maneuver.
"But foreign and security policy still remain in the hands of the President," he wrote in a tweet on Sunday.
Agencies contributed to the story.
chenweihua@chinadaily.com.cn