LA trade event highlights importance of local partnerships
By LIU YINMENG in Los Angeles | China Daily Global | Updated: 2022-06-28 07:35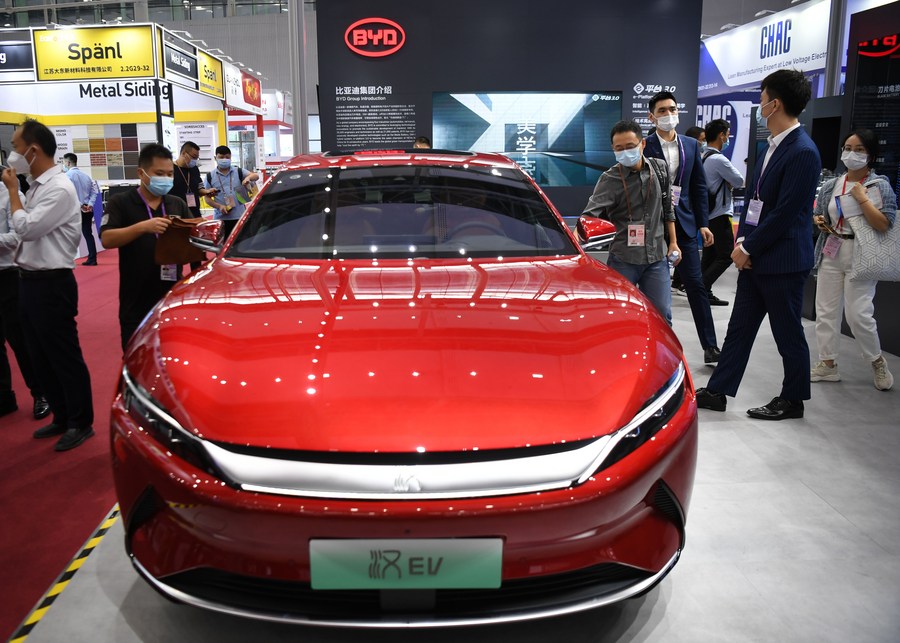 Local partnership is essential when it comes to growing a company's operations overseas, a Chinese business executive told a panel of industry leaders at a top international trade event.
Stella Li, who heads BYD's US branch, recalled how local organizations, such as the Los Angeles County Economic Development Corporation (LAEDC), had helped the company navigate the financial landscape in California. She spoke Thursday during a panel discussion at the Select LA Investment Summit.
When a team from the Shenzhen, China-based electrical vehicle manufacturer came to the US in search of a new location for their North America headquarters, they were warmly welcomed by the LAEDC, which connected them with local stakeholders, Li said.
Staff from the LAEDC even gave her recommendations for the best schools for children and good Chinese restaurants in the area, she said.
"All of this stuff immediately makes you feel at home," said Li, a guest speaker at the summit, which aims to address the unique opportunities and challenges faced by foreign investors in California.
Li shared how valuable partnerships helped BYD enter the LA market and how that has contributed to the company's continual growth in the US.
In 2009, Li was introduced by the organization to Mayor Rex Parris of Lancaster, California, in northern Los Angeles County.
In 2010, county officials and city representatives, along with Parris, formed a sizable delegation for a trade mission to China. They visited BYD's headquarters in Shenzhen, further solidifying their relationship, she said.
Upon returning, the mayor partnered with BYD and homebuilder KB Home to create a project that provided affordable, green-energy houses for Lancaster's residents.
The efficiency with which Parris was able to get the permission and install the solar project greatly impressed Li. So, after opening its US corporate headquarters in downtown Los Angeles in 2011, BYD established its North America manufacturing plant in Lancaster in 2013, she said.
"When we set up our headquarters (in LA), we already have the mindset that when we go to manufacture, we will go to Lancaster," she said.
The summit was organized by the World Trade Center Los Angeles (WTCLA), a subsidiary of LAEDC. More than 300 attendees from over 53 countries, including delegations from China, participated in the conference.
It opened with a welcome reception on Wednesday and continued with a full-day discussion on Thursday focused on building a sustainable economy. Guest speakers came from a cross-section of society, including government, academia and the transportation, manufacturing, energy, technology and logistics industries.
Issues discussed included electric vehicles, hydrogen fuel, climate infrastructure and the circular economy.
During a speech at the event, Los Angeles Mayor Eric Garcetti noted the diversity of cultures in Los Angeles.
"When you do business with us, we already know you, because we are you. Your people, your culture, your cuisine is a part of our city. So we are eager to come visit you, to bring those investments, to bring those stories, to bring those companies, to bring those jobs right here," Garcetti said.
Stephen Cheung, chief operating officer of LAEDC and president of WTCLA, emphasized that international trade plays a key role in the development of California's economy.
"We are dependent on international trade. We are dependent on foreign direct investments. Their contribution to our economy allows us to create these amazing, good jobs here locally, so as we look into recovery, we need to do more," he said.
Steve Olson, a WTCLA board member and founding executive director of the SelectUSA, out of which came the Select LA spinoff, told China Daily previously that Chinese participants made up three-quarters of the audience at the inaugural LA program in 2015.
Despite China-US friction, China ranks eighth when it comes to the scale of foreign investments in California, according to a report published by the WTCLA shortly after the summit.
There are a total of 694 Chinese companies operating in California. They created jobs for 18,324 residents who earned an estimated total of $1.8 billion in wages. The top sectors for Chinese enterprises were manufacturing, professional/business services, education/health, wholesale trade, transportation, warehousing and utilities.
According to the report, Japan is the foremost investor in California, with 3,523 firms employing 105,053 workers earning nearly $11 billion in salaries. It is followed by the UK and France.