Russian gold ban impact seen limited as industrialized nations up pressure
By LIU YUKUN and ZHENG XIN | China Daily | Updated: 2022-06-28 09:16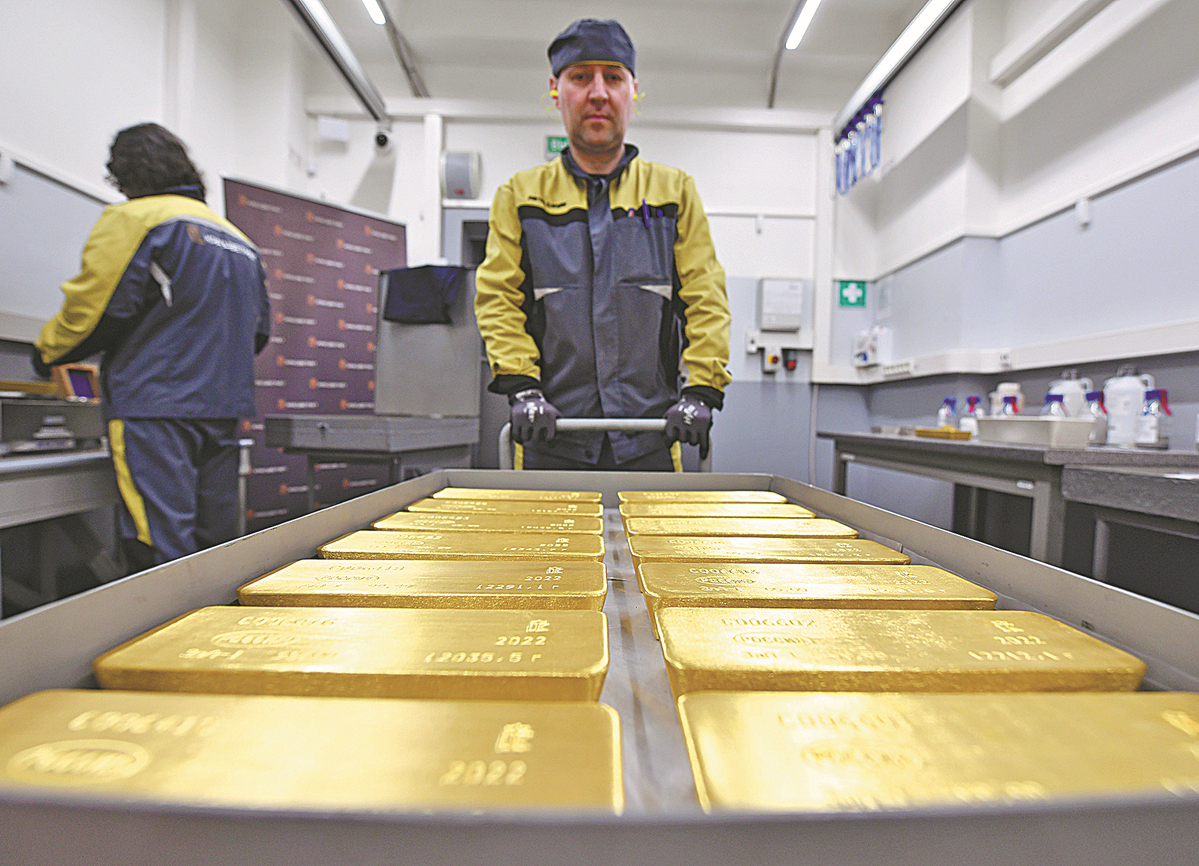 G7 nations' ban on Russian gold imports may drive up global gold prices, but the market impact is expected to be limited, experts said.
"Russia produces about 10 percent of the world's gold output. Therefore, the export ban on Russian gold could reduce the global supply and support gold prices. Supply in 2022 will turn from a decline in 2021 to an increase on recovery of gold mines and rising gold recovery," said Zhu Yi, a senior analyst with metals and mining at Bloomberg Intelligence, a market monitor.
Spot gold prices rose 0.38 percent to $1,837.95 per ounce in New York in early Monday trade, and reached a high of $1,840.10 per ounce during the day.
The G7 is made up of Canada, France, Germany, Italy, Japan, the United Kingdom and the United States.
According to a report by S&P Global Platts, Russia produced 333.4 metric tons of gold last year, making it the second-largest gold mining country after China, which saw 370 tons of gold output in 2021.
Four major gold producers with operations in Russia remained among the world's top 20 gold miners last year, said the report.
"Gold prices may continue to be supported by global growth fears, increasing risk of a prolonged equity market correction and escalation in the Ukraine crisis," Zhu said.
Demand from jewelry and industrial applications in the second half may be sluggish due to a slower economy and lower consumer spending, while investment demand for gold may stay strong, offsetting the weakness in jewelry and industrial orders, Zhu added.
However, the G7 ban on Russian gold imports may have limited impact on the global gold market as the industry has already taken steps to restrict Russian gold and the move is just to formalize prior actions, experts said.
The London Bullion Market Association, which sets standards for the gold market, has already removed Russian gold refiners from its list earlier in March. A Bloomberg report in April also noted that Russia's gold industry is actively seeking new markets, such as China and the Middle East, as sanctions choke off its traditional markets.
The traditional main destinations for Russian gold are the UK, Switzerland, Kazakhstan, Turkey and India, said the Observatory of Economic Complexity, a data analysis website developed by US-based Datawheel.
Daniel Hynes, a commodities strategist at Australia & New Zealand Banking Group Ltd, told Indian media group The Print that the import ban is not likely to have a real impact on gold prices, but macroeconomic issues are driving sentiment.
"Unlike crude oil, demand for gold is not rigid and sources of gold imports are diversified. Importers can wait at peak times and buy the precious metal when prices fall. Russia can also turn to other countries for gold," said Lin Boqiang, head of the China Institute for Studies in Energy Policy at Xiamen University, Fujian province.