China-EU global development partnership needed
Share - WeChat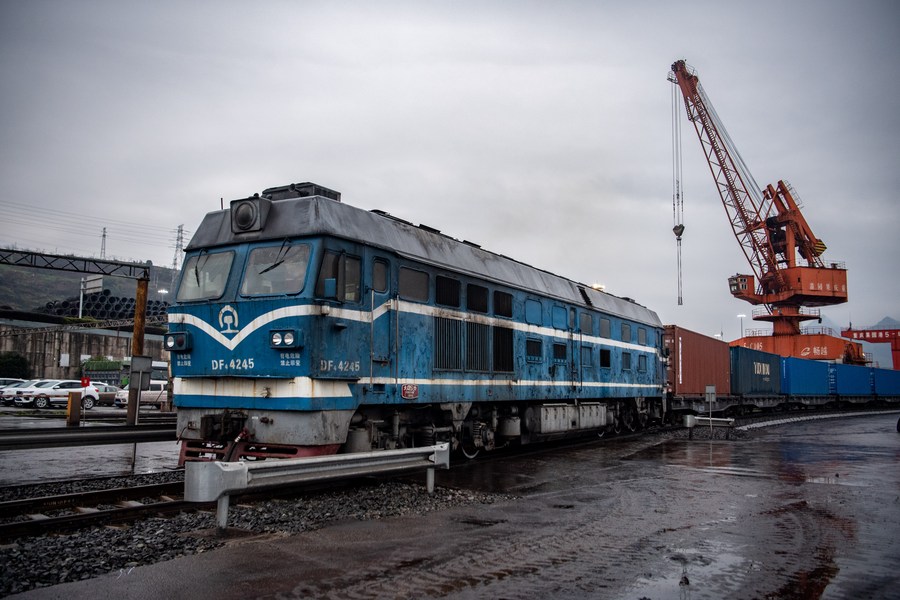 Great changes unseen in a century, the continued spread of the COVID-19 pandemic, and the Russia-Ukraine conflict are exerting further downward pressure on the global economy. Advancing social and economic development is and will remain a pressing task and a major concern for all countries.
At this historical juncture, the Global Development Initiative proposed by President Xi Jinping has provided a road map for countries to comprehensively advance social and economic development. Based on this initiative, China and the European Union should build a community of development and global development partnership from such perspectives as promoting mutual learning between two civilizations and advancing winwin cooperation, so as to continuously deepen bilateral pragmatic cooperation.
First, China and the EU should build a civilization partnership to promote mutual learning between Chinese and European civilizations and to strive for greater inclusiveness.
As the world's two major civilizations, China and Europe have made great contributions to the progress and development of human society. Building a China-EU civilization partnership would provide strong intellectual support for advancing the Global Development Initiative.
Greek humanism and people-oriented thought in ancient China advocate "putting people at the center".Chinese traditional culture advocates "searching for harmony without uniformity" and says that "harmony is to be prized". China and other countries are partners, not rivals; they are each other's opportunities, not challenges.
Despite their vast differences in systems, China and Europe have produced tremendous cultural and material wealth in a wide range of areas including science, philosophy and human sciences, promoting global development and human progress. Therefore, building a China-EU civilization partnership could strengthen mutual learning through inter-civilizational dialogue and exchanges, constantly promote mutual understanding, and advance the establishment of a new pattern wherein both civilizations learn from each other and harmoniously coexist.
Bearing in mind peace and development, the dominant theme of the times, the two sides should use cultural exchanges as a bond to galvanize historical research and dialogues on Chinese and Western civilizations, thereby providing more cultural and intellectual support for advancing the Global Development Initiative.
Second, alignment of EU development strategies with China's "dual circulation" development pattern-in which the domestic market is the mainstay and the foreign and domestic markets reinforce each other-will help explore new models of win-win cooperation between two markets.
The China-EU global development partnership should be based on both sides' common interests, reciprocity and mutual benefit. China is the world's largest developing nation and emerging economy, while the EU is the largest group of developed nations-both serving as important poles on the global stage. As China and the EU are two of the world's three largest economies, bolstering cooperation is bound to fuel global economic growth and advance global development.
However, the EU's mounting suspicion toward China and targeted measures against Chinahave created headwinds for the implementation of the Global Development Initiative. Therefore, vigorously exploring a new model for achieving win-win cooperation between the Chinese and European markets would be of great significance to further expanding the complementarities of the two markets to realize mutually beneficial cooperation.
Continued spread of the COVID-19 pandemic and the escalating Russia-Ukraine conflict have put both markets under great pressure of structural adjustment. Europe is grappling with a confluence of economic shocks. Accelerating economic recovery and speeding up energy structural transformation have become the most urgent task for the European single market to realize sustainable development.
China, on the other hand, is coordinating epidemic prevention and control with economic and social development. By deepening supplyside structural reform, giving full play to the advantages of China's super large-scale market, and tapping the full potential of domestic demand, China has been advancing the "dual circulation" paradigm. This development pattern is conducive to China's internal and external markets.
Upholding the principles of openness, cooperation and mutual benefit, China and the EU should align the "dual circulation" development pattern with the EU's development strategies, by building a larger circulation system between China and European markets, so as to unleash the development potential of both markets.
Therefore, the EU should consider relaunching and implementing the China-EU Comprehensive Agreement on Investment at an early date. Only by building a more open economic, trade and investment market between the two sides can a new model for win-win cooperation between the Chinese and European markets be established.
Third, China and the EU should build partnership for in-depth alignment of strategies.
China and the EU are both pioneers and practitioners in promoting global development. The future cooperation between the two should be based on in-depth alignment of their respective development strategies, such as the China-proposed Belt and Road Initiative, the China-proposed Global Development Initiative, the European Green Deal and the EU's Global Gateway.
Based on the two sides' respective strengths in technology, social development and economic development, China and the EU could promote global sustainable development with joint endeavors in such areas as green development, digital economy, climate change, energy, transportation, healthcare and education and research.
The Global Development Initiative will serve as an important guideline and foundation for a China-EU global development partnership. Under the new circumstances, the two sides should prioritize development and continuously innovate in cooperation mechanisms and models. The initiative is committed to more open, inclusive and innovation-driven growth and mutually beneficial cooperation.
Based on this, China and the EU are bound to play a more active leading role in global development areas such as boosting global economic growth, achieving innovation-driven growth and promoting green cooperation.
The author is a senior research fellow at the Institute of European Studies at the Chinese Academy of Social Sciences. The views do not necessarily reflect those of China Daily.