Russia-Ukraine conflict dominates G7 summit
By JONATHAN POWELL in London | China Daily Global | Updated: 2022-06-28 09:17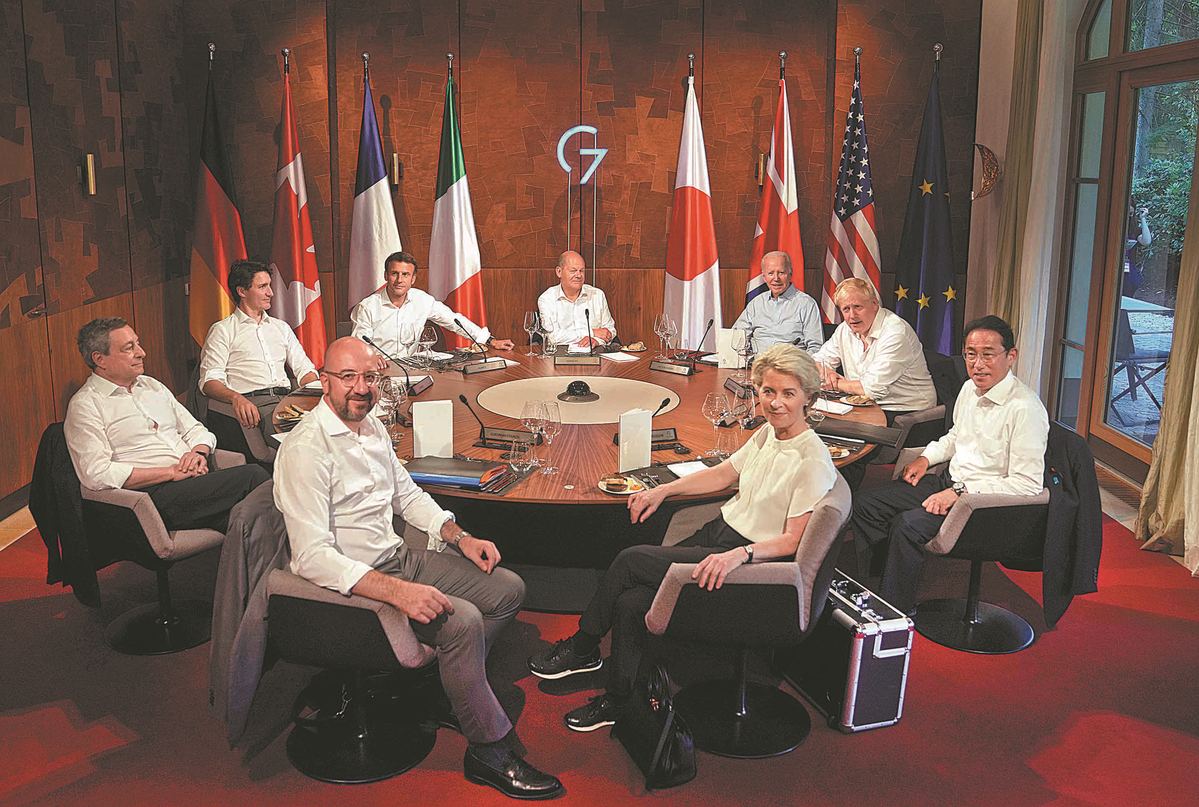 G7 leaders addressed on Monday the global economic consequences of the Russia-Ukraine conflict during their meeting in the Bavarian Alps of Germany, as they discussed strategies on how to secure energy supplies and tackle surging inflation.
The wealthy Western nations were set to finalize plans on Tuesday for a price cap on Russian oil, Reuters reported, quoting a senior United States official on the sidelines of the three-day summit, which opened on Sunday.
"The dual objectives of G7 leaders have been to take direct aim at Russia's revenues, particularly through energy, but also to minimize the spillovers and the impact on the G7 economies and the rest of the world," the official said.
The United Kingdom, the US, Canada and Japan on Sunday announced moves to ban imports of Russian gold, which, the BBC reported, is aimed at wealthy Russians who have been buying bullion to reduce the financial impact of Western sanctions.
Western countries have introduced a slew of sanctions aimed at some Russian individuals, banks, businesses and state-owned enterprises since the conflict started in February.
The Kremlin insisted on Monday there were "no grounds" to say that Russia had defaulted on its foreigncurrency sovereign debt as the West pummels Russia with sanctions.
"These claims about default, they are absolutely wrong," Kremlin spokesman Dmitry Peskov told reporters after a key payment deadline expired on Sunday, adding that Russia had settled the debt in May.
Bloomberg News reported earlier on Monday that Russia defaulted on its foreign-currency sovereign debt for the first time in more than a century, after the grace period on some $100 million of interest payments due Sunday had expired.
Russian authorities have accused the West of seeking to drive Moscow into an artificial default, and Finance Minister Anton Siluanov has dismissed the situation as a "farce".
A formal default would be largely symbolic, given that Russia cannot borrow internationally at the moment and doesn't need to, thanks to plentiful oil and gas export revenues, Reuters said.
G7 leaders will make an "unprecedented, long-term security commitment to providing Ukraine with financial, humanitarian, military and diplomatic support as long as it takes", according to a fact sheet released by the US.
The US is planning to send Ukraine sophisticated anti-aircraft missiles, a source told Agence France-Presse on Monday.
US President Joe Biden, who is attending the summit, "has made the procurement of advanced air defense systems for Ukraine a priority", the source said.
An announcement is "likely this week" on the purchase of NASAMS, an "advanced medium-to longrange surface-to-air missile defense system", as well as other weaponry to help Ukraine fight Russia's forces.
Ukrainian President Volodymyr Zelensky, who addressed the summit by video link on Monday, has pleaded for more powerful weapons.
G7 leaders also expressed "serious concern" over alleged Russian plans to deliver missiles capable of carrying nuclear warheads to Belarus in the coming months.
"We urge Russia to behave responsibly and exercise restraint," they said in a statement.
The Ukraine crisis has detracted attention from another crisis-that of climate change-originally set to dominate the summit. Activists fear Western nations are watering down their climate ambitions as they scramble to find alternatives to Russian gas imports and rely more heavily on coal, a dirtier fossil fuel, instead.
Japan is also pushing to remove a target for zero-emission vehicles from a G7 communique expected this week, according to a proposed draft seen by Reuters.
Agencies via Xinhua contributed to this story.