Sydney suburbs reel amid severe storms as poor urban planning worsened by climate change
By KARL WILSON in Sydney | chinadaily.com.cn | Updated: 2022-07-04 18:09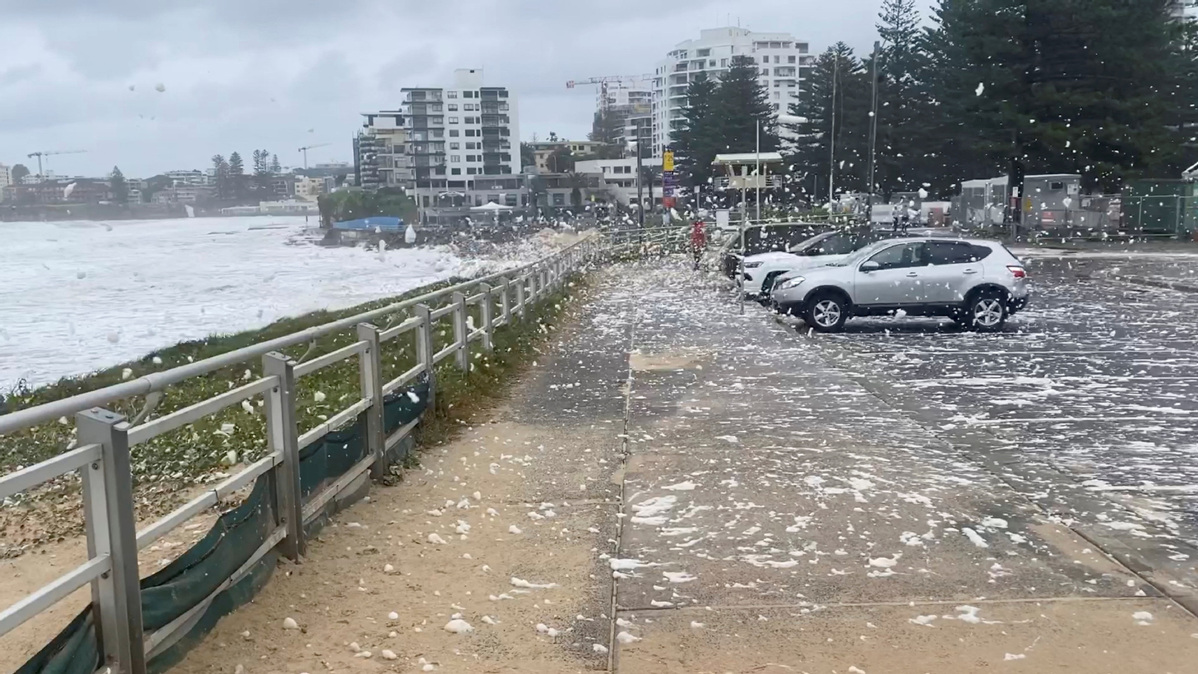 Wild storms and torrential rain lashed Australia's New South Wales (NSW) in the past few days, causing flooding in towns and suburbs around the state's capital city of Sydney and leaving communities reeling.
On the night of July 3 and into the early hours of July 4, thousands of people had to be rescued as flood waters inundated properties along the NSW coast for the fourth time in two years.
Meanwhile, a few miles off the coast, rescue efforts were underway to save the 21-member crew of a bulk carrier whose engine had broken down.
Facing a damages bill running into the billions of dollars from the havoc caused by latest disaster, scientists are saying that global warming is not entirely the main cause and that poor urban planning is also to be blamed.
Ian Wright, a senior lecturer at Western Sydney University's School of Science, said one contributing factor has been development on "flood-prone lands".
He said much of this development has been approved "despite the known risk of flooding".
Experts noted that the flooding has impacted vulnerable people, many of whom cannot afford insurance premiums for flood protection.
"People are exhausted. Many have not recovered from previous flooding. Compounding stresses for flood-affected people … (are) disruption from the COVID pandemic, accelerating house prices and rising interest rates," Wright said.
Jennifer McKay, a professor of business law at the University of South Australia and an expert in the legal aspects of natural resources management, said "flooding occurs because people have invaded floodplains".
"We have huge legacy issues in Australia from ignorance and wilful blindness," she said. "We need state laws or national laws to require flood susceptibility to be a part of the decision-making process for urban settlements."
"Climate change and the enhanced risks that come with it must be considered, and this must apply the precautionary principle to not place residents and emergency service workers at risk in the more severe events that we can expect," McKay added.
According to Australia's Bureau of Meteorology, some parts of Sydney and the south coast received more than 100 mm of rain on the night of July 3 and could receive a similar downpour on July 4.
Iftekhar Ahmed, an associate professor at the University of Newcastle's School of Architecture and Built Environment, noted that "NSW is repeatedly being impacted by a recurring spate of floods".
"There is a lot of discussion on the linkage of these events to climate change. While much of the discussion points to the probable increasing frequency, magnitude and intensity of such hydrometeorological events, the unpredictability of climate change impacts, their transforming nature, and compound and cascading effects are less well understood," he said.
"For example, this year, because of La Nina the rainfall has been extensive, which is compounding the effects of climate change."
Such heavy rainfall at this time of the year "is unseasonal and the effects of La Nina are expected to persist well into the winter season," Ahmed said.
"A cycle of disaster after disaster induced by advancing climate change renders each cycle of lessons gained redundant, posing difficulty in translating the lessons when newly established knowledge thresholds are breached.
"These events are a signal for preparedness and risk reduction at all levels – institutional and community, not only for the short term, but a long-term, anticipatory and systems approach."
Ahmed added: "We will need to learn how to live with floods by building our resilience and adaptive capacity, and perhaps even explore new opportunities within the changing circumstances."
On July 4, authorities said they were forced to abandon attempts to rescue the crew of a stranded bulk carrier south of Sydney for the time being, due to bad weather.
NSW deputy police commissioner Peter Thurtell told the Guardian Australia that the bulk carrier lost power and began drifting towards cliffs south of Sydney early in the morning on July 4.
He said the ship is now "double anchored" about one kilometer off the coast with two tugboats now helping the disabled vessel.