Former Japan PM Abe dead after shooting
chinadaily.com.cn | Updated: 2022-07-08 11:01
Japan's former prime minister Shinzo Abe was pronounced dead on Friday afternoon, the hospital treating him confirmed, after he was shot at a campaign event.
"Shinzo Abe was transported to (the hospital) at 12:20 pm. He was in a state of cardiac arrest upon arrival. Resuscitation was administered. However, unfortunately he died at 5:03 pm," said Hidetada Fukushima, professor of emergency medicine at Nara Medical University hospital.
Abe fell to the ground around 11:30 Friday while giving a speech in Nara, western Japan. Two shots were heard in the vicinity and he was shot from behind.
He was rushed to the Nara Medical University Hospital in Kashihara City, according to local police and emergency services.
"Former prime minister Shinzo Abe was shot in Nara and I have been informed he is in a very grave condition," Japan's Prime Minister Fumio Kishida told reporters earlier after arriving in Tokyo by helicopter from the campaign trail. Calling the shooting "barbaric," Kishida condemned "in the strongest" terms the shooting.
Police arrested Tetsuya Yamagami, 41, a former member of the Maritime Self-Defense Force, according to local media, on suspicion of attempted murder and retrieved what appeared to be a handmade gun from the vicinity.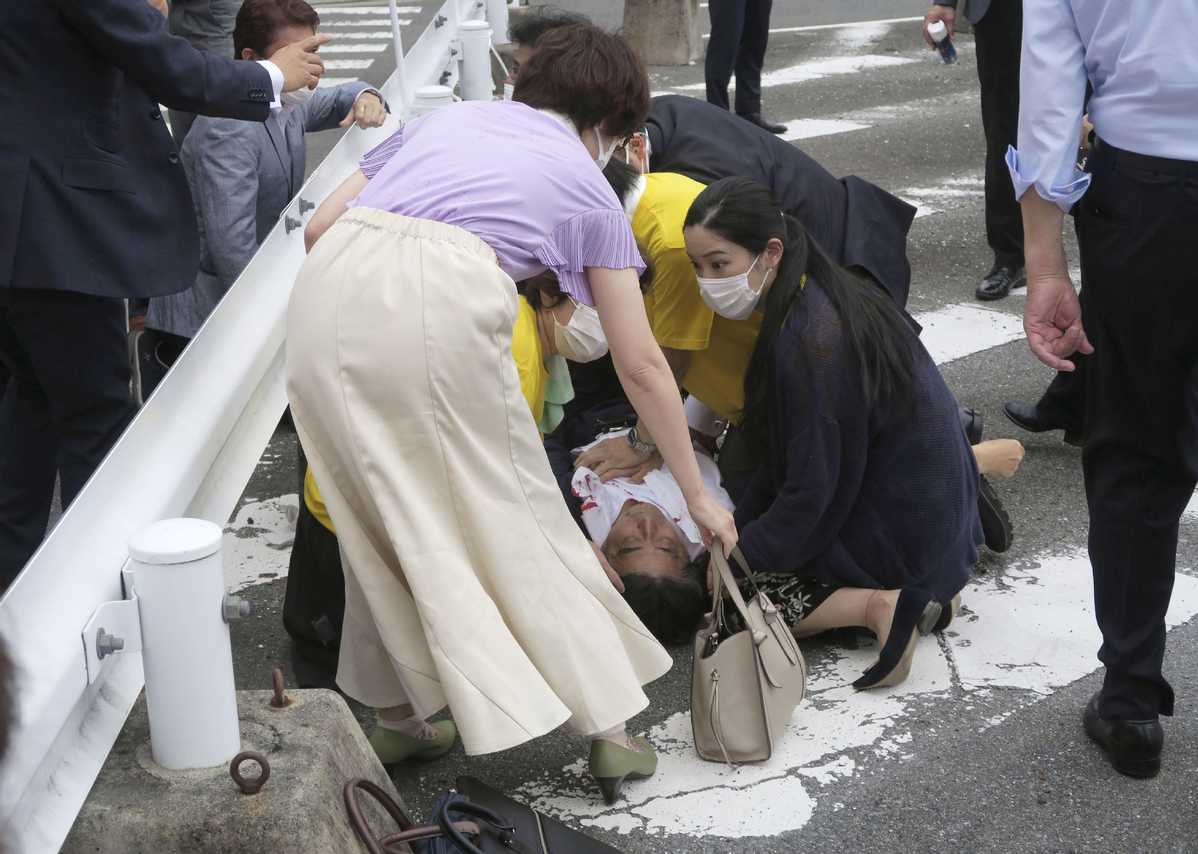 Police said the suspect told investigators that he was "dissatisfied" with the former prime minister and intended to kill him, NHK reported.
The incident happened as Abe, the former leader of the ruling Liberal Democratic Party, was in Nara to support an LDP candidate running in the House of Councilors election on Sunday.
Abe became Japan's longest-serving leader who served as the prime minister from 2006 to 2007 and again from 2012 to 2020. He stepped down in September 2020 due to a relapse of chronic intestinal disease.
Wang Xu contributed to this story.
Xinhua and Agencies
Related: Profile of Former Japanese Prime Minister Shinzo Abe