Companies face penalties in aiding access to abortion
By BELINDA ROBINSON in New York | China Daily Global | Updated: 2022-07-19 10:35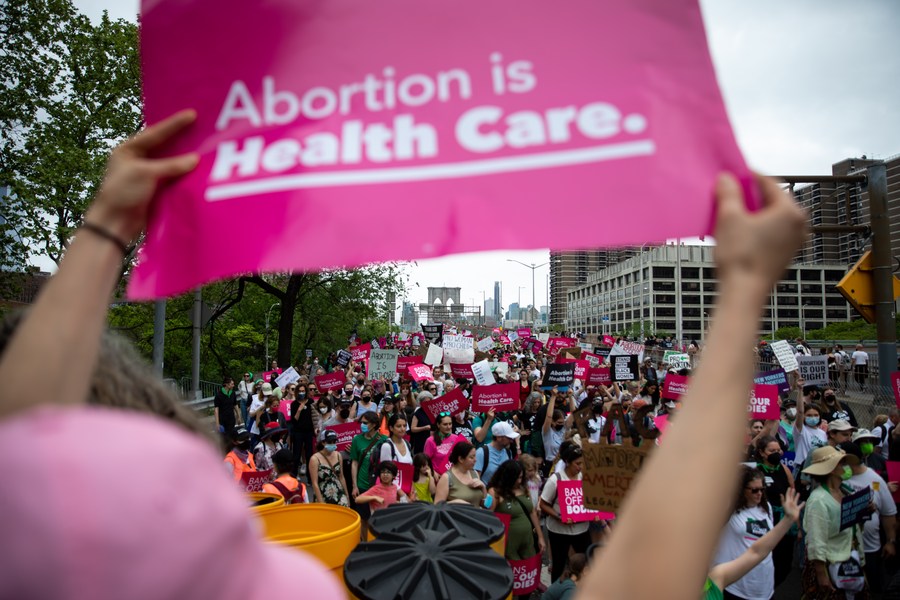 US companies that have offered to help cover travel and relocation costs for female employees who want to get an abortion after the Supreme Court overturned Roe vs Wade last month are facing possible penalties and legal problems for helping women avert an abortion ban in some states.
Lyft, Citigroup, Uber, Tesla, Yelp, Amazon, Disney, Nike, Apple, JPMorgan and Google pledged to support their female employees who either need their health insurance plans to be updated to cover an abortion or want to travel or relocate from a state where it is banned to one where it is still legal.
Texas' strict abortion ban, based on a 1925 law, took effect on July 2. In May, Lyft was sent a letter from 14 Republican members of the Texas House of Representatives who warned the ride-hailing company that it needed to stop its abortion travel benefit for employees.
If not, the lawmakers said that they would introduce legislation that would ban the company from doing business in Texas. Citigroup also was warned. No action has been taken as yet.
Large companies usually have an in-house health insurance provider that allows them to be flexible on the type of plan they offer. A third-party insurer processes the claim. But legally it is still a relatively new minefield for companies. Many will have to see what they are allowed to do in each state.
Some companies are creating supplementary policies that employees can buy to cover abortion travel. Others are seeing if travel can be added to their current plans.
Employee privacy is another issue that workplaces must tackle, as any woman who is pregnant and wants an abortion will have to inform her human resources department in order to apply for the benefit and will expect the information to be kept private.
The federal Health Insurance Portability and Accountability Act (HIPAA) provides protection for sensitive patient information, but it can be set aside in cases where a crime has been committed. That could be used in states where abortion is illegal.
Elisa Wells co-founder of Plan C, an abortion pill advocacy group, told China Daily that as "states pass unjust laws" their website helps with "referrals to sources of medical and legal support".
In May, a leaked draft from the Supreme Court showed the justices may be voting to overturn Roe vs Wade. Then, Starbucks, Levi Strauss, Airbnb, Netflix, JPMorgan Chase, PayPal and Reddit announced that they would help women. Several other companies followed suit after the Supreme Court issued its ruling on June 24.
Google announced on July 1, that it would delete abortion clinic visits from users' location history. When users visit a physical location, their history is stored using the location-history setting on their account. But Google will now delete it "immediately".
Citigroup and JPMorgan Chase said they will pay for women to travel to states that allow abortion, as will Tesla, Yelp and Amazon. Yelp told its employees that if they do use the travel benefit, it won't have access to the details of the service.
Amazon will cover up to $4,000 a year in travel expenses for employees seeking "non-threatening" medical care including abortions.
Microsoft will cover abortion and travel expenses for "these and other lawful medical services" if it is illegal in a woman's home state.
Johnson & Johnson said in a statement on June 24: "We believe healthcare decisions are best determined by individuals in consultation with their health care provider."
Bumble and the Match Group, which owns dating apps like Hinge and Match.com, also have set up funds to cover costs for employees who need to travel for an abortion.
Levi Strauss & Co said in a statement: "Protection of reproductive rights is a critical business. Given what is at stake, business leaders need to make their voices heard."
Conde Nast's CEO told staff that the publishing company would offer a travel reimbursement policy. Walt Disney Co has launched a similar policy.
Cigna, Alaska Airlines, Dick's Sporting Goods and Paypal have travel reimbursement policies.
President Joe Biden signed an executive order on July 8, expanding access to abortion pills, strengthening Obamacare's birth control coverage mandate and enlisting pro bono lawyers to defend people criminally charged for seeking or providing the procedure.
Biden said: "I don't think the court or for that matter the Republicans who for decades have pushed this extreme agenda have a clue about the power of American women. But they're about to find out."
On July 14, Texas sued the federal government over some of its new guidance that directs hospitals to provide emergency abortions regardless of state bans on the procedure after Roe was overturned.
Republican Texas Attorney General Ken Paxton said in the lawsuit that the US Department of Health and Human Services was trying to "use federal law to transform every emergency room in the country into a walk-in abortion clinic".