Abortion ruling roiling politics
By HENG WEILI in New York | China Daily Global | Updated: 2022-07-21 11:00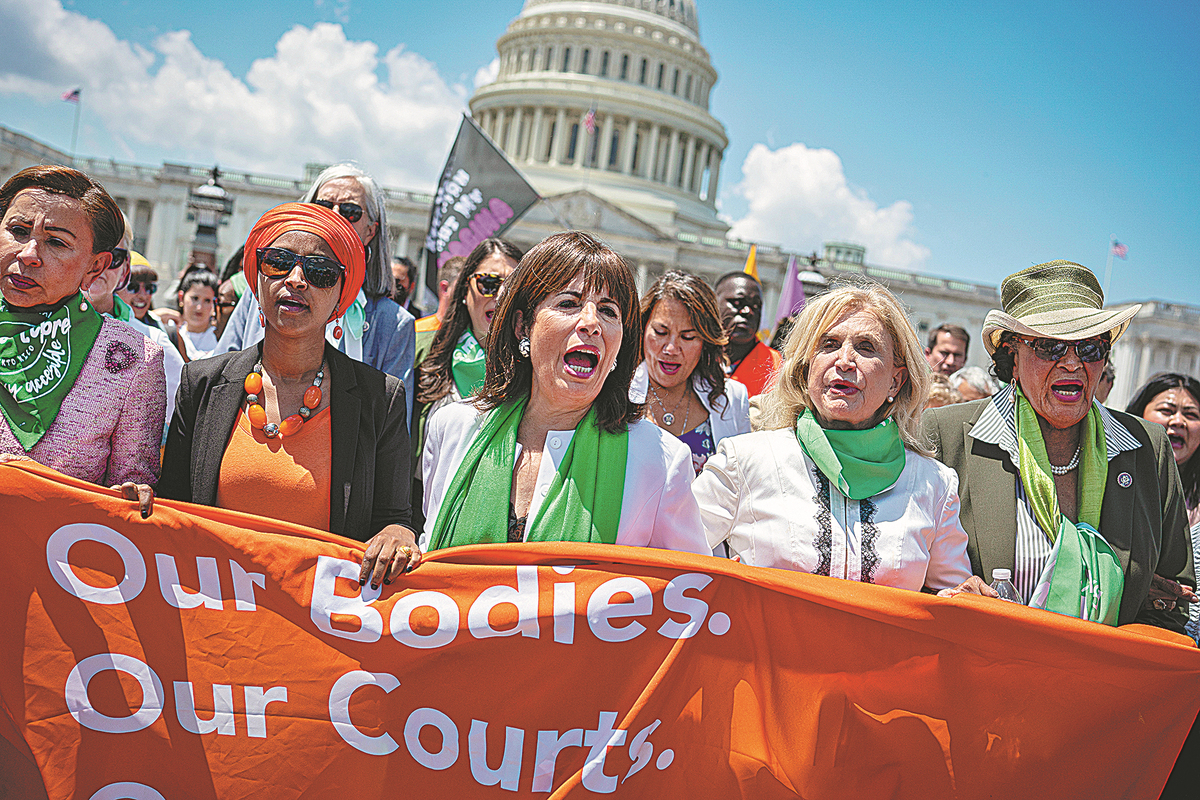 The political divide in the US was on display again Tuesday when 17 members of Congress were arrested outside the Supreme Court building in Washington DC for protesting the recent decision to overturn Roe vs Wade.
"The extremist right-wing majority on the Supreme Court has put our country down a perilous path," said Representative Mary Gay Scanlon, a Pennsylvania Democrat, in a floor speech Tuesday.
Also on Tuesday, the House of Representatives overwhelmingly approved legislation to protect same-sex and interracial marriages amid concerns that the overturning of Roe vs Wade that nullified a constitutional right to abortion could jeopardize other rights.
While the Respect for Marriage Act easily passed the House with a Democratic majority and the support of 47 Republicans, it is likely to stall in the evenly split Senate.
It is one of several bills, including those enshrining abortion access, that Democrats are proposing to confront the court's conservative majority. Another bill, guaranteeing access to contraceptive services, is set for a vote later this week.
"I don't see anything behind this right now other than, you know, election year politics," said Republican Senator John Thune of South Dakota.
The protests and legislative actions by members of one branch of the US government against another have been mostly rare until relatively recently, highlighting the intensity of the political divide in the country.
On June 24, the day the Roe vs Wade ruling was announced, President Joe Biden said in a statement: "With this decision, the conservative majority of the Supreme Court shows how extreme it is, how far removed they are from the majority of this country. They have made the United States an outlier among developed nations in the world. But this decision must not be the final word."
In March 2010, Supreme Court Chief Justice John Roberts made headlines when he said that President Barack Obama's criticism of the court's decision on a landmark campaign finance case during the January 2010 State of the Union speech was "very troubling".
"With all due deference to the separation of powers, the Supreme Court reversed a century of law to open the floodgates for special interests — including foreign corporations — to spend without limit in our elections," Obama said to cheers as the justices sat silently, PBS News Hour reported.
Roberts had said then that he wasn't opposed to criticism of the court but objected to it during a State of the Union address.
Up until 2010, presidents had mentioned the Supreme Court only nine times in State of the Union addresses since Woodrow Wilson's speech in 1913, according to PBS, and "few of those mentions would be considered criticisms".
Marcia Coyle, in a 2010 interview with PBS, said: "What makes it a 'big deal' when the judiciary is the target of criticism by public officials, particularly by the president, is the concern that respect for the Supreme Court as an institution could be eroded.
"The court has no army, no power of the purse in order to ensure that its rulings are followed. It only has the nation's respect for the rule of law and the institution of the Supreme Court, even when a majority of the nation disagrees with it on a particular issue."
In 2018, former president Donald Trump criticized rulings by lower federal courts, which prompted Roberts to say, "We do not have Obama judges or Trump judges, Bush judges or Clinton judges."
In 2010, Trump called for Justice Ruth Bader Ginsburg to recuse herself from cases involving his tax records because she had pointedly criticized him during the 2016 presidential campaign. She later called her remarks "ill advised".
On Tuesday, progressive US Representative Alexandria Ocasio-Cortez, a New York Democrat, elicited glee from conservative commentators on social media for crossing her hands behind her back as if she were handcuffed during the Supreme Court protest.
Ocasio-Cortez, popularly known as "AOC", was escorted away by a Capitol Police officer along with Representative Carolyn Maloney of New York after they were blocking traffic outside the court building.
"The Capitol Police must have put invisible handcuffs on @AOC!" tweeted political analyst Carmyn Kinsey.
"Note the handcuff pose, abandoned only to raise her fist in the air. The queen of gestures," Fox News political analyst Brit Hume said.
According to Capitol Police, 35 people were arrested.
The lawmakers arrested also included Democratic representatives Rashida Tlaib of Michigan, Jackie Speier of California, Ilhan Omar of Minnesota, Ayanna Pressley of Massachusetts, Andy Levin of Michigan, Barbara Lee of California, Cori Bush of Missouri, Katherine Clark of Connecticut, Nydia Velazquez of New York, Jan Schakowsky of Illinois, Madeleine Dean of Pennsylvania, and Sarah Jacobs of California.
"Today we marched to the SCOTUS to protest the radical right-wing decision to overturn Roe," Velazquez tweeted. "It's time for some good trouble."
The Capitol Police had tweeted earlier Tuesday: "It is against the law to block traffic, so officers are going to give our standard three warnings before they start making arrests. We have already given our standard three warnings. Some of the demonstrators are refusing to get out of the street, so we are starting to make arrests."
After their arrests, the lawmakers were taken to a grassy area between the Supreme Court and Capitol building. Once there, police asked them to use their congressional IDs in lieu of a mugshot.
The States Newsroom reported that they were charged with "crowding, obstructing or incommoding and need to pay a $50 fine".
The Associated Press contributed to this story.