Restoring stability seen as task for Sri Lanka govt
By XU WEIWEI in Hong Kong | China Daily Global | Updated: 2022-07-22 09:26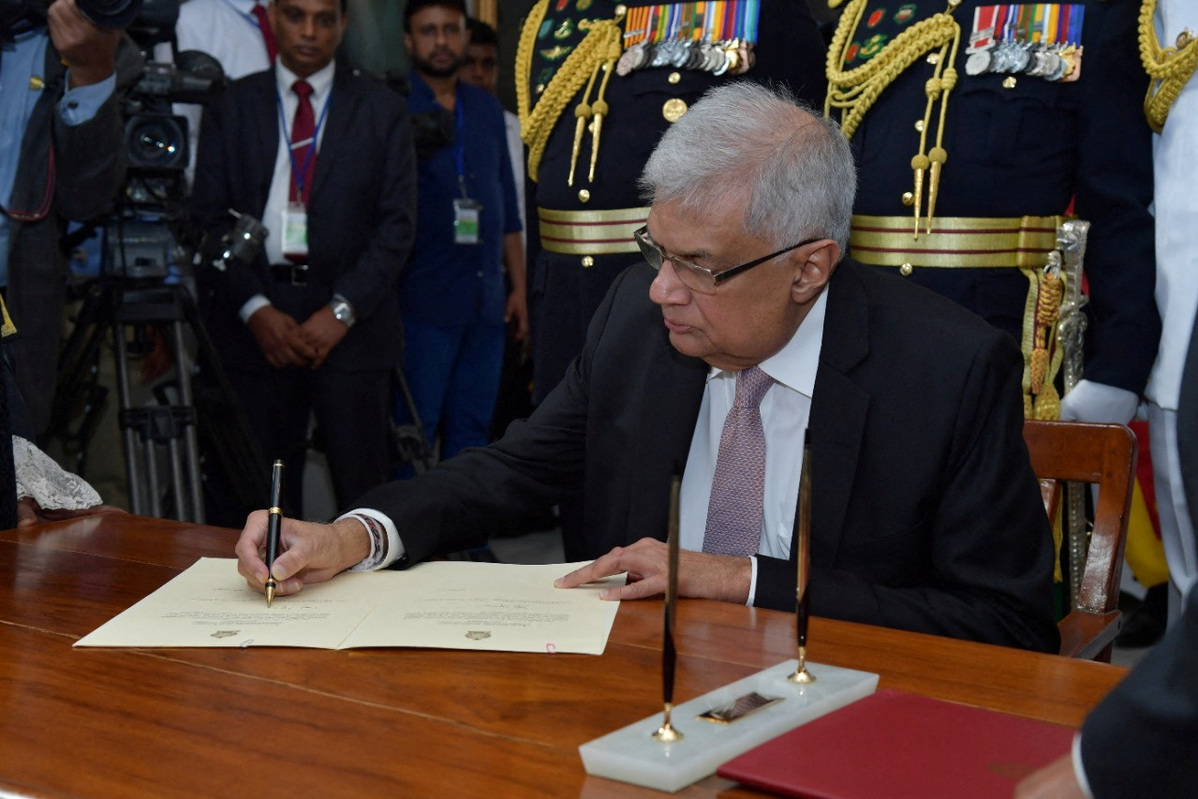 Sri Lanka's new administration, led by President Ranil Wickremesinghe, should begin working earnestly to bring relief to its people by addressing issues such as shortages of food and fuel, and take vital steps to restore social and political stability, experts said.
They highlighted economic reform as a major task for the nation in overcoming its current predicament, and called for stepping up negotiations with multilateral institutions and countries for quick financial aid as Sri Lanka suffers from a dire shortage of foreign currency to pay for essential imports.
Wickremesinghe, a former prime minister, was sworn in as Sri Lanka's president on Thursday, a day after winning a vote in Parliament, and a new Cabinet is taking shape.
Ahilan Kadirgamar, a political economist and senior lecturer at the University of Jaffna in Sri Lanka, said the nation has been caught in a long downturn and "the priority now is economic relief to the people and stimulus (for) agricultural production to stabilize our food system".
Rajiv Biswas, Asia-Pacific chief economist at S&P Global Market Intelligence, said the near-term economic outlook for Sri Lanka remains extremely difficult, noting that the nation's "foreign exchange reserves have fallen to such low levels that imports of essential products such as oil, medicines and fertilizers have largely ceased".
This has resulted in a severe disruption of the economy, with the nation forecast to be in deep recession in 2022, Biswas said.
Lawrence Loh, director of the Centre for Governance and Sustainability at the National University of Singapore Business School, said the forming of the country's new leadership "is a critical development, but the various political constituencies will still have to work together to address the country's problems".
He added that many of these problems came up in recent years due to fundamental deficiencies in economic governance.
Whether Sri Lanka can experience an economic recovery depends on when new foreign exchange financing can be agreed either with multilateral institutions, such as the International Monetary Fund and the World Bank, or from bilateral donors like India and China, Biswas said.
While the main responsibility for addressing its problems is in Sri Lanka's own hands, this cannot be done without support and cooperation from donor countries, international donor agencies and creditors, said Bernard Goonetilleke, chairman of the Pathfinder Foundation, a Sri Lankan think tank.
"China's lead role in this regard cannot be overemphasized," said Goonetilleke, a former Sri Lankan ambassador to China.
Over the long term, Sri Lanka has the potential for "sustained rapid economic growth" based on "a range of export industries, notably tourism and agricultural products, as well as industrial products such as textiles and clothing," said Biswas from S&P Global.
Lin Minwang, deputy director of the Center for South Asian Studies at Fudan University in Shanghai, said that despite the recent turmoil, Sri Lanka still has promising prospects for economic recovery, given the nation's advantages in tourism.
He mentioned that many joint projects between China and Sri Lanka under the Belt and Road Initiative have laid a solid foundation for the South Asian nation's future economic growth.
"Rebuilding the economy will take some time, and it is now necessary to navigate toward the right direction," Loh said.
Runaway inflation and escalating debt have inflicted damage on many countries in recent months, he noted.
Kadirgamar, from the University of Jaffna, said that inflation in many countries including Sri Lanka has been caused by global price hikes and supply shortages in the wake of the Russia-Ukraine conflict and US interest rate hikes.