Chinese entrepreneur now in auto hall of fame
By MINLU ZHANG in Detroit | China Daily Global | Updated: 2022-07-22 13:55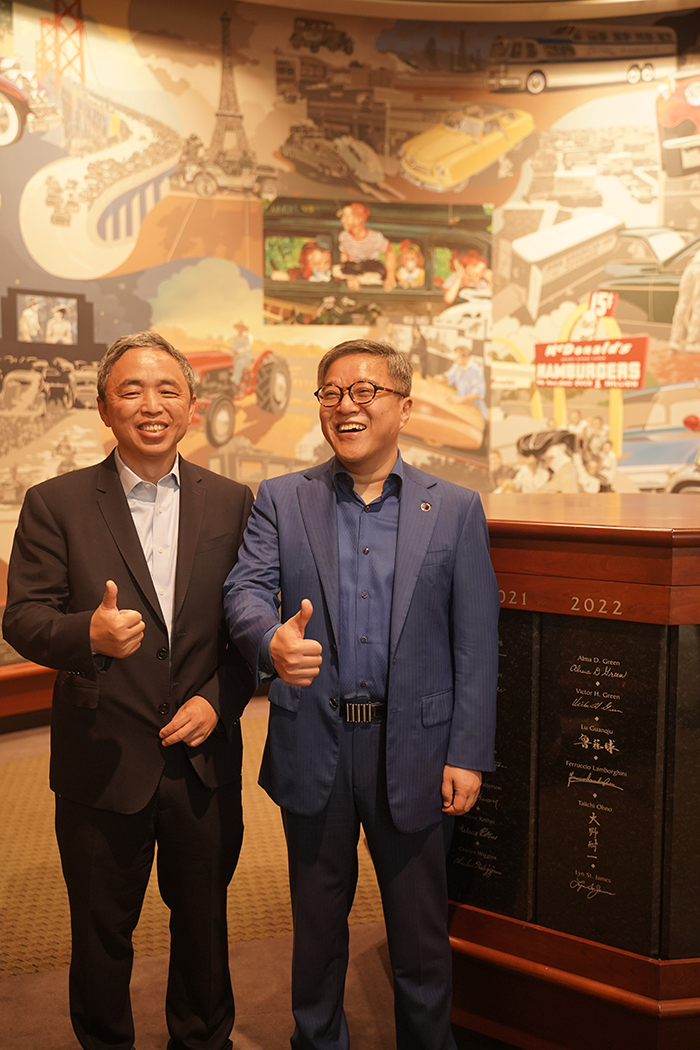 Lu Guanqiu, the founder of Chinese privately owned Wanxiang Group, has become the first Chinese person inducted into the Automotive Hall of Fame.
The industry's top honor was presented at the ICON Convention Center in Detroit on Thursday.
"Wanxiang was also the first Chinese company to be inducted into the US Automotive Hall of Fame," Lu Weiding, the current CEO of Wanxiang Group, told China Daily.
"I think it is important that this honor shows that the development of China's auto industry must have contributed to the world over the years since China's reform and opening-up. It also shows that Wanxiang has indeed made a huge contribution to the development of China's auto industry," said Lu Weiding, whose father, Lu Guanqiu, died in 2017 at the age of 72.
The day before the induction ceremony, an engraving of Lu's signature was placed on permanent display at the Automotive Hall of Fame (AHF).
"We are really excited to have Lu Guanqiu inducted into the Automotive Hall of Fame and that he represents our first inductee from China. We're just really excited, and this really kind of completes our global footprint," Sarah Cook, president of the Automotive Hall of Fame, told China Daily.
"Lu used his creativity and wits to evolve Wanxiang from a local bicycle-repair shop in the 1960s to a global supplier, Wanxiang was the first Chinese company to sell automobile parts to American original equipment manufacturers and now has operations in 22 states in the US," said an AHF news release.
Lu led the drive for clean energy, including starting several battery and electric vehicle initiatives in the late 1990s. He then acquired and revived clean energy-related companies A123 Systems and Fisker Automotive Holdings Inc, which transformed into Karma Automotive, a luxury electric-vehicle producer.
"Although we started from auto parts, it is very important for China's auto industry to develop from auto parts manufacturing to complete vehicles. In particular, China has such a large auto market, and this huge market will also make a very important contribution to the world's auto industry," Lu Weiding said.
"China's automotive industry is very important, very critical to the global automotive industry into the future," Joseph Vitale, board member for the AHF and the chairman of the nominate committee, told China Daily. He said that China's leadership and technology in innovation "is profound and will escalate our movement toward sustainable vehicles that continue to change the lives of people".
This year's inductee list was selected from more than 60 candidates, said Cook.
Other inductees announced in 2022 include Ferruccio Lamborghini, the Italian entrepreneur who created the iconic Lamborghini line of luxury performance sports cars; Taiichi Ohno, a Japanese engineer and former Toyota executive who helped establish the fabled Toyota Production System (TPS); Lyn St. James, a pioneer in advancing women's participation in the automotive and racing worlds; and Alma and Victor Green, authors and publishers of The Green Book, a travel guide for black people traveling in America, published from 1936 to 1966.
"The automotive industry is very diverse and it continues to become more and more diverse, diverse globally, diverse across genders and ethnicities. And we want to tell the story of everyone that is having an impact on the auto industry across the entire value chain," Vitale said.
With the induction being the highest award, the AHF on Thursday conferred four different awards during its annual event. Other awards are Industry Influencer, Industry Leader and Mobility Innovator.
Shilpan Amin, General Motors senior vice-president and president of General Motors International; Randy Parker, senior vice-president of Hyundai Motor America; Sherry House, CFO of Lucid Motors; Ann Wilson, senior vice-president of government affairs for the Motor and Equipment Manufacturers Association; and Linda Zhang, F-150 Lightning chief engineer of Ford Motor Co were recognized as Industry Influencer.
Jim Farley, president and CEO of Ford, was recognized as Industry Leader. Professor Amnon Shashua, president and CEO of Mobileye was recognized as Mobility Innovator.
Founded in 1939, the AHF is a museum honoring notable leaders and innovators who have contributed significantly to the advancement of the automotive industry and mobility.
In the past 83 years, the AHF has honored nearly 800 inductees.
The previously announced inductees include Henry Ford, the founder of the Ford Motor Co; Karl Benz, a German inventor and engineer; Soichiro Honda, the founder of Honda Motor Co; Kiichiro Toyoda, the founder of Toyota Motor Co; and Ferdinand Porsche, the founder of Porsche AG.