Russia accuses US of direct role in Ukraine conflict
China Daily | Updated: 2022-08-04 09:07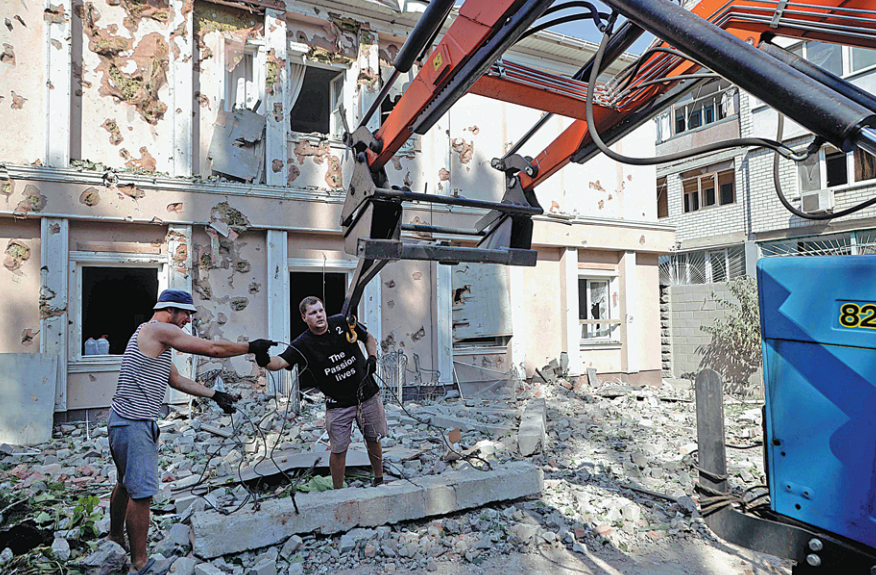 ISTANBUL/LONDON-Russia on Tuesday accused the United States of direct involvement in the Ukraine conflict while the first ship carrying Ukrainian grain to world markets since the beginning of the conflict anchored safely off the Turkish coast after a problem-free journey.
Russia said it was responding to comments by Vadym Skibitsky, Ukraine's deputy head of military intelligence, about the way Kyiv had used US-made and supplied High Mobility Artillery Rocket System, or HIMARS, launchers based on what he called excellent satellite imagery and real-time information.
Skibitsky told Britain's Telegraph newspaper there was consultation between US and Ukrainian intelligence officials before strikes and that Washington had an effective veto on intended targets, though he said US officials were not providing direct targeting information.
Russia's Defense Ministry said the interview showed that Washington was entangled in the conflict despite repeated assertions that it was limiting its role to arms supplies because it did not want a direct confrontation with Moscow.
"All this undeniably proves that Washington, contrary to White House and Pentagon claims, is directly involved in the conflict in Ukraine," the ministry said in a statement.
The administration of US President Joe Biden "is directly responsible for all Kyiv-approved rocket attacks on residential areas and civilian infrastructure in populated areas of Donbas and other regions, which have resulted in mass deaths of civilians", the statement said.
At the United Nations, a Russian diplomat said on Tuesday that the conflict in Ukraine does not warrant Russia's use of nuclear weapons, but Moscow could decide to use its nuclear arsenal in response to "direct aggression" by NATO countries.
In Kyiv, Ukrainian President Volodymyr Zelensky on Tuesday held a phone conversation with NATO Secretary-General Jens Stoltenberg to discuss assistance for Kyiv, the presidential press service reported.
At the talks, Zelensky informed Stoltenberg about the importance for Kyiv to get nonlethal military aid from NATO agreed upon during the alliance's Madrid summit in June.
In addition, Zelensky said that Ukraine is seeking to receive more heavy weapons from NATO member states.
Amid the fighting, Zelensky issued an order to all those remaining in the country's embattled Donetsk region to evacuate as soon as possible. The compulsory evacuation effort aims to take 200,000-220,000 people out of the eastern province by fall, officials said.
Safe passage
Meanwhile, a July 22 deal brokered by the UN to unblock the export of Ukrainian grain had initial success. Ankara said that the first loaded ship since the conflict began more than five months ago was safely anchored off Turkiye.
The vessel, the Sierra Leone-flagged Razoni, was at the entrance of the Bosporus Strait, which connects the Black Sea to world markets, around 6 pm on Tuesday, some 36 hours after leaving the Ukrainian port of Odessa.
It was laden with 26,527 metric tons of corn.
"We hope that there will be some more outbound movement tomorrow," UN spokesman Stephane Dujarric told reporters in New York.
Dujarric said there were some 27 ships that were ready to go in the three Ukrainian ports covered by the export deal.