Cambodia voices support for one-China principle
By ZHAO JIA | chinadaily.com.cn | Updated: 2022-08-04 11:43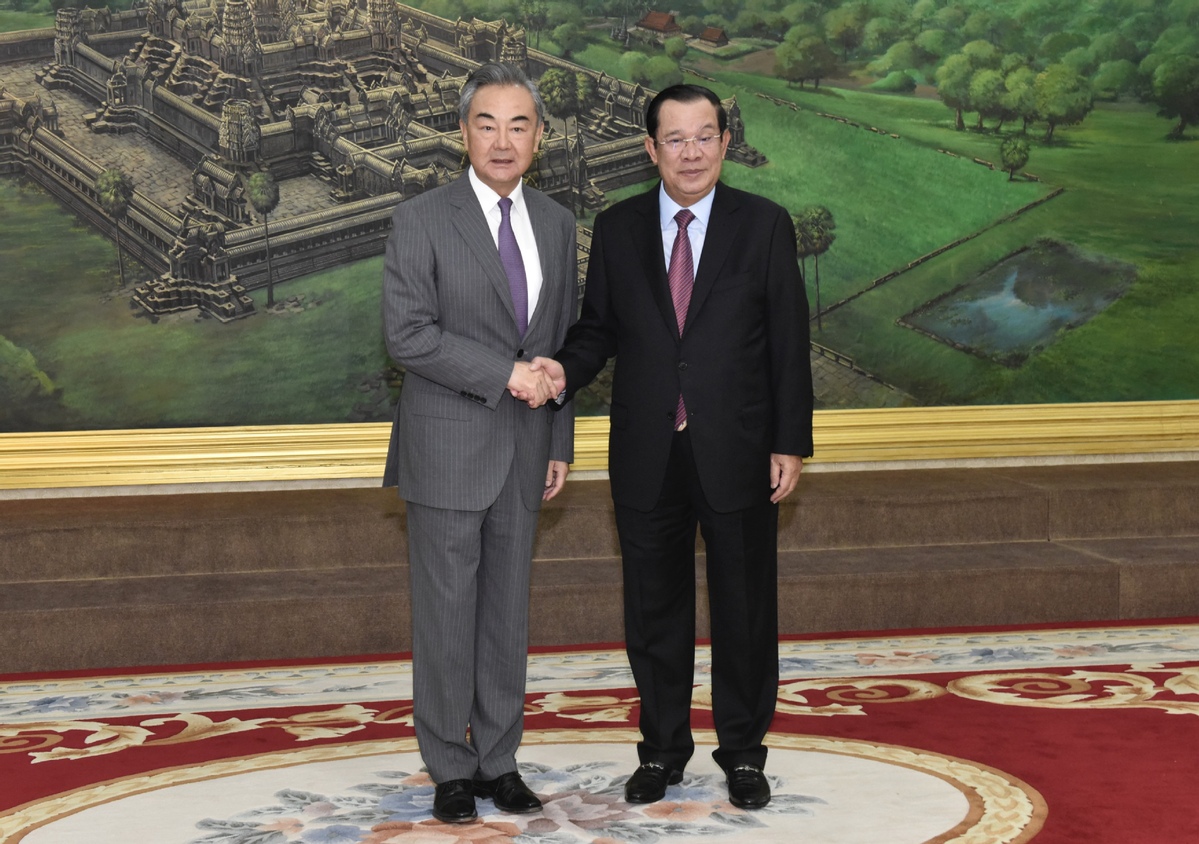 Cambodia firmly abides by the one-China principle and resolutely opposes any language or actions that infringe on China's sovereignty and territorial integrity, Cambodian Prime Minister Hun Sen said.
He made the remarks when meeting with State Councilor and Foreign Minister Wang Yi in Phnom Penh on Wednesday.
Hun Sen said Cambodia believes that Taiwan is an inalienable part of China's territory and will continue to firmly support China in upholding its core interests and stand with the 1.4 billion Chinese people.
In response, Wang expressed appreciation for Cambodia's commitment to the one-China principle, saying China would work with Cambodia to safeguard the norm of non-interference in internal affairs and uphold international justice and fairness.
Noting the United States' provocation on the Taiwan question as an utter farce, referring to US House Speaker Nancy Pelosi's visit to Taiwan, Wang said it further lays bare US' act in bad faith toward the Taiwan question.
The attempt by the US to use Taiwan to contain China is doomed to fail and will not change the irreversible historical trend of Taiwan's return to China.
As the Taiwan question arose at a time when the country was weak and chaotic, Wang said it will surely end with national rejuvenation and the "Taiwan independence" forces will be judged by history.
Hun Sen also noted that Cambodia looks forward to promoting the building of a community with a shared future between the two countries, deepening their alignment of development strategies as well as strengthening cooperation in various fields such as economy, trade and infrastructure.
On his part, Wang said China stands ready to deepen strategic communication and upgrade bilateral comprehensive cooperation with Cambodia.
China would continue to provide enough vaccines to Cambodia in line with the country's needs, import more quality agricultural products, increase Cambodian flights to China and facilitate Cambodian students' return to China, he added.
The two sides noted they would strengthen communication and coordination on regional affairs, uphold ASEAN-centered regional cooperation architecture as well as oppose bringing bloc confrontation in the region and coercing countries to choose sides.
On the same day, Wang also met respectively with Cambodia King Norodom Sihamoni and Cambodian People's Party's Permanent Committee member and Prime Minister candidate Hun Manet.