Scholz sees 'sense' in nuclear flexibility
By CHEN WEIHUA in Brussels | China Daily Global | Updated: 2022-08-05 09:37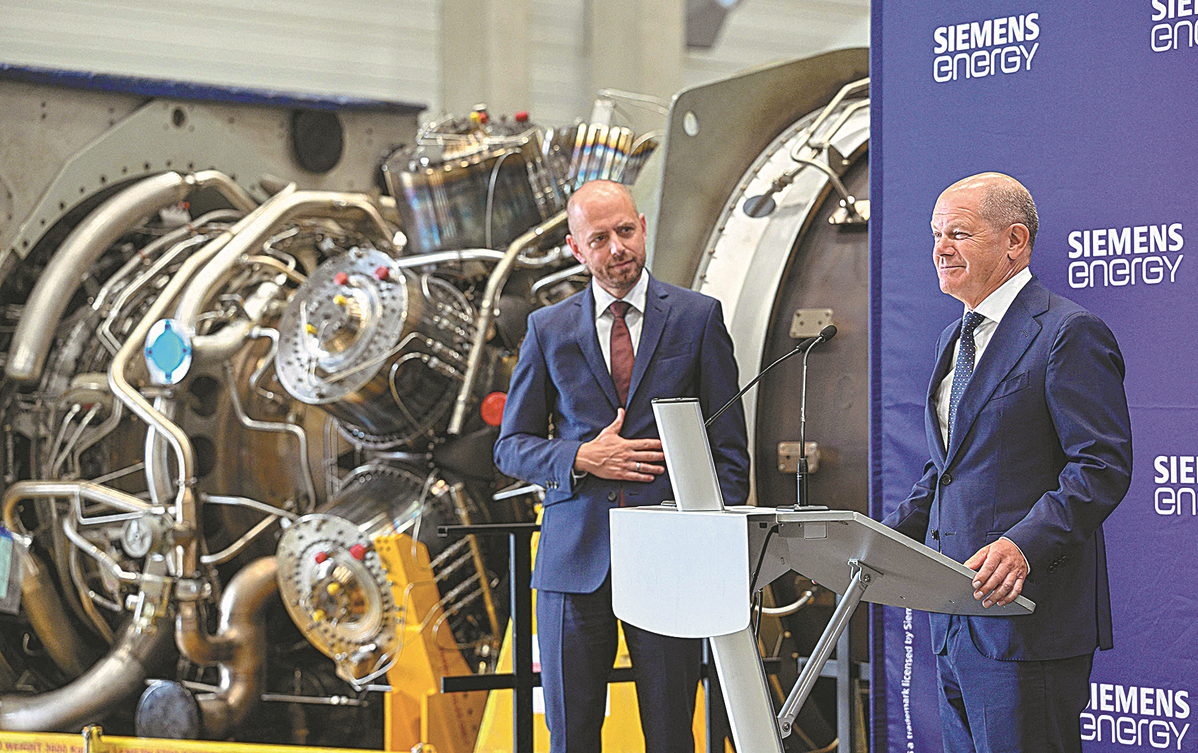 Amid gas worries, German leader leans toward delaying closure of last plants
German Chancellor Olaf Scholz said on Wednesday that it might make sense to postpone the closure of the country's three remaining nuclear power plants amid concerns about an energy crisis facing the nation.
He made the remarks during a trip to a Siemens factory in western Germany where a giant gas turbine for the Nord Stream 1 gas pipeline is being stored. The ranks of German politicians calling for the plant closures to be delayed have been growing with the prospect of energy shortages, especially natural gas, as a result of the Ukraine crisis.
Noting that while the output from the remaining nuclear plants accounted for only a small proportion of the nation's electricity generation, keeping them going "can make sense", he said.
Some states, such as Bavaria, might need to let their nuclear plants continue operating because they are lagging others when it comes to the takeup of renewable energy, according to Scholz.
Nuclear power generated about 13 percent of Germany's electricity in 2021, when there were six such power plants.
Early this century, Germany announced it would stop using nuclear energy by 2022. That pledge came from then chancellor Gerhard Schroeder, who belonged to Scholz's Social Democratic Party. Schroeder's successor, Angela Merkel, endorsed the plan following the Fukushima nuclear disaster in Japan in 2011.
'Stress test'
A decision on the possible postponement of the plant closures is expected after the government conducts a "stress test" of the country's electric grid in the coming weeks.
A delay would mark a U-turn for the Scholz government because he and his Vice-Chancellor Robert Habeck, who is also minister for economic affairs and climate action, had earlier ruled out any delay on the action. Leaders of coalition partner the Greens, the party most strongly opposed to nuclear power, are now open to keeping the plants running.
Germany has already decided to revive some coal-fired power plants to tackle the impending electricity shortage.
The country's gas-storage facilities are 69 percent full, well below the target of 95 percent by Nov 1.About half of German households rely on gas for heating.
Sales of electric heaters jumped 35 percent in the first six months of this year over the same period last year to 600,000 units as Germans prepare for a bleak winter, Euronews reported on Wednesday.
During his visit to the Siemens plant, Scholz accused Russia of deliberately reducing gas supplies to Europe, and rejected Moscow's argument that Western sanctions were preventing the delivery of the turbine required for pumping gas in the Nord Stream 1 pipeline.
"The turbine is there. It can be delivered. All someone has to do is say 'I want it', and it will be there very quickly," Scholz said.
The gas flow via Nord Stream 1 has been reduced since mid-June and is currently at 20 percent of the pipeline's capacity.
Russian gas company Gazprom said that Western sanctions are to blame for the declining volumes.
Kremlin spokesman Dmitry Peskov on Wednesday blamed the delay on a lack of documentation required to show the equipment was "not affected by sanctions".
Peskov also said that Russian President Vladimir Putin told Schroeder during a meeting with the former chancellor in Moscow that the Nord Stream 2 pipeline could be activated if necessary.
Putin told Schroeder that Nord Stream 2 could provide 27 billion cubic meters of gas to Europe by the end of the year if allowed to operate, according to Peskov.
But Scholz indicated that Nord Stream 2 would not be used as an alternative. "We have terminated the approval process, for good reason," he said, adding that "there is sufficient capacity at Nord Stream 1;there is no lack".
Agencies contributed to the story.