Wake-up call for rural heritage protection
China Daily | Updated: 2022-08-09 08:20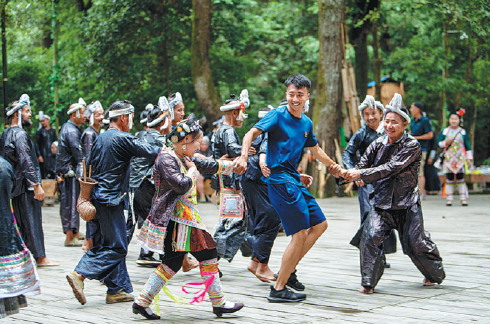 A 900-year-old covered bridge built with wood, tiles and stones in Pingnan, Fujian province, was destroyed by fire on Saturday. The cause of the blaze is still under investigation.
Wan'an Bridge, nearly 99 meters long, was the longest ancient bridge of its kind in China, and was put under State protection in 2006 as a key cultural relic.
The incident should spur local governments to think more of what they can do to strengthen protection of such ancient bridges, which are an important part of the country's cultural heritage.
More than 80 ancient covered bridges still exist in Fujian and Zhejiang provinces. These bridges serve as recreation places, sacrificial temples and trading markets, and reflect the relationships between village clans. They are valuable in terms of both culture and architecture.
However, the multiple roles they assume also expose them to more risks. For example, when local residents burn joss sticks in their sacrificial ceremonial activities near or on the bridges, usually places regarded as having good feng shui, sparks may set fire to the old wooden structures.
Two ancient covered bridges in Fujian caught fire and collapsed in 2011 and 2019 respectively. Natural disasters caused by extreme weather conditions are also threats to the bridges. In 2016 alone, three ancient covered bridges in Taishun, Zhejiang, foundered in a typhoon one after another.
As such, the government should further improve its supervision mechanism and establish systematic support measures for flood and fire prevention and emergency response to protect these bridges.
Fire prevention is particularly important. The government departments responsible for the protection of these bridges and other ancient wooden constructions should try to minimize the fire risks in their daily inspections.
Fire warning devices, automatic spray devices, robot fire extinguishing devices and other modern fire prevention and control equipment should also be employed so that any fire can be detected quickly and put out swiftly.
It is good to see that the Pingnan government has decided to rebuild the bridge. But the lessons must be heeded by all local governments that have ancient wooden constructions to protect in their jurisdictions.